Photo: Nicolae Stoian
Editor's note: At the end of the 2010 season, we posted a series of season reviews of every Philadelphia Union player. Over the next several weeks PSP continues with a review of the 2011 season.
When rumors of Carlos Ruiz's imminent arrival in Philadelphia surfaced, PSP's Mike Servedio wrote, "Ruiz is known as a mixed bag, a temperamental striker who has had some big seasons in terms of goals in the MLS, but is just as well known for his flagrant diving. The Union could definitely use an experienced goal-scoring striker, with only three out-and-out strikers on the roster, but with Ruiz' reputation he might have to work to win over the Union faithful (myself included)."
Announcing that Ruiz had left the team, Peter Nowak said, "There were a lot of fans in the stands here have a pre-bias towards Carlos. They made some bad comments about him being a diver, or being that, or that, or not working hard enough. It is getting tiring for all of us. We accept the offer from the [other] club. Carlos is no longer going to be with us."
The only fair thing to do is to look back at how the PSP – a website written-and-read by a collection of proudly intense Union fans – treated Carlos Ruiz during his stay in Philly. Below is what we wrote about Ruiz after each match in 2011: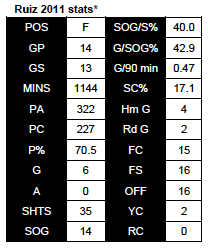 Match 1 (Dynamo): Had trouble finding the ball for long stretches. Went down a little too easily a few times. Seems like he's still working out the chemistry.
Match 2 (Whitecaps): He scored, he almost scored on a bicycle kick, and he was much better than a week ago. But he still looks slow and is a giveaway waiting to happen.
Match 3 (Galaxy): When I think about the Union's inaugural season, I think about Le Toux's hustle. So far in 2011, all I can focus on is Ruiz's diving. It's atrocious. Ruiz has yet to create his own space this season, and it won't happen until he's willing to make an off-the-ball run.
Match 4 (Red Bulls): Ruiz was not bad. That's a big step forward for a player who has often seemed either out of sync or out of shape. Only one obvious dive made it a lot easier to enjoy Ruiz's play. The ambitious shot from just over the half line was a fun moment, and it's unfortunate that Ruiz has yet to show any consistency this season.
Match 5 (Sounders): This score is for his individual performance. His contribution to the team does not merit such praise. Ruiz scored a sweet goal and his touch was much improved. What he is not: An outlet, a threat when he receives the ball anywhere beyond the final third, active defensively. Ruiz lost possession with less regularity on Saturday but his movement was not improved. After laying a ball back to Daniel or Nakazawa, the striker would fail to open up any spaces, which meant that the already defensive-minded central middies had no space to run into. Yes, we've been harping on the offense all year. It all just seems that much more prevalent now that the 1-0 victory theory has been put to bed.
Match 6 (Quakes): Ruiz was not at his worst, but he was well below his best. His distribution was below par and he could have created a few chances by getting involved with the Daniel-Farfan duo in the second half. Ruiz dove as if pushed on a cross from Daniel, executing a silly roll that will do nothing to improve his reputation. He also did that weird thing where he wouldn't back off when the ref awarded a drop ball following a stoppage. Jon Busch was not amused, and while it was kind of funny at the time, the move was definitely unsporting.
Match 7 (Timbers): What is his role? At this point I just want to know what it is I am criticizing. He isn't running the offside line, he isn't checking back hard or pulling defenders out of the channels. He isn't turning provider for the other strikers. He isn't holding up play for the rest of the team. Whether Ruiz is the cause of the Union's offensive woes or a symptom of an overall low level of execution is not entirely clear. Almost every one else on the team has been benched or shuffled around at this point. Time to push for more from Ruiz or push him out of the first eleven.
Match 8 (Galaxy): For the first 5 minutes of the match, Ruiz was out on the left. Hm, I thought, this is different. But it wasn't. Soon he was back in middle. Ruiz showed more commitment to defense than usual, and his touch came and left during the match. Overall, this was far from his worst performance, but it was another argument that he is a poacher who should come off the bench to spell Mwanga, not the other way around
Match 9 (Dallas): I don't feel like writing about Ruiz any more. I hope that Ruiz doesn't waste time reading blogs, but if he reads this one he should let me know. I'll go back to the vitriol of past weeks so he can tape it to his locker as motivation. Tell me what you thought of him against Dallas. Any positive signs?
Match 10 (Fire): Yeah, this rating is for one spectacular moment. If that shot hadn't gone in, he could get a 3 for the preceding free kick alone. Instead, Ruiz won the match and scored the goal of the year. He wasted two chances in the first half but that will all be forgotten. Enjoy it, Carlos. Hell of a strike.
Matches 11-14 (Toronto, Rapids, RSL, Whitecaps): DNP
Match 15 (KC): No shots on goal.
Match 16 (Chivas): His best match in the blue and gold produced a fine finish and a number of calm, deliberate touches to send teammates into space. Ruiz and Mwanga play like they are unaware each other is on the pitch, but when they are both scoring individually, it will have to do for now.
Match 17 (DC): Hard work all game from the Guatemalan but it remains the hard work of Iverson rather than the effort of a more team-oriented player. Ruiz would have been the goat if he hadn't put away the late tying goal. The wide-open header directly at Hamid was a head-in-hands moment.
Match 18 (Quakes): DNP
Match 19 (Revs): The difference between early season Ruiz and the player we see now is as big as the gap between the Union and the Revs. Ruiz has finally given in and admitted that the defense is more effective when it starts from the strikers. He has been connecting with Le Toux and Mwanga with more regularity, and could yet be the difference-maker on offense that the Union desperately need.
Verdict
You have the evidence. Did PSP unfairly pre-judge Ruiz? Or did Mike Servedio simply hit the nail on the head with his preseason description of the Guatemalan?
High point
The highs were really high, but none can touch his goal at home against Chicago. It had a storybook quality, with the striker offered a chance at instant redemption following his horrendous free kick. And boy did Ruiz deliver.
Low point
Um, when he quit left. And the manager blamed it on the fans. The only positive of this whole fracas is that it unofficially led to Peter Nowak joining Twitter. And I think everyone can agree that tweeting Nowak has been a very good thing.
Strengths
Finishing and poise. Ruiz did not miss many of the chances he got. And when he returned from international duty, the Guatemalan played with a vigor that led to more involvement and opportunities.
Weaknesses
Teamwork and consistency. Though he led the team in scoring during his brief tenure, Ruiz never seemed to work well with Le Toux or Mwanga. The question became how much the team was willing to trade to keep Ruiz productive. It was clear that there was no chemistry between Ruiz and the rest of the attacking unit, but the team's defensive strength covered up offensive issues that otherwise would have become crises.
Outlook
Let's be clear: No hard feelings. It's done, Le Toux is scoring, Nowak is on Twitter. Wipe the dirt off and move on. We at PSP harbor no ill will, and we sincerely hope to see Carlos Ruiz suiting up for the New York Red Bulls next season.
Stat chart legend:
POS: Position; GP: Games Played; GS: Games Started; MINS: Minutes; PA: Passes Attempted; PC: Passes Completed; P%: Passing Accuracy Percentage; SHTS: Shots Faced; SV: Saves; GA: Goals Allowed; GAA: Goals Allowed Average; PKG/A: Penalty Goals/Attempted; W; Wins; L: Losses; T: Ties; ShO: Shutouts; W%: Win Percentage; SV%: Save Percentage; FC: Fouls Committed; FS: Fouls Suffered; YC: Yellow Cards; RC: Red Cards