Featured image: Paul Rudderow

Editor's note: At the end of the 2010 season, we posted a series of season reviews of every Philadelphia Union player. Over the next several weeks PSP continues with a review of the 2011 season.
I saved Migs for my last player review of the season because really, what else is there to say? When Brian Carroll was signed before the beginning of last season, many of us thought we had seen the last of Migs in the holding midfield role. But the Brazilian still found himself in the starting line up for 11 games and appeared in 17 matches overall in 2011.
While he did turn in a few decent performances as a makeshift center back, we often saw Miglioranzi slotted next to Carroll in away fixtures in which Peter Nowak looked to bolster his team's midfield presence. This often led to both players sitting in the same space behind the two wider midfielders and so leaving plenty of gaps for opposition attackers to find.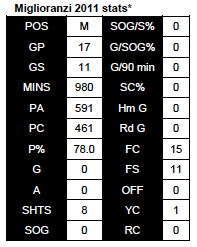 Migs was probably a part of the biggest WTF lineup of the season in the first leg of the playoff series against Houston. Brought on for his aerial abilities, he slotted into center back along with Danny Califf and Carlos Valdes. The move had the entire Union back line out of sync for the 62 minutes that Migs was on the pitch.
High Point
Even though he didn't put in particularly strong performances in any of the matches, he started and played 90 minutes in the wins over New York, Vancouver and Houston. Let's just go with one of those.
Low Point
Insert your own joke here. He played in the opening 45 minutes in the 4–4 draw against New England, and we all know how the first half of that one went. Of the 12 games he started this season (including the first play-off game) the Union only won three, and all of those wins came before April 9.
Strengths
Strong in the air. If nothing else, the guy is tall. He is a solid locker room guy as well. A veteran of English soccer and a number of MLS teams, his experience served a young Union squad well in his tenure.
Weaknesses
A frustrating figure as a defensive midfielder. Not a great tackler or one-on-one defender. At age 34, has definitely lost a step (or two) and does not close space with much pace or malice. Even as one of the taller players on the team, he does not defend set pieces well and has been guilty of losing his mark on a few occasions. Offers very little to the attack in terms of being a good possession player, passer of the ball or long distance shooter.
Outlook
It looks like we have seen the last of Migs, as he is out of contract with Philadelphia. With Brian Carroll showing he can run the show by himself in the defensive midfield and the emergence of Amobi Okugo, there aren't too many Union fans that will miss him.
*Stat chart legend:
POS: Position; GP: Games Played; GS: Games Started; MINS: Minutes; PA: Passes Attempted; PC: Passes Completed; P%: Passing Accuracy Percentage; SHTS: Shots Faced; SV: Saves; GA: Goals Allowed; GAA: Goals Allowed Average; PKG/A: Penalty Goals/Attempted; W; Wins; L: Losses; T: Ties; ShO: Shutouts; W%: Win Percentage; SV%: Save Percentage; FC: Fouls Committed; FS: Fouls Suffered; YC: Yellow Cards; RC: Red Cards