Photo: Nicolae Stoian
With their first three picks in the 2010 MLS SuperDraft, the Union selected two strikers and a holding midfielder. All teenagers and, thus, long term projects, fans were still a bit surprised to see a veteran striker and holding middie arrive during the offseason. For all that he did on the pitch this season, one hopes Brian Carroll also offered his tutelage to Amobi Okugo.
One hopes rather the opposite for Danny Mwanga. The Union's young centerpiece spent 2011 behind the mercurial Carlos Ruiz, who showed a finishing touch on the field but gave a masterclass in poor finishing with his ignominious midseason exit. Mwanga thought he would step into the void Ruiz left behind. For one match, he did. Then he watched as Veljko Paunovic and Jack McInerney partnered with Sebastien Le Toux up top for the next three.
At the end of 2010, Eli Pearlman-Storch wrote, "With a full year under his belt, another offseason to work on his own game and his role within the side and his excellent chemistry with his teammates, Mwanga should iron out the kinks and continue his rise to power in MLS."
If anything, Danny Mwanga's role became clearer but further from ideal. He was second fiddle to Carlos Ruiz and uncomfortable as a wide striker in the team's 4–3–3. Mwanga's role, then, was as mythical supersub. He became 2011's version of Jack McInerney.
Whether you believe the supersub shows good management or poor management (shouldn't the super players be on from the start?), it is to Mwanga's credit that he led the team in goals as a substitute with three in fifteen appearances off the bench. While that is hardly the statistic anybody was hoping would stand out in the young striker's second season, it speaks volumes that all three goals either tied the game or gave the team the lead. Mwanga also assisted on Torres' game winner against New York in early April.
A 0.29 goals per 90 minutes ratio is respectable, but it is well down from the gaudy 0.43 Mwanga put up his first season. And after a season in which he scored only once as a starter —two goals in a drubbing of Toronto—it looks as though Mwanga and Le Toux have to go back to the lab this winter and rediscover their chemistry. A dynamic partnership was one of many puzzle pieces that failed to fall into place for the Union's offense. Michael Farfan's brilliance and the club's trust in Keon Daniel indicate a more stable midfield may emerge next year, but the team still needs a second consistent scoring threat to grow out of their young offensive stable.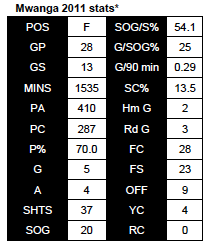 After two years, Mwanga and Le Toux remain the best two strikers on the Union roster. In 2010, they made each other even better. Danny Mwanga and his legions of fans hope they get a chance to do it again in 2012.
High Point
The wait was becoming a burden. After lighting up MLS for seven goals in his rookie campaign, Danny Mwanga was nearly two months into his second season and had a goose egg in the goals column.
He was struggling for form, with only one shot on goal in his first seven appearances. Of his four starts, he had played the entire match only once; twice he was hauled off at the half. After making his first full ninety against Portland, Mwanga figured to be locked in for a start against Los Angeles at home. Instead he was back on the bench. By halftime, the Galaxy were a goal up and cruising. They had beaten the Union a month before without giving up a single shot on goal and the same outcome looked increasingly likely.
But they had forgotten about Danny Mwanga. He entered at the half and turned the match upside down. The Union immediately began pushing LA back; Todd Dunivant and Omar Gonzalez had two shots apiece in the first half, but when asked to do their job and defend they were suddenly out of sorts. Mwanga was faster and stronger than both.
By the time Roger Torres and Jack McInerney arrived late in the second half to support him, Danny Mwanga had created what no Union attack had achieved all season: A fluid forward movement that did not slow down through Carlos Ruiz. In the 84th minute, Mwanga capitalized on the Galaxy's inability to deal with his speed and intelligence. Picking off a pass from Sean Franklin, he snuck by Donovan Ricketts and opened his 2011 account, tying the match.
Low Point
After scoring in late June to beat Chivas, Mwanga ended the season with 14 scoreless appearances. The worst moment came on September 10 against Portland, when Mwanga followed up his assist against New England by putting all three of his shots on goal but coming away empty. It was the closest he came to breaking out in the latter stages of the season.
He failed to register a shot on goal in his final three appearances.
Strengths
Mwanga's strength of character was clearly tested this year. Relegated to a reserve role when he probably thought he had earned a starting spot, it took a lot to come off the bench strong week after week. He never complained and came through in the clutch on more than one occasion. With Josue Martinez arriving and the team's wealth of attacking midfielders making a 4–5–1 a viable option in 2012, Mwanga will need to rely on his mental strength and maturity again next year. There is no telling how the team will use him.
Weaknesses
As PSP has noted before, the Union need Mwanga to become an aerial presence. Mwanga shows great strength on the ball and he must translate that into strong runs on set pieces. Fighting for a spot in the air is one of the most difficult skills for a striker to learn. Didier Drogba, one of Mwanga's on-field heroes, is a master at creating space on the ground and in the air. If the Union's Congolese frontman can enhance his aerial ability and rediscover his confidence dribbling at defenders, he can re-establish himself as a top young striker in MLS.
Outlook
Cloudy with a chance of who knows. Danny Mwanga is getting a full dose of the Nowak talented-young-player treatment. As Freddy Adu found out years ago, that means a bit of never-good-enough and plenty of rest on the side. In his third season, Mwanga must emerge (and be given the chance to emerge) as a consistent, every game striker. Sebastien Le Toux's minutes show that the Union aren't afraid to play their stars every game if they believe they need to. Danny Mwanga needs to become a player whose absence (or even potential absence) is a problem. He still has the ability and the character.
And he still has plenty of time.