Photo: Nicolae Stoian
Editor's note: At the end of the 2010 season, we posted a series of season reviews of every Philadelphia Union player. Over the next several weeks PSP continues with a review of the 2011 season.
In the Philadelphia Union's signature win of 2011, a 1-0 home victory over the New York Red Bulls, praise was deservedly lavished on the two second half substitutes who combined for the winning tally. Lost amidst the celebrations were the contributions of the other substitute: Amobi Okugo.
Entering in the 6th minute for the injured Brian Carroll, Okugo battled against past and future league MVP Dwayne De Rosario and Teemu Taino, with instructions to cut off service to the Red Bulls' dangerous strike force of Henry and Agudelo. For a player with only five minutes of game time on the year, Okugo responded with the type of commanding performance that lets US Soccer know that Ricardo Clark and Jermaine Jones are winding up their international careers whether they like it or not. An absurd 83% pass completion percentage (29/35) combined with two tackles and six clearances only begins to tell the story of a player who covered so much ground that the opposition could never take advantage of Stefani Miglioranzi's limited range.
Okugo went on to start five of the next six matches before a freak ankle injury cut short his ascension to first team regular. As Brian Carroll settled in and the Union moved away from a dual holding midfielder setup, Okugo fell further down the depth chart. The team experimented with all manner of midfield formations but remained surprisingly unwilling to let their young stud slot into a more adventurous central role.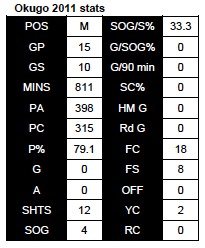 Cobbling together a collection of good substitute and starting performances as the season wound down, Okugo continued to show glimpses of the qualities that make his ceiling so high: Passing range, field coverage, toughness, speed. At different times, all of these talents were on display, but for the second straight season the word that defines Amobi Okugo is inconsistency. He appears to be a player who grows in confidence and quality as his minutes increase, and, true to form, his substitute appearances were often shaky. Unfortunately, inconsistent is also an accurate label for the team's treatment of their dynamic midfielder. A profligacy of halftime substitutions in 2011 did nothing to suggest stability or confidence to the Union's young core, and Okugo was a major recipient of this confusing treatment.
Overall, it was a season of highs and lows for a player who will either become a cornerstone of the Philadelphia franchise in 2012…or the cornerstone of another franchise.
High Point
In the 75th minute of a frustrating, scoreless match against San Jose, Okugo burst into the box, jinked through defenders and lifted a cross into the six yard box as he tumbled over the end line. Few in the crowd could tell, but the cross was deflected by a defender's arm. Okugo was on his feet instantly, pumping his fist as the referee pointed to the spot. Sebastien Le Toux buried the penalty and earned the team an important early season home win.
Low Point
Only minutes into the home game against Chicago in mid-May, Okugo caught his boot in the turf and couldn't continue. He was in a boot by the time Carlos Ruiz won the match with a dazzling left-footed strike. After the injury, Okugo was never able to re-establish himself in the starting eleven.
Strengths
Possession, range and toughness. Okugo was clearly a stronger, smarter player in 2011. He adopted the Brian Carroll method of short, simple passing but did not shy away from a cross-field break out ball when the opportunity arose. The Amobi-to-Sheanon connection was a thing of beauty, and with Michael Farfan taking up a regular place on the wing in 2012, Okugo should have multiple players with the ability to find early space on the wings if he can get it out there.
It was obvious that Okugo had bulked up when he went toe to toe with the big bodies in the Everton midfield. Those guys may struggle in the EPL but they are no joke when it comes to 50-50 challenges.
Weaknesses
The commanding presence that many of the top MLS midfielders have is not a common feature of Okugo's game yet. It shows up from time to time, but until he truly believes he can take over a game he won't do it. This same charge could be leveled at Danny Mwanga, who occasionally believes he can control a match, and does. When a player doesn't spend much time on the field, he can feel like every bad touch counts more than it really does. Okugo needs to keep shortening his memory for mistakes and play with a mix of intelligence and abandon to strike fear into the hearts of MLS's playmakers.
Outlook
The sky is still the limit. Called up to Olympic camp, Okugo trained with the vets instead of the U-23s. He is working out in Germany and going on a tour of Holland with the Generation adidas traveling squad. Clearly, US Soccer has a real interest in developing a big, fast player who has shown actual passing range and positional intelligence. Given chances on the international stage, Okugo has shined. He will do the same on the club level soon.
Be it here in Philadelphia (please!) or somewhere else.
Stat chart legend:
POS: Position; GP: Games Played; GS: Games Started; MINS: Minutes; PA: Passes Attempted; PC: Passes Completed; P%: Passing Accuracy Percentage; G: Goals; A: Assists; SHTS: Shots; SOG: Shots on Goal; SOG/S%: Shots on Goal from Shots Percentage; G/SOG%: Goals from Shots on Goal Percentage; G/90 min: Goals per 90 Minutes of Play; SC%: Scoring Percentage; Hm G: Home Goals; Rd G: Road Goals; FC: Fouls Committed; FS: Fouls Suffered; OFF: Offsides; YC: Yellow Cards; RC: Red Cards