(Photos: Michael C. Long)
As the Independence prepare for Saturday's WPS Final versus Western New York in Rochester, the PSP had the opportunity to catch up with midfielder Joanna Lohman. Lohman's versatility has been on display of late, adding to coach Paul Riley's depth by turning in strong, confident performances both on the wing and in the center of midfield. Whether they come out in their traditional 4-4-2 or move into a 4-2-3-1, Lohman has put her hand up for selection and will likely have a part to play in the Independence's quest to win the WPS Championship.
Philly Soccer Page: Despite being the home team, did you feel that you were being put in an underdog role with talk focusing on magicJack's stars like Abby Wambach and Megan Rapinoe?
Joanna Lohman: Absolutely, my blog to the league last week was basically saying that I thought we were the underdog in that game, which is fine with us. I think, on paper, we're the underdog in most games. Paul [Riley] is such a great coach and you see that, especially in his choice of players for the season. He knew that the World Cup players would be gone a significant amount of time and also they'd be tired coming off a huge tournament, that building a team around a group of mostly non-national team players and non-World Cup players was the smartest thing to do from his standpoint. It's worked out well and it's proved to be one of the turning points of our season is having a foundation and such a strong base of players who were here all year round. Going into this game we're going to be underdogs, too, and we embrace that role. We love turning heads and we love proving people wrong.
PSP: How do you feel about how the Independence adjusted to playing on the larger field at PPL Park? A lot of people had speculated that it might be a challenge since you are used to playing on a smaller pitch at Widener.
JL: To be honest, we don't normally play that well on big, grass fields, so to come away with a 2-0 victory against magicJack was a credit to how hard we've worked all season and to how well we played that day. There's a big difference between turf and grass and especially between turf that has football lines all over it and is pretty small. So if you go on to a big, grass field and play as well as we did, we were very happy with our performance and I think that really gave us a lot of momentum going into the final this weekend.
PSP: What did you think of the crowd and the turnout at PPL Park?
JL: The crowd was higher than I expected it to be, it was mid five-thousand which I think is our second largest crowd of the season. To fill that many seats in PPL Park with only one week's notice is a credit to our sales staff and to all of our players for promoting the game so well. So, to answer your question, I was very enthusiastic about the crowd and it was very encouraging to have them on our side when we needed them the most.
PSP: How do you prepare for this game against Western New York team that is built around their attack? Do you come out defensively or do you maintain your lineup and try to match them?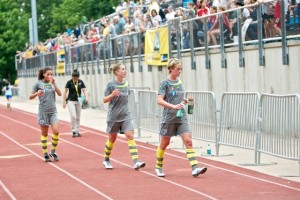 JL: It's always hard, you're playing against a great front line of Marta, Sinclair and probably Alex Morgan—and that should not sell their midfield or defense short. I think it will be an absolute challenge for us and there are a lot of similarities from last year's final to this year's final, as I'm sure many people have seen. But I think with the extra few days rest that we have this year—as opposed to last year—I think that will do wonders for us. I think we'll come in with a ton of energy and a ton of enthusiasm to put forth a good fight. And that's the beauty of soccer, that on any given day any team can win. We've proved this entire season that we're not just individuals but we're a greater team as the sum of our parts. Yes, on paper, we'll lose this game, but when it comes to actually getting on the field for 90 minutes I think we have a great shot of winning.
PSP: At the end of the season you saw time at central midfield but often featured more as a wide player. Were you comfortable in the middle alongside Jen Buczkowski and do you think we'll see you there again?
JL: I felt great playing in the middle, I think I can play anywhere within the midfield, whether it be on the wing or in the center or if it's defensive. I think defensive center mid suits my playing style the best so I was very comfortable. I went into the Sky Blue game not knowing I was going to start until about an hour before the game and I got thrown in there and I hadn't played in about ten games. I'm a pretty simple player and I'm good in the air, tackling and defensively. So to play defensive center mid is pretty second nature for me. I'm not sure about this weekend, I can't give away our game plan…
PSP: Independence captain Nikki Krzysik won the WPS award for Sportwoman of the Year. What type of leader is Krzysik on the field and how does her strength in defense help you and your teammates in front of her?
JL: Nikki is a fantastic leader, both on and off the field. She's been a really great captain for us this year. She does a lot in the community and i think she's just a standup individual in general. She's not the most vocal of leaders but leads by example and always does the little things right and she's always in it for the benefit of the team and never for her personally. I think having a captain in the center of the defense and having her always back there, always organizing the team, telling us which way to step and which way not to step, has helped us tremendously throughout this season.
PSP: In terms of  Veronica Boquete it's unusual for an MVP to come from a non-World Cup country. What do you think her success means for women's soccer and what must the US do to produce a player who could claim that award in the future?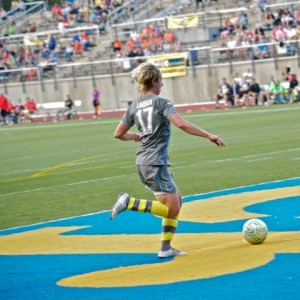 JL: Vero has done extremely well since arriving in the United States. She's only been here for three months and she's won the MVP award—that just shows how good of a player she is and she's extremely modest and so easy to play with. She's always thinking—whether it's to pass or to dribble, she creates so many goal-scoring opportunities—so I think she really deserves to have that MVP award. The fact that our team has not lost with her in the lineup, that shows a lot and give a lot of credit to her that she's a team player to the utmost extent.
In terms of an American winning the award, you never know when its going to happen. I think obviously the American culture is a little bit behind in its passion for soccer. That passion for soccer comes from South America and Europe, so they're playing soccer straight out of the womb and they're born and raised on the game. They watch it from when they're born until they die. It's just a different type of atmosphere where every single day you're out there playing with the ball and in America its not the same. We'll always have good athletes in America and give credit to the World Cup team, they played so well and really inspired our country. But I think European and South American players are more skilled technically and many times, that's what gets the awards.
PSP: Going into this weekend what is the team's one main focus that will help you win the championship?
JL: I think the game is going to be won and lost in the midfield. If we can dominate their midfield and really force our style of play onto them, I think that will help. And obviously, it doesn't need to be said, but you have to control Marta and make sure she's not too much of an impact on the game. We'll have to mark her close like we did in the previous game and you just gotta put your cards on the table and see what kind of hand you have. I think, like I said before, that any given day, any team can win. If we play to our ability and we control the things that we need to control I think we can win this game.
PSP: So, are you ready to make a prediction?
JL: Sure I'll make a prediction. I'm a little bit biased, so I'm going to take Philly 2-1 to win the championship.