Photo: Nicolae Stoian

With Saturday night's 2–2 draw against FC Dallas, the Philadelphia Union remain in second place in the East behind Columbus, with 34 points to the Crew's 37 and a game in hand. Two teams are level at 31 points—New York and Houston—with the Union having two games in hand against New York and one game in hand against Houston. Right behind them are Kansas City and DC, both on 30 points, with Kansas City having played the same number of games as the Union and DC one fewer.
How did the race for the playoffs in the East suddenly become so crowded?
Over the past five games, the Union has earned six points, Columbus nine points. New York has earned three points. Houston, DC and Kansas City have each earned eight points. Long story short, while the Union (and New York) have been dropping points in draws, the pack has been picking up points with wins. Given the current standings, Saturday's game in Columbus then becomes critical not just in terms of the Union drawing level with the Crew, but in preventing the pack from catching or passing them.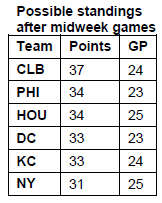 Midweek games could change the race
The current standings in the East could be very different before Saturday's game in Columbus. On Wednesday, Houston will play in New England while Kansas City will host Portland. If Houston and Kansas City win, Houston would be level with Philadelphia (although the Union would have a game in hand) and Kansas City would be just one point behind (and two points ahead of New York).
But that's not all. On Thursday, DC plays Chicago away. If DC wins, they would also be tied with Kansas City and one point behind the Union.
Looking at the weekend: Worst-case scenario
Saturday's match in Columbus will kickoff at 7:30pm, the same time as the New England v New York match. At 8:30pm, Houston will host Real Salt Lake. On Sunday, Kansas City will host DC at 8:30pm. If Columbus, New York, Houston and either Kansas City or DC win on the weekend, the Union would drop to fourth place, level with New York at 34 points but with two games in hand. If the Union and Columbus draw and New York, Houston and either Kansas City or DC win on the weekend, the Union would still be in fourth place with 35 points.
All of this would require everything to go against the Union: Houston, Kansas City and DC winning their midweek games; Columbus, New York and Houston winning on Saturday; either Kansas City or DC winning when they meet on Sunday. Including last weekend's results, Columbus and Kansas City would have to win two in a row, something both teams have done twice this season. (Kansas City has also won three games in a row one time.) Houston and DC would have to win three in a row, something neither team has yet accomplished this season. (Houston has won two games in a row once this season.) New York would have to win for the first time since July 6.
If the Union defeat Columbus on Saturday for their first win since July 17 and fourth road win of the season, they would be level with Columbus and in first place with a game in hand, regardless of what the pack does. Their destiny is in their own hands.