In today's look at the other supporter's groups, the PSP talks to Damian Cusumano, founder of the Corner Creeps. Where as the Tammany Saints and the IllegitimateS are located in the corner on either side of the River End, the Corner Creeps are one of several section-based groups—among them are the Elders, Union Local 135, the Snake Pit—that have come together in the River End, as well as elsewhere in PPL Park, to help organize communication among ticket holders in a given section throughout the season and offseason. The Corner Creeps can be found in the northeast corner of River End in section 134 of the River End, just across from their friends the IllegitimateS in section 133. Taking their name from some comments overheard from stadium security about their tattooed appearance—with a little help from a Seattle Sounders supporter—the Corner Creeps are all about having a good time with friends old and new.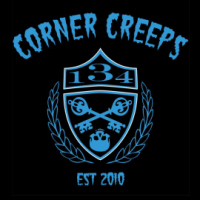 Philly Soccer Page: Did you play soccer growing up? Do you now?
Damian Cusumano: No I didn't. I actually grew up in Lansdowne, Pa., which was a pretty big soccer town. But I was into skateboarding, which took up most of my time. As far as playing now? Well, we kick a ball around outside of our tattoo shop almost every day.
PSP: How did the Corner Creeps get their start?
DC: Well, I have been following soccer for about 10 years. My original team was DC United because I lived in DC for a few years and I also followed Palermo because it's where my family is from.
As soon as I heard that we might be getting a team I started really getting excited. The minute season tickets were available I bought a few. I talked a few of my co workers and friends into getting some, too. When we picked our seats I looked at what was available and saw that no one was buying up the corners. We were all worried about the season tickets selling out before we could all get them in the same section so we just bought up section 134. We put the word out that that's where we wanted to sit and everyone else followed suit. At that point we weren't the Creeps yet. We were just a bunch of friends trying to have a good time watching the sport we love. Opening day changed all that.
PSP: Am I correct in thinking that, like the IllegitimateS in section 133, the Corner Creeps formed after the first home game at PPL?
DC: Yes. You'd be correct sir. Opening day at PPL park was one of the best sports experiences I've ever had. It was hot, muggy and full of excitement. We arrived at the match a little early and met up in Lot C in front of the old waste building. It was actually kinda funny because when I saw all of us together for the first time I realized we looked like a bunch of maniacs. Most, if not all, of our group is heavily tattooed. Just being in the parking lot we were getting a lot of curious glances. We are all used to this so it wasn't anything new. I love it.
So, after a few beers we decided to go to inside and see our new home, section 134. As we walked into the stadium, it was so full of energy, I thought I was going to jump outta my skin. It was amazing. As we walked up the aisle I saw three whole rows empty and I knew that must be our seats. We packed in and took it all in.
As the half was coming to a close, some guy in our section threw a beer onto the field. I saw who it was and thought that it was kinda funny but I knew it was gonna be bad for him. As security came onto the scene they were pretty pissed off. They immediately started staring up at my friends and I. I was totally confused. We were being pretty well behaved and I knew that no one from our group would do that. It was like a ten minute stare down. I was kinda bummed because it became apparent that they thought it was us because we looked the part. So at the break, I left my seat to go get some water and I saw security standing in the tunnel, talking. As I walked by I overheard one of them saying, "I'm telling you, I know it was one of those tattooed creeps that sit in the corner of 134." I was like, "What the fuck?" I couldn't believe it. As I walked away I felt a hand on my shoulder. It was a Seattle fan. He said to me "Well, it looks you guys have a new nickname!" I said, "What?", and he replied, "'The Corner Creeps,' man, 'the Corner Creeps.'" I was like, "Yes we do… yes we do…" I thought it was perfect.
PSP: What is the purpose of the Corner Creeps?
DC: Our purpose is to go to games and enjoy ourselves. We don't have any further aspirations then that. We all work hard for a living and have families. We just want to be able to go to PPL and relax and make noise with like minded people. That's all, really.
PSP: How many members do you have
DC: I'd say we have about twenty members right now who actually have season tickets and maybe thirty in total that hang out and go to a few games a year.
PSP: What sets you apart from groups such as the Sons of Ben, the IllegitimateS, the Tammany Saints or the Bridge Crew?
DC: I'd say that because our entire group is heavily tattooed, that sets us apart, visually speaking. But other than that I'd say nothing at all. We all are there to support the Union and our beautiful city.
PSP: Section 134 is in the River End. How do you feel about the Sons of Ben?
DC: Well, first off, I am a member of Sons Of Ben and so is most of our group, but as far as what I think about the Sons Of Ben as a whole? Well now, that's a hard question. I will greatly respect the effort and amazing amount of passion that the Sons Of Ben have put into getting the team here and showing the MLS how much our city loves soccer. The amount of time and effort they put into everything is astounding. I understand that they are in a tough position with being an independent supporter group but also having very close ties to the front office. It's a difficult position to be in. On one hand you want to be free to do your thing but on the other you have the front office breathing down your neck. I think my feelings rest on the fact that I don't believe you can control every element of support and that, when you try to be too controlling in a chaotic environment, you're going to have some backlash and problems. But as a whole I think with a few changes and a couple more years of growth that everything will work out.
PSP: Have you had much contact or networking with other Union supporters groups?
DC: We are cool with the IllegitimateS. I actually designed their banner and logo for them. They are great guys with a ton of heart. I really respect them for branching out and doing their thing—a lot of people were giving them flak but they toughed it out—true Philly spirit, in my opinion. Other than that, we really just do our own thing and let everyone else do theirs. We are all supporters of the team first and foremost.
PSP: Do you have a Code of Conduct? What constitutes unacceptable behavior?
DC: We just follow the code of conduct that the stadium provides us, even though it changes often. Just stay out of trouble and try not to be a dick to others. Unless they're wearing another team's colors.
PSP: Are you inspired by or consciously trying to create a more "English-style" of football support to PPL. If so, what does a more "English-style" of support mean to you? How would that be different from what the Sons of Ben are trying to do?
DC: I'd say we really aren't trying to create anything at all. I mean, I like abusing the other teams and their fans but not in any violent way. Its all in good fun. I will say that I'm not really into the whole family friendly vibe. I chose to sit in the supporters section so that I could let loose a little louder. I think most of the Sons of Ben feel the same way. But it's hard when you have to go to weekly meetings with the front office and get a talking to about language and behavior and such. It takes the fun out of it.
PSP: What makes the style of support the Corner Creeps are trying to encourage unique to Philadelphia?
DC: We encourage having fun and being yourself. Do what you feel is right in your judgment and, if someone is trying to take that freedom away from you, you need to do something to change that. That's all. Have fun, watch soccer and don't let other people push you around.
PSP: Do you worry that some members may have an idealized notion of what a supporter is or how one should act from learning about hooligan culture from movies or YouTube clips, hooligan literature, etc.?
DC: I personally don't pay attention to what other people do. We are all individuals. If you want to act like a dumb ass and get thrown out of the stadium then that's your choice. Most of our group have seen violence on some level. We have all grown up fighting and doing dumb shit that most kids do. The difference is, we are all adults now. We have families and own businesses and the last thing I need are fines and court costs piling up over a game. If you want to read about hooliganism and act that out at MLS games then be my guest. Just remember, unlike in England, our cops will shoot your ass. Not quite my cup of tea.
PSP: Fan v. supporter. What's the difference? Or is the question of difference more like spectator v supporter?
DC: I'd say that supporters just take it to another level. I love my team and I support them to the fullest. I got the team crest tattooed on the back of my neck/head the day we bought our tickets. I love the union. The difference is, as a supporter I feel like the team is part of me. They represent us and we them. Its symbiotic. A spectator likes the team and enjoys themselves but just not on the same level of commitment, I guess. Neither is better or worse, just different.
PSP: Some have suggested that the league has made a mistake in over-marketing itself as "family friendly," which leads to the kind of debate we saw over the summer about the "You suck,…" chant. Where would you place the Corner Creeps in this debate?
DC: If you are going to make a section for supporters and market it as loud and intimidating  for away teams and support, then don't try to backtrack and make it family friendly now. Everyone knows that if you sit in the River End your gonna hear foul language and crazy stuff. Its why I sit there. If they kill that element I'd be really unhappy.
PSP: What is your relationship like with security at PPL Park?
DC: Well, that all depends on who is working that day. The regular staff in our section has always been very fair and nice to us. We really try hard to keep an open line of communication with them. We respect them and really try to keep the relationship friendly and respectful. Sometimes there are misunderstandings about the rules and we are politely reminded of what's crossing the line. There have been times, though, when we have been treated really badly and with disrespect by non-stadium event staff. It was a big problem for a little bit but it seems to have been taking care of and hasn't happened again.
PSP: What is your relationship like with the Union Front Office? Do you have regular contact with someone there?
DC: Whenever I have a question or problem I contact my ticket rep Kristi Wagner. She is awesome and always helps us out. She went out of her way to get our whole group seated together. She really is a class act. Other than that, no.
PSP: How have Union players reacted to the Corner Creeps? How about away players?
DC: They have been great. One of our guy's daughter had a birthday and Jack Mac came out and signed stuff for her. It was really cool and made her night very special. I'm trying to Get Sebastian Le Toux to come into my tattoo shop so I can get a portrait of him tattooed on my leg but, so far, he's stood me up.
As far as away players, we just give 'em hell. I'm sure they don't like us.
PSP: Many people feel that the placement of away support so close to the River End almost invites trouble. While recognizing that the Corner Creeps represent Union supporters who specifically want a more confrontational, albeit not violent, interaction with away support, how do you think the Union could better situate away supporters to minimize bad incidents?
DC: I personally love that they sit near us. It's the best part of sitting where we sit. The problem is that the security doesn't let us go at away support in any way. We can't look in their direction, we can't point or even hold up scarfs. It's very disappointing because they do pretty much whatever they want with no reprimand while we have to sit on our hands. They are also above us and section 133 , which is just totally insane. Why would you want your home supporters to have to deal with that and not be able to retaliate? It's the best part of the match. If you don't want problems then put them somewhere else and have security around them in and out.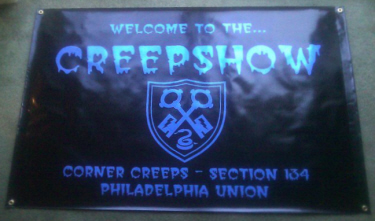 PSP: Tell me about organizing pre-game tailgating. How important is tailgating to the group?
DC: Its where we come together as a family. Its amazing really. When we started we were just a few friends who tattooed together and stuff and now our group has grown. It's amazing to see the diversity now. There are people from all over our section now who come over to us and hang out who might have never even giving us a chance before. I guess that's how I feel about the Creeps in general—we're like a family or a neighborhood. We might all be different but we all live on the same block so we better learn to like each other and support each other.
PSP: Your Facebook page has images of Corner Creeps shirt and scarves. Can you tell me about the importance of merchandise to the organization? How important is such merchandise in terms of establishing an identity for the group?
DC: I thinks its more fun than important. A lot of our group are creative, artistic people. We really enjoy making cool stuff. I'm a graphic designer and a tattooer and a musician so, for me, it all just comes with the territory. I think we were actually the first ones in the River End to represent our section by making shirts. There has always been a friendly competition between sections on who is the loudest, etc., so naturally, section repping was bound to start. We just wanted to have cool designs and stuff that represented the way we feel and how we wanted to support the team. Plus I'm from the black t-shirt generation and light blue and yellow just isn't my style. I'm sure it pissed some people off that we made our own gear but then, shortly after, everyone starting doing it. I think it's great to show your section pride.
PSP: What is the money raised from the sale of merchandise used for?
DC: We don't turn a profit. We sell everything at cost. Were not a business and what we do is for pure fun. Everything we do is from the support of the people in 134.
PSP: What kind of activities outside of matchday at PPL does your group organize?
DC: We all play Dungeon and Dragons during the off season. It keeps us sharp.
PSP: Do you plan to organize travel for the Corner Creeps to away games, particularly against the Red Bulls and DC United?
DC: We have nothing in the works but that doesn't mean we would be opposed to it either. We all have busy schedules so it's hard to get stuff like that together.
PSP: Do you hope to gain official recognition from the Union?
DC: Not anytime soon. I'm not really interested in all the political stuff that goes on—it's tiresome. It really wore me down last season with all the internal bickering and BS that was going on with the front office and the Sons of Ben. I'm there to have fun, drink beer, listen to good music with good people and watch my team win. That's really all I want out of this whole thing. If becoming legit helps that to continue then I'd say we would be OK with it. But for right now, I think we just continue to do what we do. We have a great section and a lot of supporters. Some people aren't too fond of us and others love us. You cant make everyone happy and we know that. We just try to be ourselves and support the team the way we feel comfortable.