Photo: Nicolae Stoian
The Philadelphia Union announced on Tuesday that they have waived Cristian Arrieta.
Arrieta had fifteen starts in sixteen appearances for the club with 1,343 minutes played. His first start, in the Union season opener against DC United, came only a day after he signed with the club.
The solidification of the defensive lineup with Sheanon Williams at right back and Michael Orozco Fiscal partnering with Danny Califf in the middle resulted in the marginalization of Arrieta as a starter.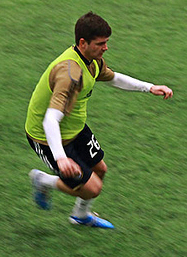 In November, reports emerged that suggested that Arrieta was unhappy with his role and wanted out of Philadelphia.
Soon after, Arrieta denied the reports, saying, ""It's not true. I liked my time here. I liked Peter. If they don't want me back, I understand because that's soccer, you know? I like Philadelphia. I think I adjusted very nicely."
(Although I did not see any of the Union's preseason training sessions at YSC in January, photos of Arrieta taken by PSP photographer Nicolae Stoian seemed to show he had put on some pounds during the off season. I'm just saying…)
Arrieta's departure means that, at present, the Union has 25 players on its roster. Beginning with the 2011 season, a club can have 30 players on its roster.