New season. New faces. New roles. New tactics. As we move ever closer to the start of the 2011 season, the PSP takes a look possible tactical formations the Union might employ. Today, Adam argues that last season's 4-2-2-2 ought to become a 4-1-3-2 formation to take advantage of the team's wealth of defensive minded midfielders.
4-4-2. 3-5-1. 4-1-2-1-2. In soccer, tactical analysis often boils down to numerical layouts. Ironically, these formations include a caveat about the shape of the team changing organically as a match progresses. One man's 3-4-1-2 is another man's 3-4-3. The point of a formation is to give players a sense of their "home" on the pitch and an idea of where the opponent will leave gaps.
What do the numbers really mean?
The idea of returning to a basic shape is important, as it underlines the fact that every numerical formation is a defensive shape. Picture a 4-4-2 in your head. Chances are you see two banks of four behind a pair of strikers. That is three rows of players set up like a fusball table. A successful defensive unit divides itself into—at most—four planes. The space between each plane is minimal, so that any attacking player who wanders between the lines can be closed down by the combined pressure of a players from two different planes: A defender and a midfielder or a middie and a striker. More than four planes makes defending much more complex.
Take the 4-1-2-1-2, which divides the midfield into three sub-zones. Now the two center midfielders must have a very clear understanding of when they are handing off a vertical run. A well-timed foray by a deep-lying midfielder could take him through three sub-zones very quickly, and the defense must acknowledge the runner and hand him off just as fast. A strong defensive squad may handle this formation well, but it may also find itself exposed as the defensive middie steps up too soon or the wide players come inside to cover a perceived hole through the center.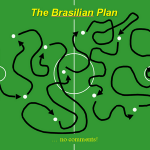 Formations rarely morph the way many analysts would like to think they do. A 4-5-1 does not become a 4-3-3 when you have the ball. Unless a team is behind late in a match, the wide players in a 4-5-1 are still responsible for the opposition's wide midfielders, not their outside backs as would be the case in a 4-3-3. A 4-5-1 would not flood the midfield if everybody was up the pitch marking fullbacks. Base formations are defensive. On offense, anything goes. Players try to get the ball in their favorite positions, formation be damned. Poor defensive players (I won't name any Freds) are usually those who fail to return to their home positions with vigor, preferring instead to cheat towards their favored offensive area.
4-2-2-2 was the default formation in 2010
Need more concrete examples? Let's look at the Union. In 2010, the team usually set up in a four-zone 4-2-2-2 lineup. The midfield resembled a cats-cradle, with the two wide players higher up the pitch than the central midfielders. The major advantages to this system are that it forces the opposition to attack quickly if they want to isolate the Union's outside backs. With Miglioranzi drifting towards the sidelines as a supporting defender, the Union could lock down a slow-building attack. If Migs was late getting over, he had to decide whether to double down on the attacker or leave the fullback isolated and stay central to mark up on a potential cross. The second advantage of the 4-2-2-2 is that it allows wingers to drift inside to receive outlet passes. The space in front of the central midfielders can be filled by a winger, who will start a counterattack with a fullback or Le Toux  filling the gap left on the outside.
The Union struggled to create offense from the 4-2-2-2. The central midfielders who received the most playing time did not have the passing range to play as deep as they did, and for most of the season the fullbacks were decidedly uninterested in stepping into the spaces left when Fred or Mapp drifted inside. Furthermore, Miglioranzi is a shut down defender when he is well-positioned, but he does not have the wheels to close down wide players fast enough to fill the role he was asked to play. If he was a step slow getting wide, the middle was exposed and the center backs failed to deal well with unmarked attacking midfielders.
The case for 4-1-3-2
In 2011, Philadelphia has new personnel and more experience. But they also have to deal with something that the recently-dead-to-me Fernando Torres often saw at Liverpool: When one player dominates your offensive production, teams will make adjustments to stop him. This season, MLS teams may adjust through friendly attempts to modify the shape and color of Sebastian Le Toux's shins. A new year calls for a new plan. The Union should consider a 4-1-3-2 formation that pressures the opponent high up the pitch and makes good use of this team's wealth of defensive-minded midfielders.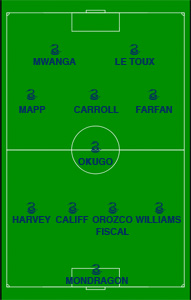 The new defensive solidity is key
A flat back four is a given in MLS. Nobody uses a sweeper, and with many of the league's most exciting talents exhibiting their raw speed on the wings, nobody is ready to sacrifice width to play a tight three-man backfield. The Union should stick with the same defense that finally earned them a shutout unless new signing Valdez completely outperforms Michael Orozco-Fiscal in preseason. To review: Sheanon Williams, Danny Califf, Michael Orozco-Fiscal, Jordan Harvey. Last year, Williams mixed it up in the offensive end, which somewhat alleviated the need for the central midfielders to push forward and make runs through the middle to open defenses up. Before Williams burst on the scene, Union fullbacks were relatively uninvolved in the offense and, well, same with the central midfielders.
With a 4-1-3-2 setup, Williams can carefully choose when to get involved. A major issue for the Union's offense in 2010 was a tendency to get muddled in a short passing game with no forward runners acting as outlets. Pushing the midfield line further up the pitch means the team will look to run their passing game closer to the final third while adding space behind the midfield where a defensive middie can collect and reset the offense. While Orozco-Fiscal's distribution improved as the season progressed, neither central defender can be accused of having a strong passing game in their repertoires.
The middle is the message
Amobi Okugo will sit in as the deep-lying central midfielder. He has the mobility to cover for the rest of the midfield as it pushes up and he has shown flashes of a passing range that Miglioranzi and Jacobson will never have. Okugo's speed and tackling ability are key in this role. He is essentially covering an entire defensive zone by himself. And while he should expect the outside backs to step up and prevent wide midfielders from running too far with the ball, Okugo will also have matches where he is almost man-marking the opposition playmaker. The nature of his defensive duties will vary, but they will always be demanding. If Okugo tires or struggles, the Union have depth at the position in Miglioranzi and Jacobson.
The next line of midfielders are rookie Michael Farfan, Brian Carroll and Justin Mapp. Carroll is a very important player for the Union because he will always be the first option for Okugo as the ball is moved from the defensive third to the middle of the pitch. Carroll may choose to push the ball up to Le Toux or find Mapp and Farfan on the wings. Both wingers are talented dribblers who should be able to open up space with the ball at their feet. Carroll's experience and decision-making are vital if the Union are to excel at the possession-style they employed with varying degrees of success in 2010. At his age, Carroll should not consider himself a box-to-box midfielder, but he must also realize that the Union do not need an aging defensive specialist.
Carroll can turn to Fulham's Danny Murphy and observe a player who has lost his quickness but compensated through faster ball movement and an extended passing range. There is no doubt that Brian Carroll can make this transformation if he understands how he can best contribute to the team. Carroll will also be responsible for shaping his successor in the distributor role: Kyle Nakazawa. Nakazawa played more conservatively than expected in his freshman campaign, but he has all the tools to become a deep-lying playmaker for a fast-building Union offense.
Farfan and Mapp offer a rare set of skills, as both can play on either wing. Mapp can whip in crosses from the left but he also enjoys cutting inside from the right to loft a cheeky ball far post or blast a shot at goal. Farfan played both wings in college and showed a great ability for getting by the first defender. His crossing needs work but that will only come with experience at game speed.
Mwanga – Le Toux partnership could be unstoppable
Up top, Danny Mwanga and Sebastian Le MVP will continue to grow their dangerous partnership. One day Mwanga may be able to check back, control a pass, beat a defender and head to goal. Right now, he is a raw talent with the incredibly rare eye for goal (and it is incredible how uncommon it is) that great strikers use as the foundation of their skill sets. Mwanga should stay high up the pitch when the Union have the ball and make sure he opens up as an outlet and makes mazey runs into the box to meet crosses.
Mwanga must do this because Le Toux is going to run around a lot. Even if he wasn't so effective, it isn't like anybody could stop him. Mwanga's movement high up the pitch should open up space for Le Toux to check in and out. This will disrupt the defensive line and create gaps that Mwanga must learn to exploit with well-timed runs. Le Toux appears to have an intuitive understanding of how a defensive shape alters as a striker moves across it. If Mwanga becomes as manipulative as Le Toux, they will be nigh unstoppable together.
The 4-1-3-2 is a more high pressure defensive scheme than a traditional 4-4-2. It can be susceptible to gaps through the center, but Brian Carroll's history as a holding midfielder should mean that he plays a defensively responsible game. Amobi Okugo is a future box-to-box midfielder, but right now he should be a sideline-to-sideline guy. He has to read the game quickly and learn to protect his back line by cutting off angles and preventing the attacking team from having the whole pitch to work with.
The back four need to continue last season's trend of working as a unit. They cannot be afraid to step up and close down a midfielder if a counterattack moves quickly. Okugo can slide back into the center of defense if a center back steps wide to take the space left by an pressuring fullback. Additionally, Okugo can slide outside if Williams takes off upfield. With Jacobson and Miglioranzi on the bench, the Union can withdraw a winger and play a box midfield late in matches as they protect a lead.
A new season and loftier goals call for minor tweaks to the system that struggled to create a dynamic offense. The need for better protection of the back four should be clear now that Nowak has reviewed last season's game tape. The 4-1-3-2 is a game plan that moves the Union forward while developing their young talent and making best use of returning veterans.