The FIFA Ballon d'Or is supposed to be awarded to the best player on the planet. But this year, it won't be.
There are many ways to define "best player." The most talented; most influential; most in-form; the best player on the best team are all common definitions of the term. And for the 2009-10 season, they all define Wesley Sneijder.
While there are myriad ways to define the best player in the world, there is one clear way to know you made the wrong choice: When the three finalists are selected, they are all on the same club team. And that team did not win Champions League.
The finalsts are, in order of probability that they will win, Xavi Hernandez, Leonel Messi, and Andres Iniesta. The latter is there because he scored the goal that won the World Cup. Messi is the most talented player in the world. But Xavi is the odds-on favorite to win.
Xavi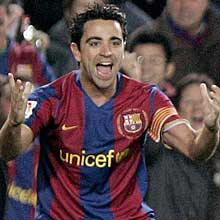 Why Xavi? The reasons seem to topple over one another. They call him the maestro. His orchestra is the most talented group of footballers (assembled at considerable expense) in the world. Xavi completes more passes per game than any other player, over 100 in 90 minutes on many occasions. He is the offensive engine of a team that was built for him. His club manager, Pep Guardiola, occupied Xavi's role on the Barcelona squad before joining its coaching ranks. Modern soccer is a business, and star players are always moving between teams. Xavi has stayed in the Barcelona system his entire career, and when Deco was hit by injuries and began his decline, the Barcelona team was molded to Xavi's style of play.
Xavi trots around the midfield, moving the ball and changing the angles of play until they line up for him. If you didn't know better, you might think he was trying to check off every player on his Passing Bingo card. What he is really doing is playing God with the universe of the field, moving players like a deity arranges planets. Xavi's success has garnered such respect from his teammates, that he almost always receives the ball when he checks into space, and his team rarely tries to start an attack without the red stamp approval of a Xavi forward pass.
He plays the same role on the Spanish national team. And Xavi benefits from the unique TV rights system in Spain that allows each team to negotiate its own deal. Barcelona and Real Madrid, flush with television money, own almost all of the Spanish national team players. This makes the transition from club to country easier for the Spanish than for most national sides.
Sneijder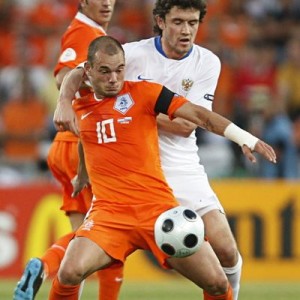 In contrast, Wesley Sneijder is the only Dutchman on Internationale Milan. He arrived before the 2009-10 season after an ignominious spell at Real Madrid. When he signed with Inter Sneijder said, "Leaving Madrid is not a defeat. They have treated me very bad, but I prefer not to speak, really."
Sneijder arrived at a club that had just sold its top striker, Zlatan Ibrahimovic, to Xavi's Barcelona. Ibra was more than a goalscorer for Inter, he was the hub through which the offense flowed. His unique blend of size, skill and speed had been nary unstoppable in Italy, and Inter could only replace him with aging sniper Diego Milito and Barcelona reject Samuel Eto'o. Both players were more traditional strikers than Ibra, and Sneijder was asked to become the central playmaker after spending a year as an afterthought at Real.
There is little denying that Sneijder was joining a talented team. Inter was looking for a fifth straight Serie A title, but the true goal was Champions League. President Massimo Moratti had recruited Ibrahimovic and manager Jose Mourinho with the European crown in mind. Acquiring Sneijder was something of a coup, but after a season in which he started less than half of Madrid's La Liga matches how much could Inter expect from their tiny Oranje?
A lot. A Golden Ball's worth of a lot. Sneijder had 4 goals and 6 assists in 26 Serie A matches, and his exceptional free kicks made opponents wary of committing fouls within 30 yards of goal. In less than one season he became to Inter what it took Xavi a career to become for Barcelona. In fact, he was more. Sneijder did not have the benefits of Ballon d'Or winner Messi or Xavi-level creative force Iniesta for assistance. Instead, Inter lined up with some combination of the elderly Cambiasso, the limited Thiago Motta, the sullen Muntari, and the out-of-position Zanetti behind their Dutch attacker. With an offensive complement like that, who needs strikers, right?
Yet, Inter had strikers. Milito may be getting up there in years, but he was a force for Genoa in 2008-09. Eto'o may have been unceremoniously dumped by Barcelona, but he was still one of the best three African footballers on the planet. But as Rooney and Heskey, Higuain and Benzema, and Berbatov and anyone besides Robbie Keane will tell you, just putting two forwards together doesn't guarantee goals. A striker's job is to finish. This definition necessitates a start, or in soccer lingo: Service. Barcelona has about ten players on the pitch at any given time that provide better service than Sully Muntari. Inter relied on Wesley Sneijder to bring Milito and Eto'o into the game and force opposing defenses to respect the Inter counterattack.
So Sneijder pulls on the blue and black shirt and in his first season turns provider for an entirely new strike force. He leads them to victory in Coppa Italia and keeps them on top in Serie A. Meanwhile, Xavi takes Barcelona to the top of La Liga but cannot prevent a Round of 16 exit against Sevilla. While both players are deserving of high marks, they will meet twice more before a Ballon d'Or verdict can be rendered.
Champions League
Inter and Barcelona met in the semi-finals of the 2009-10 Champions League. The first leg was played at the San Siro in Milan, and Sneijder was the star of the show. He opened the scoring in the 30th and moved the ball with ease and precision in the face of relentless Barcelona pressure. One of the reasons it's so hard to defeat Barcelona is that their defensive pressure is as good as their passing. Only a player of immense technical ability can run an offense in the face of such disciplined and aggressive zonal marking. The 3-1 scoreline in favor of Inter Milan shows that Sneijder is such a player.
In the second leg at the Camp Nou, Sneijder was asked to carry a heavy defensive load after Motta received a first half red card. Inter survived and went on to win their first Champions League trophy since 1964-65. Sneijder had the assist on the winning goal. It was one of six assists and three goals Sneijder picked up during his eleven games of the tournament.
World Cup
The next time Xavi and Sneijder met was the World Cup final. Xavi's Spain was the favorite. And although he has been given immeasurable credit for their success, it can be argued that Xavi was only the third most important player on the Spain squad. David Villa scored five of Spain's eight goals (eight goals in five games? That's it?) Meanwhile, Sergio Busquets was reinventing the holding midfield position by dropping deep between the center backs and starting the Spanish offense from deep in his own half.
Spain got to the final despite an underwhelming cup performance from Fernando Torres. The Netherlands got to the final despite stilted performances from striker Robin van Persie and winger/striker Rafael van der Vaart. If only a tiny leader would step forward to lead the Oranje through this difficult period…
Sneijder had five goals and an assist in seven World Cup matches. He scored with his feet and his head and was the most dangerous player on the Dutch team.
The Facts
Remember: The Ballon d'Or is awarded for performance over the course of one year; it's not a lifetime achievement award. Xavi: Same team his whole career, team built for him, La Liga title, no league cup, World Cup title.
Sneijder: New team, new strikers, jettisoned by his former club, no Iniesta at his side, no Ballon d'Or winner in front of him, Serie A title, league cup title, Champions League title.
Nobody can say that Xavi is anything less than a brilliant footballer. But nobody can look at these facts and say he deserves the Ballon d'Or over Wesley Sneijder.