Editor's note: PSP is running season reviews for each Philadelphia Union player. You can read all the reviews here.
What can we say about Sebastien Le Toux that hasn't already been said? We've already told you he's your favorite player and heaped praise on the guy all year. To call 2010 a breakout season for the Frenchman would be understatement at best. And you can point to the goals and the assists for sure, but I'd hardly say that's why we all love Le Toux so much.
Philly is a blue collar town and the guy is a worker. Chasing down every lost cause like it could be the game winning goal. Brushing aside would be tacklers who are nipping at his heels and holding his jersey, all the while keeping the ball and never considering going to ground. The work rate is just outstanding.
But it's even so much more than that. It's the silly dance he does with Danny Mwanga or the heart he shows to the fans after a goal is scored. It's the toss of those purple boots to kids in the stands and the applause for every side of PPL Park after the match. And no matter what happens from here on out with the Union, with Le Toux, with anything. Le Toux will be legendary in Philadelphia sports folklore for taking an expansion team, throwing them on his back, and working his socks off.
2010 Statistics
28 games played, 28 games started. 2520 minutes. 14 goals, 11 assists. 90 shots, 48 shots on goal. 10 fouls committed, 37 fouls suffered. Not one yellow or red card.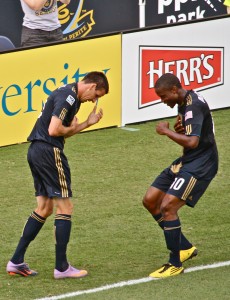 High Point
You could argue the whole season without too much trouble. But if we're picking moments, why not the hat trick in the first ever Philadelphia Union home game.
Low Point
Was there one? You tell me…
Strengths
Work rate. Finishing. Vision. Pace. So many to choose from. You get the sense that if you needed an emergency keeper, he could probably do that too…
Weaknesses
Set pieces. For all his brilliant finishes and visionary passes, his service was lacking. On corners, on free kicks, it just wasn't reliable.
Outlook
An obvious starter going into next season. The question will be where. He seemed to contribute just as well from the wing as he did up top, and with a serious lack of outside midfielders, we could see him deployed out there more.
We've come to expect a lot of Le Toux. It probably wouldn't be fair to anticipate the same kind of output for 2011 in terms of stats, but here's hoping we don't have to. After all, I think we all know what to expect from Le Toux in every game: A guy that will go 100% for 90 minutes for as many games as there are in the season.