Jack McInerney started and Amobi Okugo was a substitute in the Generation Adidas win over the Rayo Vallecano reserves in Madrid.
Two players on the Union affiliated Reading United team—Penn State's Corey Hertzog and Duke's Andrew Wenger— have been nominated semifinalists for the 2010 Missouri Athletic Club's Hermann Trophy, college soccer's Balloon d'Or.
Local
The New York Times looks at the Messiah College men's team, winners of their third straight NCAA Division III title on Saturday. The women's team is quite the powerhouse, too.
MLS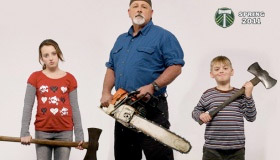 The San Francisco Chronicle has a decent look at the Re-Entry Draft, the first stage of which will begin this afternoon. You can take a look at our thoughts on the Re-Entry Draft, for which Fred and Chris Seitz are available, here. (The SF Chronicle article suggests the Union, who have the Third Round pick, could use someone like 36 year-old Frankie Hejduk at right back. Have they not heard of the power that is Sheanon Williams?)
A few months ago they bought billboard ads in Seattle. The marketing geniuses at Portland Timbers continue to cause notice with their billboards after putting up billboards in Portland paying homage to their fans. Very cool, indeed.
Houston Dynamo have a new shirt sponsor, Greenstar Recycling. The five-year deal is worth $12.7 million.
US
In case you had any doubts, Sports Illustrated's Steve Davis is here to assure you that, despite losing out on hosting the World Cup in 2022, soccer will continue to grow in the US.
Chuck Blazer responds to some questions from Dave Loney at Big Soccer.com.
USWNT coach Pia Sundhage is a finalist for FIFA's World Coach of the Year award for women's soccer.
Pachuca and USMNT teammates Jose Francisco Torres and Herculez Gomez have denied reports that they are moving to MLS.
Elsewhere
Here's a wrap of yesterday's Champions League matches. Today you can see:
2:30pm: Arsenal v Partizan (FSC)
2:30pm: Olympique Marseille v Chelsea (FSP)
5pm: Real Madrid v Auxerre (FSC – delayed)
7pm: Olympique Marseille v Chelsea (FSC – delayed)
The WikiLeaks cables have touched on the world of soccer. At the same time that the junta that "runs" Burma was being criticized for its slow response to cyclone Nargis (the worst natural disaster in the recorded history of country, the junta stopped counting after recording at least 138,000 dead), junta leader Than Shwe considered spending $1 billion to buy Manchester United.
In more Manchester United news, it looks like the club will be back in the States next summer.
Kuwait won the Gulf Cup after defeating Saudi Arabia 1–0 on Sunday, but some are saying the real victor is host country Yemen. The reason? Because there were no terrorist attacks during the two weeks of the tournament.