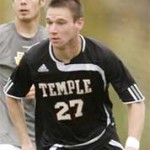 Temple News has a good article on JT Noone's soccer season. The Philly product was back and forth between the Union and Harrisburg all year.
Jaime Moreno: 133 goals, 102 assists. The only player in MLS history with triple-digits in both categories. In 2010, Jaime had as many goals as Alejandro Moreno despite playing 1000 fewer minutes.
The Vancouver Whitecaps have already sold 15,000 season tickets for their inaugural MLS campaign. The initial goal was 16,500, but management is now thinking of setting its sights higher.
MirrorFootball has an article that chronicles the long path David Beckham took to finally reaching his dream of winning the Supporter's Shield. I hate to say it, but I kind of like Beckham now. Becks and Jose Mourinho have both edged their way onto the positive side of my ledger. Thierry Henry is still in the hole, but if he keeps palling around with my boy Federer… man, I'm going soft. Don't worry, still no love for Fergie.
German midfielder Torsten Frings says he'd like to play for New York in MLS if he doesn't resign with Werder Bremen. He also says he has 1-2 years of soccer left in him, so consign him to the MLS retirement plan heap.
Boston Globe writer Dan Shaggybear writes that new Liverpool owner John Henry's "quiet confidence" could be the key to Liverpool's success. Ah yes, the old abstract noun argument. It's one of my favorites. I wonder how much quiet confidence Henry will spend shoring up the Reds defense and bringing in wingers? Is quiet confidence worth a lot more than brash confidence in the commodities market right now? I really wish we would have ponied up that eight million pounds worth of cool sensibility to bring in Rafael van der Vaart in August.
Seven Spaniards are on the Balon d'Or shortlist this year. But to put that in perspective, the shortlist is 23 players. That's more than a full squad. i.e., not short at all. Four Inter Milan players made the list, all very deservedly. Five Bayern Munich players made the list, some more deservedly than others (Lahm and Klose? Did I miss something? Did Germany win the World Cup when I wasn't looking??) Since I'm a sports journalist, it's time for a haughty opinion: It should come down to Wesley Sneijder and Diego Forlan. Sneijder was the best club soccer player in the world, Forlan was the best at the World Cup. And one more thing: How does Diego Milito continue to get crapped on?? He was the best striker in Italy and the best striker in the Champions League and Dani Alves gets a shortlist place ahead of him? Maybe it's time to start wearing loose turtlenecks when you play, Diego. I don't know what else you have to do.
Chris Wright of Soccerlens takes a translated quote from Jose Mourinho out of context in order to make an absurd headline. Whatever gets you that boat, Chris.
Juventus winger Milos Krasic has been suspended for two matches for diving to earn a penalty over the weekend. The Italian rules board decided that the dive was nowhere near as flamboyant as the situation demanded and criticized Krasic for his minimalist interpretation of the "modern flail".
Check out this interesting story on the skull-and-crossbones logo of German club St Pauli.
Your required reading for the day comes from soccer blog The Equaliser. They've been doing a great rundown of the best managers in the history of football, and the top 2 are names you just have to know. Victor Maslov and Jimmy Hogan brought the two Ps to the beautiful game: Pressing and Passing. Check it out.
Also, as my calamari salad order predicted, Paul the Octopus died.