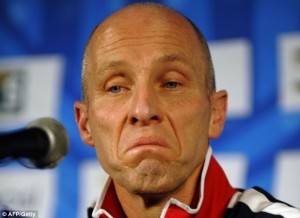 US Soccer extended Bob Bradley's contract today until the 2014 World Cup. Many people are upset by this move, but given Bradley's accomplishments so far it is a good decision. While a more high profile European coach might have added some star power to the national team set up, it wouldn't necessarily have been successful. With the exception of Jurgen Klinsmann there doesn't appear to be a high profile coach that has a strong familiarity with US Soccer or American culture.
While Jurgen Klinsmann could have brought his experience from coaching the German national team and his excellent career, he does not have a lot of coaching experience. Don't forget that the German soccer federation did not continue with Klinsmann after the 2010 World Cup, where Klinsmann managed to guide the German team to 3rd place. This doesn't seem like a great accomplishment, though, considering that the German team had the talent to win the World Cup, especially since they had home country advantage. In addition Klinsmann had a very short stint at Bayern Munich.
As for Bob Bradley, he doesn't have an excellent playing career to provide him gems of wisdom, but he has a great deal of experience as a coach. Of course coaching in MLS may not be that impressive. Bradley also has experience with the US U-23 national team and a full World Cup cycle with the Full men's team. In addition his accomplishments at the international level speak for themselves.
To start, Bradley guided the US to finishing first in the CONCACAF qualifying tournament, which hasn't happened in the modern era. He also guided the US to win the 2007 Gold Cup, which qualified the US for the 2009 Confederations Cup. Then at the Confederations Cup he guided the US to 2nd place while defeating the mighty Spanish team, which was on a major undefeated streak at the time.  Lastly, he won his World Cup Group, which the US has never done before. In addition the US was only bounced out of the tournament after losing to Ghana in overtime. There is no shame in that. Although it looked like the US could have gone further, the ball just doesn't always bounce your way in soccer.
Bob Bradley has shown that he can motivate his players. The US has been fun to watch in part because of the never die attitude he has instilled. Certainly Bradley has his faults, but his accomplishments show that he has plenty of strengths too. Bob Bradley has done very well with the talent at his disposal. Considering the wealth of talent coming up from the youth ranks, Bradley may be able to accomplish even more than he did in his first four years. Of course the only thing he could do to top his first fours years is getting past the round of 16 in the 2014 World Cup. What do you think of Bob Bradley? What do you see as his strengths and weaknesses?