Chelsea v. West Bromwich Albion – 12:30pm, FSC
Minnows Chelsea will hope to avoid relegation as they battle it out at the bottom with Wolves and Blackpool. What? I never said this was an accurate preview!
Chelsea made very few changes from last season's trophy-winning squad. In come Yossi Benayoun from Liverpool and Ramires from Benfica. Out go Michael Ballack, Deco, Joe Cole and a host of other guys who were never going to set foot on the Stamford Bridge pitch during league play. Chelsea can afford to sit back and spend little because their competitors at the top are all in dire financial straits. Manchester United is owned by the Tenenbaums, Arsenal has an actual business plan, Liverpool is a mess, and Manchester City seems like they're just buying enough players so they can trade in the UPCs for a secret decoder ring.
Chelsea also has a trump card: Michael Essien. When the Ghanian middie is healthy, there is nobody better at owning a midfield. Essien's play allows the rest of the midfield (seriously, all of them) to push forward and pretend that they don't have any defensive responsibilities. From this perspective, you could blame Essien for England's World Cup performance. Nobody told Lampard about the other half of the pitch! What do you mean, "cover him"? Like with a towel, mate?
Key to Chelsea's title hopes will be Nicolas Anelka. If he doesn't recover from his World Cup scandal, the French striker will be a major issue in the locker room. And Chelsea, for all its money, doesn't have a suitable cover option for Le Sulk. Kalou is more famous for his misses than his makes and Daniel Sturridge has yet to prove he's the real deal. Manager Carlo Ancelotti – aka the Aged, Disillusioned Pillsbury Doughboy – may turn to Gael Kakuta this year. Kakuta is famous for earning Chelsea a transfer ban over their nefarious dealings to acquire the French youngster. He has been impressive in the preseason and in the U19 World Cup.
Chelsea recently sold Ricardo Carvalho to Real Madrid. The center back has been injured for much of his Blues tenure, but he showed that he is still a top talent during the World Cup. Portugal allowed only one goal and ZonalMarking.com named Carvalho to its top eleven. His sale means that Ancelotti expects Alex to play a more prominent role this year. Although Ivanovic may push inside if Jose Bosingwa can regain his position on the right.
Chelsea will play Ancelotti's patented 4-4-2, with 3 to 4 center midfielders, depending on Florent Malouda's health. This formation allows Frank Lampard to push very high and get first crack at all the balls Drogba and Anelka deftly knock into his path. Chelsea can play such a compact style because they are so good at counterattacking. If you build a defense to fit their narrow system, you open up space that Drogba, Anelka and Malouda exploit to great effect. The truth is, Chelsea's offensive unit is physically talented, but also very smart. I know, it sucks.
Buy this jersey: Andriy Shevchenko. Because you are a funny guy, funny guy.
West Brom is the middle child of the promoted teams. They don't have a stay-up imperative like Newcastle, but they haven't acted like their time in the premiership will be a hello-how's-your-father like Blackpool. Manager Roberto Di Matteo is looking to add attacking options before the transfer window closes, with Liverpool beanpole David Ngog at the top of his list. Di Matteo can stand in line behind the entire Kop fanbase in hoping that the Reds sign another quality striker before the end of August.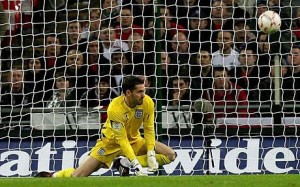 West Brom will benefit from having experience in the back. Nicky Shorey, Steven Reid and Scott Carson have boatloads of EPL experience, and Pablo Ibanez will look to step into the center of the defense from the get-go, no easy assignment when Didier Drogba will be your first opponent. Carson is hoping that WBA's return to the EPL will be the first step towards climbing back into the England goalkeeping picture. And who's to argue with him? Not Robert Green, that's for sure.
West Brom will come out in a 4-5-1 on Saturday or I will eat my hat (luckily, I make my hats out of egg whites and challah bread). Midfielders Graham Dorrans and Chris Brunt will have the extremely difficult task of clogging up the Chelsea midfield while starting the counterattack that will likely be WBA's only chance to put up a crooked number. As the season progresses, Dorrans will have opportunities to press forward in a Gerrard-like role. But not Saturday.
Buy this jersey: Dorrans. He's young, tough and talented. If West Brom goes down, he'll be the player that will fund their rebuilding process in the Championship next season. Dorrans had 13 goals last year and will score in the EPL as well. His adjustment to the big stage will determine the potency of WBA's offense.