Union
You can look at a variety of recaps to the Union's 1–1 draw with Real Salt Lake from the our post-game report.
Best Nowak quote of the day: "This is a men's sport, so we have to be prepared for physicality. Sometimes we give too much respect to the other team. When you come to our house, you have to expect that nothing is free. Anybody that comes to our house needs to know that they have to be up to the challenge."
RSL defender Chris Wingert, the big baby,  is calling for a three-game suspension for Michael Orozco Fiscal after receiving a "flying elbow."
Independence
Here's what the Chicago Tribune thinks about the Red Stars Wednesday night 2–1 loss to the Independence.
Goal.com wonders why you aren't watching the most talented soccer league in the US, the WPS.
MLS
Rooney to the MLS! John Rooney, Wayne's younger brother, is on trial with Seattle Sounders.
Thierry Henry recorded an assist in the New York Foul Tasting Liquid That Makes You Feel Jumpy's 1–0 victory over Toronto. Henry played 46 minutes in his home MLS debut.
Message from new Portland Timbers coach John Spencer to the fans: "we're gonna die for you." Tough crowd, apparently.
David Beckham trained briefly with LA Galaxy on Wednesday for the first time since he ruptured his achilles tendon. Contrary to what England manager Fabio Capello says, Beckham says he will never retire from England.
USSF Division 2 Pro League
With last year's dispute between the USL and the new NASL there was some question as to how sustainable division 2 soccer would be in the US. The USSF has been developing a new set of standards clubs wishing to participate in the league next year. Here's an update from the always excellent Inside Minnesota Soccer.
US
Steve Davis considers what direction the US needs to take following the loss to Brazil. I think I'd start with scoring goals.
Everybody loves Neymar. And what's not to love, except maybe the haircut.
Fanhouse considers some unanswered questions.
Glasgow Rangers assistant coach Ally McCoist was on hand for the USA v Brazil match to scout Benny Feilhaber and Alejandro Bedoya.
Goal.com has an interesting Q & A with six youth soccer coaches about the development of new players, tactics, coaching philosophies, and how the youth development system can be improved.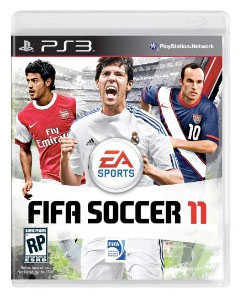 Landon Donovan has been selected to grace the cover of North American versions of the FIFA 11 videogame. USA! USA! USA! He is joined on the cover by Kaka and Carlos Vela.
Etc.
Soccer America has a list of the top ten biggest crowds for a soccer match in the US for 2010. Five of the matches, including the top draw, are Mexico matches. The USA v Turkey match in Philadelphia comes in at number nine.
Steven Gerrard saves England's ass against Hungary with a brace.
After Chicharito puts Mexico up 1–0 against Spain, David Silva saves Spain's ass with a late equalizer.
New France coach Laurent Blanc covers his ass and accentuates the positives after France lose 2–1 to Norway.
Here's a top 10 list of the most ridiculously overpriced British players of all time.
Cover photo by Paul Rudderow.