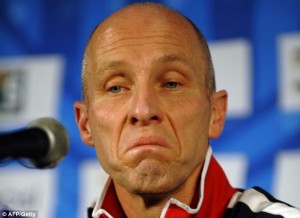 Ever since Bob Bradley led the US National team to a disappointing Group of 16 exit, foolishly started Ricardo Clark against Ghana, continually started goal-shy Robbie Findley, and relied on a combination of luck, angry facial expressions and Tim Howard to pull his team back from early deficit after early deficit, the big fella has been on the radar of every mid-table English club. The latest is Aston Villa. The Villagers are an incredibly talented side who just lost an incredibly talented manager because their American owner is insisting on selling two of their most incredibly talented players and hinting that he won't reinvest in the squad. If Bradley gets the job, let's hope he brings in Jozy Altidore on loan.
Jozy is remaining publicly upbeat about his club situation. Currently employed by Spanish side Villareal, Altidore says he is happy to stay and fight for time on the pitch. At this point in his career, there is a 30-40% chance Altidore becomes the American Emile Heskey.
And speaking of elderly soccer players, Toronto FC coach and former KC Wizards star Preki will enter the National Soccer Hall of Fame today. Dude has absolutely earned it, putting up 79 goals and 102 assists over 9 seasons with the Wiz. Preki also scored the 90th minute winner to beat Brazil in the 1998 Gold Cup semifinal. He's the oldest player to score in an MLS game and he's a great MLS ambassador. Bruce Arena will also enter the Hall of Fame. Which is stupid. He's still coaching in the US. Just wait for the guy to retire. That's how Hall of Fames work.
David Beckham thinks he can make it back to the LA Galaxy in September which means he'll get back just in time to console Landon Donovan while they both toil away in a league they don't want to play in.
Scotland's Rangers are poking around Benny Feilhaber, apparently unconvinced that recruiting skinny, quick Americans is a bad idea after enduring Damarcus Beasley's first touch.
Yura Movsisyan is joining the Armenian national team. The 23 year old grew up in the Los Angeles area and played in MLS before moving to Denmark's Randers.
Soccer365.com reveals that, "A German report has linked Philadelphia Union with Koblenz playmaker Ervin Skela." Unfortunately there is no link to attach, but if the Germans say it… Here is a brief profile of Skela. He switched teams in 2004, '05, '06, and '07.