My two-week journey to South Africa commenced with a baptism by fire on the streets of Johannesburg, or Jo'burg as residents like to call it. It wasn't the driving on the "wrong" side of the road that made my first few hours in Africa so treacherous, but rather the sheer insanity with which Jo'burgers took to the task. Mind you, I'm no stranger to chaos on foreign motorways, having barely survived a dizzying tour of Rome at the hands of my sister (a maniac on domestic soil as well) and a recent trip to Vietnam which saw me take the reigns of a motorbike for the first time (and most likely the last). But my 2,000 plus miles over South Africa these past two weeks has them all beat.
We decided to set up camp in Rustenburg, about 100 miles north of Jo'burg, up the aptly-titled Platinum Highway, or the N4. The town, awash with riches following the relatively recent discovery of the precious mineral, is unspectacular but rests in the foothills of the certainly spectacular Magliaesburg Mountains. You might remember the name from pre-World Cup fever—it was where Portuguese journalists were robbed at gunpoint mere days before the opening ceremony.
Rusty, with its red earth hills and gleaming new shopping mall, the Waterfall, would be our home for the better part of two weeks.  However, after seeking the advice of some of South Africa's diaspora, we decided not to brave the aforementioned N4 after touching down at Oliver Tambo International Airport. After struggling to locate the Safari Club and then struggling further to manipulate the Euro-style heating unit inside, we bundled up and went to sleep, fully aware that when our eyes opened we'd see the African sun for the first time.
Our surprisingly good breakfast fortified us enough for the journey to Rustenburg. Our electric blue Honda Jazz (think Fit) sputtered onto the R21. It only took me about 20 minutes to foolishly exclaim, "I don't know what all the fuss was about, this isn't so bad…" How perversely comical those words would prove when less than an hour later, the N4 all but beat me into submission.
The roads in South Africa, while generously paved, are woefully narrow. Try to imagine if an important artery in our country, say I-95, was one lane. That would be the N4.  Oncoming traffic, a few inches away, whizzed by the Blue Demon at around 160 km/h.  Tractor trailers jockeyed for position with late model Audis and BMWs. The Blue Demon, in its feeble attempt to pass one of these behemoths, nearly collided head-on with a Mercedes sedan. It would be days before it, and more importantly, I would muster up the courage to try again.
After two sweaty-palmed hours, we pulled into our bed and breakfast, Terra Casa Guesthouse. Terra Casa is truly a diamond in the rough. The well-appointed, Mediterranean-styled mansion contrasted starkly with the otherwise pedestrian suburb. We unpacked in our room, the van Gogh suite, and hastily made our way to breakfast. The owner of Terra Casa, Elmarie, doubles as a world class chef, and her eggs benedict was simply a revelation. The lavish dining room, filled with World Cup tourists, was abuzz with excitement. It wasn't just Elmarie's delicate mushrooms that had everyone in a tizz, it was the reprisal of the Revolutionary War that was about to take place. Amongst the cockney and scouse accents we faintly deciphered a bit of Californian in there and had our suspicions confirmed when we spied a red jersey with the Don't Tread On Me snake. Together with the couple from San Francisco we would form a traveling party later that afternoon to the Royal Bafokeng stadium in Rustenburg.
A failed attempt to navigate the murky waters of Rusty's park and ride system behind us, we managed to make it to the shuttle pick up. The atmosphere was electric. The American Outlaws supporters group dueled with England fans clad in Monty Python outfits.  The ensuing hilarity of chants reminded me why football is the best entertainment for the money. The AOs and English traded barbs with songs like "There were three English soldiers on a hill…there were three English soldiers on a hill…" and "If you've won a World Cup, clap your hands," respectively.
To be fair, it was almost all good-natured and I heard of zero violence between the two sets of supporters. A text message from my sister indicated our Yanks outnumbered the blokes eight thousand to six thousand. Our seats, Category 1, were lamented by many in the American Outlaws as being nose bleeds. I, for one, love being high enough to view the entirety of the pitch at once, to have an aerial view of tactics and formation.
The game itself, from a purist standpoint, wasn't amazing. The result, of course, was.  Steven Gerrard saw his 4th minute tally erased when Clint Dempsey's tame effort squirted out of Robert Green's grasp and barely trickled over the line. Pandemonium broke loose in the American section. My camera flew out of my hands and with them I filled the body parts of complete strangers. Anyone within 10 yards was not safe from my embrace. We hugged, we kissed, we cried. We felt like we had won. Lord only knows what we would have done had Jozy Altidore's second half shot careened in off the post, instead of glancing wide. The result was perfectly immortalized with the New York Post headline, "USA wins 1-1!," the subtitle indicating this was the best American draw since the battle of Bunker Hill. And who could argue?
Our jubilation spilled over into the car park where I slugged red wine and danced the Wocka Wocka with the locals.
Deviating from our whirlwind itinerary, we decided to spend the morning afternoon exploring Rusty. Having already driven through the seedy CBD (central business district), there wasn't much left to see other than the Waterfall Mall. Side by side with the world's greatest consumers, the Yanks and the Brits, we stammered into store after store in search of World Cup regalia. We filled our bags and then our stomachs, stopping to take in a match and some great seafood curry at the Cape Town Fish Market, an upmarket chain restaurant of South Africa.
With Sunday blown on shopping and eating, we combined our Sunday and Monday itinerary and headed north for Pilanesburg Game Reserve. Billing itself as a malaria-free park, the generously stocked reserve boasted of the chance to spot all of Africa's "Big Five":  the rhinoceros, Cape buffalo, lion, leopard, and elephant. I was decidedly skeptical, especially considering we missed the mark again on my anal retentive itinerary and showed up at the park's gate well after dawn.
My skepticism was all but confirmed when we saw a massive open-top tour bus beat us to the punch into the reserve. At this point, I would have been happy to see a chipmunk. Well, it took all of three minutes to prove me wrong. Two humongous white rhinos were right by the side of the road, scarfing down a breakfast of grass and wheat. We giddily reached for our cameras and went to work.  Not five minutes in and we had checked one of the Big Five off our list.
The puttering of the Jazz would bring us face to face with not only the white rhino that day but scores of other species including the gemsbok, antelope, buffalo, giraffe, zebra and elephant. The elusive leopard and sleeping king of the jungle were yet to be found.  But Pilanesburg was a great success with hundreds of animals spotted in a mere six hours. Considering our manic two week tour of the subcontinent, the famous Kruger Park would have to be skipped.  So, it was on to Sun City, the continent's largest gambling mecca.
The kitschy hokeyness of the Lost Palace proved to be little more than a Vegas facsimile, the first of very few disappointments in our trip. Of course, the other let down, a sorry excuse for pizza would await us next as we watched an own goal and a Dirk Kuyt rebound trip up a plucky Danish side. The unbridled excitement of watching the World Cup live would be tempered with some of the poorer television viewing experiences I've come across. We left Sun City and made our way back to Rusty.
Before dawn the next morning, a South African Airways jetliner would take us to Cape Town. We touched down Tuesday on a misty Cape morning. Our driver whisked us from the car park to the highway towards the Victoria and Alfred waterfront, our home for the next four days. I couldn't help but notice the shantytown that straddled the highway. The hotel driver informed us this area was called Cape Flats. The houses were built from tin, some lacking complete roofs. Apparently, these people were waiting for government housing to be built, a process that would take years.
As I later reflected on the juxtaposition of the Cape Flats and the V & A Waterfront, I couldn't help draw a parallel that hits closer to home. Around the corner from our apartment, in fashionable Rittenhouse Square, Philadelphia's elite dine on $60 steaks at Smith and Wollensky, near the base of the Rittenhouse Hotel, all the while homeless men, a mere hundred yards away, fight rats to salvage cigarette butts and food remnants. The dichotomy of the affluent V & A waterfront and the Cape Flats invoked the same feelings of sadness. We were here for our honeymoon, for the five star treatment. But thankfully that was put into perspective upon seeing how the majority of South Africa's 48 million residents lived—in poverty. It is the single greatest problem facing our planet today. South Africa, with most of its people living on less than $1 a day, is certainly no stranger to it.
Later in the week, our tour guide would illuminate more issues. One of particular significance, was crime. There are 50 murders in South Africa each day, a startling statistic considering the country doesn't even boast 50 million people. By contrast, around 60 people are murdered each day in the U.S.A., a country of over 300 million people. Media pundits, sensationalist outlets, and bloggers from here to kingdom come were quick to point this out in the lead up to the World Cup kickoff. But they didn't paint the complete picture.
Freddy, our city tour guide Wednesday, came close. The overwhelming majority of the violence, according to him, was perpetuated by black South Africans against immigrants from neighboring countries, particularly Zimbabwe. The refugees, fleeing political strife and economic collapse in their home countries, came to South Africa seeking work and a better life.
Well, they got one out of two.
Prepared to work for any wage, as low as ten cents on the dollar compared with their South African counterparts, the immigrants found employment at every turn. This of course, provoked a reaction from the inhabitants of their recently adopted country, a reaction which oftentimes turned deadly. The President, Jacob Zuma, has an interesting, humanitarian take on the subject. He rightfully concluded that these people would be offered safe harbor for it was they who took in hundreds of thousands of South Africans during the brutal apartheid regime. Reciprocity, if not brotherhood itself, was evident.
Race relations are refreshingly blunt in South Africa. Our driver, Freddy, nonchalantly explained the difference between the people of South Africa: "whites" were Caucasians from all over—Britain, Portugal, and of course Holland; "coloureds" were biracial and could be any number of combinations of Indian, Malaysian, African, and European; "blacks" were people who migrated from central Africa—Congolese, Bantu, Zulu, etc.
Freddy himself was as he described, "a black person with a big nose, a Bantu." He spoke of all different ethnic people from a country who despite the above atrocities, was mostly at peace with itself. The latent racism—"Some people just couldn't adapt" as Freddy put it—was overt, easily identifiable if not tolerable.
It got me to thinking about the racism in this country, the covert. If racism and race relations are front page news in South Africa, they are merely the subtext on American shores, hidden from plain sight, but undoubtedly crucial to the bigger picture. We have not become colorblind, as reported, but rather colormute. We simply refuse to discuss race relations any longer, sweeping it under the rug, using broad and dismissive language to marginalize its relevance. Although South Africans could learn from us in terms of city planning and highway networking, it's us that has a great deal to learn from them concerning race and equality. If it's one thing I learned about South Africa its that it is a country united.
But just a day before I was bemoaning the plight of the residents of the Cape Flats, I was ironically, but hopefully not to hypocritically, exploring the Cape's winelands. My wife and I booked a private tour of the towns of Stellenbosch, Franshoek, and Paarl. We surveyed South Africa's incredibly underrated varietals and blends—shiraz, pinotage, cab franc, and scores of others. The highlight of the day was lunch at La Petite Ferme (The Little Farm) a wonderful little vineyard nestled amongst rust colored foliage and towering oak trees. My fish stew was as unbelievable as the red wine I used to wash it down.
Our German tour guide, Jochen, had an uncanny grasp of South African history and provided us with all the background we needed on local winemaking. The crux of his dissertation was that the Dutch were basically crap at making wine so they imported the Huguenots, French people who freely made wine but couldn't freely practice their religion. It was a win-win situation for both parties—the Dutch got all the knowledge the could possibly need with respect to the growing of grapes and cultivation of wine and the Huguenots got a beautiful place to worship God in the way they wanted.
We breezed through the hills of Franshoek and soaked in the sun of a glorious day. Our bellies full and bodies warmed from a day of sun and wine, we made our way back to the waterfront for a night of World Cup matches,  the highlight of course being the Brazil right back, Maicon's sublime finish against North Korea. The goal, from the most improbable of acute angles, was necessary as was Elano's side foot because the North Koreans made a spirited fight of it and drew a goal back late on. We went to sleep fuzzy from more wine and dizzy from Maicon's genius.
The next day was a tour of Cape Point, including the Cape of Good Hope, the most South-Western point in all of Africa. Aside from Freddy's political discourse, the best parts of the day were the seals at Seal Island, the penguins at Cape Point and me almost having my hand bit off by a giant ostrich.
That night we dined at a relatively mediocre Italian restaurant in the mall near the V & A waterfront and watched freshly signed Manchester United forward Javier "Chicharito" Hernadez undress a decidedly poor French side.
We were up early the next day and on a plane headed back to Jo'burg, where our second match, Slovenia v. USA awaited us. We hopped back in our electric blue Jazz, and after paying a shockingly low short-term parking fee, scooted out to explore the city. After taking a two hour motor tour of Sandton and the surrounding neighborhoods, we made our way to the park 'n' ride.
This was by far the most pleasant experience I've ever had getting in and out of a stadium. The worst, you ask? A 1998 Pearl Jam concert at the E-Center in Camden when it took us three hours to exit the parking garage. Apologies to all you E. Vedder fans out there but five-plus hours of 90's-era grunge is not my idea of a wonderful evening. Anyway, I digress—back to Ellis Park.
The stadium is a throwback and full of unabated kitschiness. Street vendors sold various meats—grilled lamb and pork and chicken.  Inside the stadium the fare was even better. Our seats were conveniently located right in front of a counter selling curry pies! Sure, I still had to wash it down with the King of Beers but it offered a welcome respite from the radioactive crisps we had been devouring up until that point.
The game itself began in horrifying fashion. 55,000 people and the entire starting eleven of team U.S.A., watched, paralyzed, as Valter Birsa picked up the ball 25 yards from goal and ripped a left-footed shot past a statuesque Tim Howard. Another game, another early letdown. Things went from bad to worse when just before the half, Zlatan Ljubijankic was left unmarked and made no mistake in slotting home underneath Howard, 2-nil Slovenia. The U.S.A. was effectively out of the 2010 FIFA World Cup.
Then the spirited fight back. Landon Donovan, on a one-man counterattack, found himself with the ball inside the six yard box but almost on the endline. He waited and waited for help for what seemed like an eternity. The help never came. With nowhere to go but forward, Lando aimed and fired a rocket at the the head of the Slovene goalkeeper. He ducked and it hit the roof of the net!  Slovenia 2 – U.S.A. 1!  We were back in it.
The tension was building. A loss would almost all but extinguish our chances of advancement to the second round. But Jozy Altidore's header found Michael Bradley inside the area and the U.S.A. midfielder perfectly volleyed home to level the score at 2-2 with less than ten minutes to play! Resume random hugging and kissing.
Our midfield section almost reached a fever pitch when Maurice Edu's finish put us ahead minutes later. However, the latest party was very short-lived as I noticed the lack of celebration and then protest from the American bench. I couldn't see the linesman's flag so I assumed a foul had been called inside the box. It had of course, as replays that evening would suggest, but on who was (and still is) a great mystery. But the important thing was, with a game remaining against Algeria, we were still alive, if not alive and well.
Driving home on the R24, drunk on another spirited fight back, we found ourselves a bit lost. Getting lost in Jo'burg isn't a great idea. Not only are the roads poorly lit, signage is erratic at best. It was a crapshoot. I'm generally one not to worry and leave that to my wife but even I started to feel a bit nervy as we made turn after turn into dark, uncharted territory. In retrospect, had we known the R21 would never turn into an American-style interstate, we wouldn't have been so fearful. Yet, fearing the worst for 100 km isn't fun. Finally, after another white-knuckled foray into the South African highway system, we arrived back in good ol' Rusty.
We awoke to the smell of another one of Elmarie's skillful creations, french toast, this time, stuffed with cheese. After breakfast, it was time to turn back on the N4 and to Harbeespoort Dam for the Elephant Sanctuary. We sat in on a brief information session on the anatomy of an elephant and then trekked through the forest to meet three of the sanctuary's inhabitants. This was certainly a highlight for me. We were able to touch the trunk, tusks, ears, and toenails of this mystical animal. The interactive hour culminated with an elephant kiss which left us with dirt marks on our cheeks. However, the real hilarity ensued next.
We had scheduled a ride on the elephants as part of the tour. We watched a few couples take the two lap ride and patiently awaited our turn to mount these massive beasts. Well, mounting proved to be a bit tricky. What should have been a simple exercise turned into full on comedy for the twenty or so Argentines, Mexicans, Dutch, and Aussies there with us. The formula was supposed to be a no-brainer—each couple would mount the elephant, woman first then man after the trainer had taken his place at the front. The diminutive jockey hopped right on, followed by my wife. Then it was my turn. My legs just wouldn't do what my brain was telling them. Apparently, I'm the most inflexible human being alive, or at the very least, the most inflexible human to ever patronize the Elephant Sanctuary in Hartbeespoort Dam, South Africa.
I struggled to comply with the trainer's request to relax my legs. Try after try to mount the animal proved unsuccessful. Now a small crowd had formed. They stopped taking pictures of their loved ones in front of elephants long enough to point and laugh at my misfortune and inflexibility. Thankfully, they were all speaking different languages. But their gestures were universal. I had to laugh too.
I decided to abandon ship and leave my wife alone on this particular adventure. But add insult to injury and here was their solution—I would ride Simba, the 10-year old elephant. The multicultural audience erupted into laughter when they saw the trainers walk over my replacement pachyderm, a mini elephant. And of course, I still struggled to straddle the damn thing.
We relived the story over some more great wine and my one millionth plate of fish curry at the Cape Town Fish Market that night. The next day would prove epic as I'd check off one of my bucket list items—see Brazil play in the World Cup.
The walk up to Soccer City reminded me greatly of a walk I had done a year earlier—the mile long hike from the train stop to the Allianz Arena in Munich to see Bavarian giants Bayern battle FC Barcelona in the Champions League. The glowing orb of the Allianz that night looked like a space ship. Soccer City looks like a calabash, a traditional African cooking pot. It's giant mosaic tiles interlocking for thousands of square feet is truly an architectural miracle.
Inside the stadium, Luis Fabiano, performed a miracle of an altogether different sort. The Brazilian center forward appeared to handle the ball not once, but twice, when flicking the ball up and over two Ivorian defenders before smashing home on the volley.  This would be his second tally of the night and Elano would make it three before Didier Drogba pulled one back for Les Elephants.  Had I remembered my camera, I would have captured the most iconic image from that night—(no, not Kaka being wrongfully sent off) two female Ivory Coast supporters sobbing quietly right next to me, their face paint falling prey to the tears and then gravity.  I would have felt even more sympathy for them had I not been freezing my ass off.
The elevation of Jo'burg and the elevation of our nosebleed, Category 2 seats, caught up with me by halftime. The three plastic bottles of Bud I chugged before kickoff had long worn off. It was time to high tail it out of there. Thankfully, I wouldn't be braving the N4 or the R24 that night as we smartly booked a hotel close to the stadium. We split a private shuttle with a Ugandan man and his two children. We laid down cold but thankful we had witnessed a little Samba magic and a few goals.
Monday saw us back in the Blue Demon and back on the road as we made our way to the Rhino and Lion Reserve. We checked off another item on our to-do list as we played with two-month old lion cubs. Compared to the openness of Pilanesburg a week earlier, we were a bit saddened by the captivity. We hastily concluded this was merely a glorified zoo. But we were here so we had might as well check out some animals.
We snapped a couple of photos of resting tigers and some bigger lion cubs. The chain link fence separating us from them didn't make for a great photographic experience. So, I decided to move in a bit closer for the next set, the wild dog enclosure. Me being the bright boy I am, I figured if I could get the camera lens in between the holes in the chain link fence, it would give off the illusion that there was nothing separating me from the wild dogs. Great idea, right?  WRONG!  I felt this unbelievable force slam into me, knock me back and the camera from my grasp.  The most intense fear I've ever experienced struck—had a lion escaped from its cage? A rhino?
No, far, far worse. I felt surges of electricity coursing through my veins and nerves and my entire body. The fence was electrified!  And what had I used as a conductor? My penis. When I was leaning in to take the picture of the wild dogs, I must have inadvertently made contact with the front of my pants. The look on my wife's face must have mirrored my own as she was aghast with terror.  After the heart palpitations subsided and I realized that I wasn't going to drop dead, I fished out the camera from the brush at the foot of the fence and hightailed it out of there. We found a remote spot in the reserve to check this all-important apparatus for burn marks. Phew. Nothing. I was definitely shaken, a bit in pain, but otherwise thrilled to not be a corpse or be rendered instantly impotent.
With the possibility of continuing the family name still on the table, we went out in search of lions. After circling the reserve for a couple of hours we threw in the towel. We'd have to be resigned to seeing just the elephant, rhino, and cape buffalo out of the African Big Five. For some reason though, I took a trail that we hadn't been down before. It wound around and around until we reached the perimeter of the reserve. I slowed down and right next to the car were two sleeping lions! Our shrieks barely nudged the pair from a deep slumber, our presence not affecting their cat naps in the least. We snapped photo after photo and finally a yawn! It was everything I had dreamed of, quite literally.
When I was a little boy, I had this reoccurring dream. I would be on a beach in South Africa, by myself, and there would be lions frolicking in the foamy whitewash of the ocean, right alongside great white sharks.  And now, so many years later, I would be face-to-face with these kings.  The thing that struck me was the size. Aside from the flowing mane surrounding their faces, they were relatively small, the size of huge dogs.
Of course, we didn't get out of the car to check, as one man idiotically did. The guard at the gate to the lion reserve pleaded with us to remind this man ahead of us just how dangerous it was to exit the vehicle. She then recounted a story of some Japanese tourists.  Driving around the park, they had spotted some sleeping lions. One member of their group thought it would be hysterical to get a picture with himself placed among the unconscious beasts. Well, they didn't remain that way for long. Startled by the man, the lions immediately rose from their slumber and mauled him to death, the ultimate price paid for a blatant disregard of the brutal power of nature.
Thoughts of my sterility and that poor Japanese man's stupidity occupied my mind as I watched a mauling of a completely different variety—North Korea succumbing to the constant barrage of Portuguese attacks. We ate a South African take on a panino and drank some Coca-Cola at the reserve's restaurant as Ronaldo and co. bagged seven in a stroll to victory.
Mexico v. Uruguay awaited us on Tuesday. The seats for this match were arguably the best of the tournament for us. We were in a midfield section, near the corner, about ten rows from the field, just close enough to see the look on a Mexican streaker's face go from elation to depression as he was handcuffed. The game itself was lively with Mexico taking the initiative in order to try to avoid finishing second in the group and a likely meeting with Argentina in the second round. However, it was not to be as Luis Suarez, the Ajax forward, headed home a perfectly weighted cross, 1-0 Uruguay.
The Uruguayan fans reminded me how much I love football supporters' songs and how much I loathe the constant and arbitrary chants of "USA, USA, USA!"  Seriously, we need something a bit more clever, if not musical, then that. Their faces painted blue and flags in tote, we departed some very happy Uruguayan fans.
But it was the Mexican fans who came to party that night in Rustenburg. Seemingly unscathed by the earlier shutout, scores of El Tri fans headed to Dros, a local watering hole, as we did. I ate a piece of hake as long as my arm and washed it down with some pretty average Castle, the South African response (probably a poor word) to Miller. Amongst the dancing and singing aztecas, we watched Argentina undo a resolute Grecian side, thanks to two dinosaurs named Martin: Demichelis and Palermo, both from close range. Back to Terra Casa and a good night's rest before our last full day in South Africa.
And what a day it would be. We drove the 90 minutes or so to Pretoria and explored the city, including the sprawling Brooklyn Mall. Pretoria is an historic university town, much like Boston—leafy and green and inviting. Unfortunately, inviting, the Algerian defense was not. Much like they had kept the big guns of Rooney, Gerrard and Lampard at bay, Algeria was blanking the United States.  They sat with nine men behind the ball, a bizarre strategy considering they too, had to win to survive the group. Getting constant updates via various surrounding smartphones, we knew a Jermain Defoe strike had given England a 1-nil lead over Slovenia and that the only way through now was to win. We thought it was never going to come.
I had already begun writing the obituary—it was a great trip, but ugh, what could have been… And then, out of nowhere, at the very death, with almost the last kick of the game, Landon Donovan slams home a rebound to put the U.S. ahead and through to the knockout rounds!
Pandemonium.
I grabbed and shook the railing in front of us, I thought it was going to break right off. I then grabbed my wife and shook her to the point I thought she was going to break. Then I proceeded to grab everyone within a three foot radius—a bald man's head was kissed, a 15-year old kid was bear hugged, a random girl was embraced. I felt the tears coming. Such a fine line. We didn't think it was coming. I jumped up on my seat and stomped on the thing so violently I thought I would bring down all of Loftus Versfeld. A small fight broke out between Algerian and American supporters. We didn't care.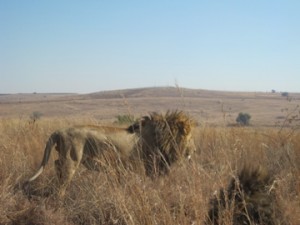 Landon Donovan had just given us—no, check that—a whole nation a lifeline. We didn't have to go home short of the knockout stages again. We were through! The dancing and singing carried on long into the night. It was well over an hour from when the whistle blew before we even considered leaving the stadium. The whole car ride back, we listened to the radio and reports of Lando's wonder strike. It was, undoubtedly, the single greatest sporting moment I had ever witnessed and one of the most important goals to ever be scored by the United States National Team. As we split a pizza that night back at Terra Casa, we dreamed aloud of a U.S. semifinal birth for the first time since 1930 and the first time in the current 32-team format. Victory never tasted so good.
The next day was spent peacefully on the rural roads of Jo'burg's surrounding bush. We randomly came upon a giraffe and then marveled at the implausibility of that happening almost anywhere else on Earth. As we said a tearful goodbye to Elmarie and Terra Casa and all of South Africa, we immediately set about devising a return trip. South Africa, a country so wonderful composed of colorful landscapes, people, and animals deserved more than a two-week whirlwind tour. But as our plane jetted off at Oliver Tambo Airport, I settled in for a well-deserved sleep and dreamt of lions playing in the South African surf.