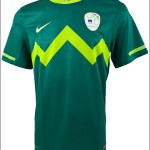 A nice preview of the USA vs. Slovenia game. Slovenia is the least populous country in the tournament, but they do look as though their jerseys were designed by Charles Schulz.
Another preview but this time from ESPN.
A preview of the other Group C matchup between England and Algeria.
Results of a Pew Research Institute poll on excitement levels for the World Cup. 11% of Americans are "very excited". Just remember, if you're very excited about the World Cup for longer than four hours, contact your doctor immediately.
Michael Lewis gets paid for putting my opinions in print when he suggests starting Jose Torres over Ricardo Clark and dropping Edson Buddle into the mix up front.
Broadcasters in Germany and France are filtering out vuvulezas. Any chance we can figure out what frequency John Harkes is on?
A nice profile on Tim Howard reveals that the American stopper would prefer to be a holding midfielder. Yeah, we could use one more of those.
ESPN interviews Howard's mother, Esther, who is South Africa to watch her son absolutely dominate.
Sports Authority is being sued for using World Cup logos in its ads. Interestingly, the ads featured, "Taylor Twellman, a forward on the U.S. national team." Really? Is playing on the national team like being a President? You get to keep the title for life?
Patrice Evra has labeled France's World Cup campaign "a catastrophe," which I believe is a French word for "exactly like last time, but with less luck". Or maybe it's just a cat that is used to make grammatical contractions.
The IFA, Northern Ireland's soccer organization, will institute a salary cap next season. It is the first European league to use a cap.