Let's start off today's Daily Round-Up with a look at who has scored goals by position:
Defenders: 6 goals
Midfielders: 12 goals
Strikers: 5 goals (1 PK, 3 German)
Come on down, Mr. Vittek. You are the only striker to score an open field goal against a non-Australian defense.
World Cup News
Brazil was… OK. Maicon's goal has been called brilliant, and justifiably so. North Korea must have been surprised to see so many other teams playing their all-defense system before they even got on the pitch. One thing is clear: Very few Brazilians would be able to play in Ed Farnsworth's No Diver's Allowed Derby.
Bad news for Liverpool fans who want a good replacement for Rafa Benitez. Sven-Goren Erickson's Cote D'Ivoire squad looked talented and disciplined, with the midfielders collapsing on Portugal early and forcing Cristiano Ronaldo to pass the ball to lesser players and Deco, who barely even looks like a player anymore. Deco used to be like Xavi except he could take people on and lay out cross-field passes. Now he looks like he's carrying a permanent injury to his passion gland.
England coach Fabio Capello looks set to insert Gareth Barry into the lineup against Algeria. Barry is returning from a six week injury layoff. Oh Frank Lampard, your performances in a true midfield role only add to the Michael Essien mystique. How does that man cover for you so consistently? Still no word on who will replace the other nine guys who played like crap for England. Note to Gerrard-haters: Yeah, he's that good. You just hate because he could be that much better.
The vuvuzelas don't bother me at all. Is it because I live in the city? Or is it because I'm actually paying attention to the game? If the mega-horns are bothering you, here is a video tutorial on how to mute their frequencies when you watch the games you taped.
England-USA match re-enacted through LEGOs.
Security guards and stewards working at the Ellis Park stadium in South Africa staged a walkout over pay. Stewards at other stadiums are following suit.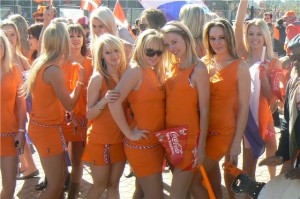 A group of Dutch women in orange miniskirts were removed from the Netherlands-Denmark game after FIFA determined they were part of a beer promotion by brewer Bavaria NV. Smooth move, FIFA. I definitely would have heard about this and looked into Bavaria NV's products if you hadn't turned this into news…
FIFA will decide on Thursday whether to add anything to Tim Cahill's automatic suspension for a red card against Germany.
Nick Zimmerman News
Zimmerman's 85th minute tying goal has been named Goal of the Week by Philly Soccer News. It brought the City Islanders level with rival Pittsburgh.
Transfer "News"
Goal.com is reporting that Real Madrid will bid 132 million pounds for Steven Gerrard and Wayne Rooney. Real Madrid must seem like a wet dream to websites desperate for pageviews. You just stick a bunch of names into a hat, throw three darts at a board and add up their total, add "million" to the end, then write, "Read Madrid bids…" You know what, I'm not even going to provide a link to this one, I'm just going to list the other headlines from The Daily Star, which goal.com cites as its source.
Nicola T on World Cup sex ban
Dec's hair "grows" back
Daniel Radcliffe in tears at end of Harry Potter filming
Michael Dawson's big date KO'd by Capello call up
Cheryl Cole tells all on split
JabulaNews
Nobody seems to enjoy playing with the Jabulani ball. And it's not like players complain about the ball every World Cup. I think every player should get their own ball that is specifically tailored to their kicking style. Or even better, if you make any sort of contact with this crazy, wacky round thing FIFA is making you use, you get an automatic goal.