Philadelphia Union tickets will go on sale to the general public starting at 10 a.m. on March 3.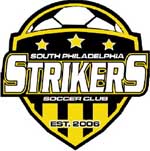 South Philadelphia Soccer Club wins $1000 cash giveaway from Sunbelt Snacks.
Representatives from MLS and the Players Union failed to meet on Tuesday, two days before the current contract extension is set to expire. Thanks guys, thanks a lot. You can read Match Fit USA's cheeky translation of the propaganda coming from both sides here.
Luis Gil, who went to Kansas City Wizards in the allocation draft, will play for Real Salt Lake.
DC United and Washington Freedom will play a doubleheader on May 1. Very cool idea.
Landon Donovan tells evertonTV that he doesn't think his loan will be extended.
Ricardo Clark returns to training at Eintracht Franfurt.
Premiership debt, Wayne Bridge, matchfixing scandal in China, today's Champions League fixtures, USA v El Salvador and Monty Python philosophers football rematch after the jump.
A report released by UEFA says that Premiership clubs owe 56% of European football's debt. That's right, more than all of the other clubs in Europe's top divisions put together. INGERLAND! INGERLAND! INGERLAND!
Wayne Bridge will be on the England squad with John Terry, the guy who shagged his girl, after all.
A matchfixing scandal is rocking the Chinese Super League.
In Champions League play today, Inter will face Chelsea at 2:30 p.m. and CSKA Moscow will face Sevilla at 5 p.m. Both games are on FSC. The US will face El Salvador at 7 p.m. on ESPN Classic.
And in the most important news of the day, Graham Taylor has been appointed manager of the Monty Python philosophers football team Socrates Wanderers. The Wanderers will face Nietzsche Albion on May 9 in a match organized by the Philosophy Shop. The first Monty Python philosophers football team match in 1972 featured Germany v Greece.