The ball is round. The place is Philly.
Post Tagged with: "Newark Scottish Americans"
History
There were many noteworthy games over the New Year's Day holiday one hundred years ago in Philadelphia.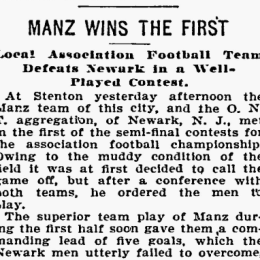 Philadelphia Soccer History
After the quick demise of the Philadelphia Phillies pro soccer team in 1894, Philadelphia's other pro team would return to the amateur ranks before going on to win Philadelphia's first national soccer championship in 1897.