The ball is round. The place is Philly.
Post Tagged with: "Athletic Base Ball Grounds"
Philadelphia Soccer History
Our series continues with the start of Philadelphia's first organized soccer league, the Pennsylvania Football Union, in 1889.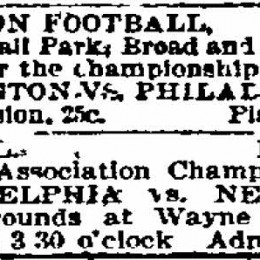 Featured / Philadelphia Soccer History
With the approach of the opening of the Major League Baseball and the recent debut of the Philadelphia Union, the PSP takes a look at the connection between baseball and soccer in Philadelphia soccer history and recounts the story of the Philadelphia Phillies' short-lived soccer team of 1894.