Guidelines for photos and videos
Here are some guidelines for photos.
Details to include when uploading photos
When uploading a photo to the site, please include the following details:
Name(s) of player(s) in the photo
Name(s) of team(s) in the photo
Date of the photo (month/year will do)
Name of photographer
Any other details that seem appropriate (Example: PPL Park, Chester, parking lot, etc.)
This will make the photo searchable in our media library, which means the photo will be more likely to be used as a featured photo in subsequent posts. If that info isn't in there, it becomes very difficult to find and use the photo later.
Horizontal orientation for featured photos
Make sure to keep 6×4 (600×400) crop ratio as much as you can to avoid problems like this (player without head and legs – see below).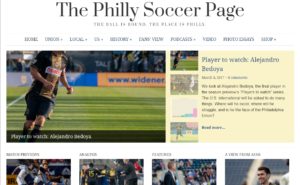 Featured photos for posts are horizontally oriented due to the layout of the site, so photos that are higher than they are wide will not be featured as cover posts.
However, that doesn't mean you have to shoot every photo with a horizontal orientation. Shoot good photos, period. Just keep the detail in mind with relation to what photos will be used most often, and shoot accordingly.
How to set a video as your featured photo
It's possible to set a video as your featured photo. We don't recommend doing this often, but it's a good option when you don't have appropriate photos but you do have video. Here's how to set this, using YouTube as an example:
Go to the video.
Click on Share.
Click on Embed.
Copy the Embed code.
Go to your Post page within PSP.
Go to Post Options.
Paste the Embed code in the box titled Embed Code for Slideshow.
Click the button beneath it to make this the featured image.