Feature photo: Sean Griswold
One of the most unique challenges from a player's perspective about MLS is travel.
Most clubs around the world are flying across a continent multiple times a season for their league matches, something the Philadelphia Union have gotten used to in Champions League as well as league play. Travel in MLS has drawn the ire of some of Europe's biggest stars, and has seen squads basically "punt" on a cross country road-trip to save first-team players for the rest of the season.
But this oddity in MLS does provide an opportunity for supporters to see far away cities and travel coast to coast, following their club, much as a small group of Philadelphia fans did on May 13 when the Union travelled to Colorado to face the Rapids.
I was one of the lucky few who travelled to see the Boys in Blue in action 1,417 miles from their home field. Along the way I learned a few things about Colorado and soccer culture in general from some Rapids fans.
The best place to grab a drink before a Rapids match is….
There was one big general consensus to this topic, Dick's Sporting Goods Park doesn't have much around it. The stadium is in Commerce City, which is about a 25 minute drive from downtown Denver. So the best and one of the only options is the C38 Supporters Group tailgate. Much like the Sons of Ben in Chester, the Rapids supporters are welcoming of all fans and for just $12 you get all you can drink and all you can eat.
Favorite non-soccer bar or brewery in the city? 
Denver, and Colorado in general, has an abundance of breweries and bars. Coors Brewing Company calls the Denver suburb of Golden home while popular craft brewer Fat Tire is located in Fort Collins. In Denver however, there are many smaller craft brewers on almost every block. Smaller breweries Ratio and Our Mutual Friend in the RiNo neighborhood come highly recommended. We settled on Jagged Mountain Brewing which was just down the road from the iconic Coors Field, where the Phillies picked up a win that Friday night.
My sister, Sara and myself at Jagged Mountain.
Best place to catch Premier League in the mornings? 
If you thought you had to wake up early for Premier League soccer 7 a.m. kickoffs, the folks in Denver have to rise at 5 a.m. to catch some kickoffs.
Despite the early start, the British Bulldog was packed with Premier League fans of all teams. With every game on a plethora of televisions, small groups of supporters huddled to their respective corners. The largest group, Chelsea supporters, were serenading the bar with chants as their Blues battled to a draw with Nottingham Forest. The founder of the Chelsea group, an expat from London, showed off a letter from Chelsea club captain Cesar Azpilicueta, thanking him and the group for their years of support. He even had praise for Subaru Park and Philly supporters as he took in a Union-Red Bull match in Chester a few years ago saying, "The stadium is beautiful and the atmosphere with those two teams felt like a proper football match."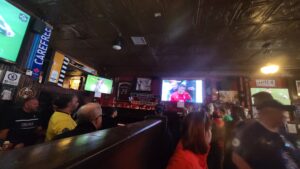 View inside British Bulldog 
The best part about Dick's Sporting Goods Park? 
There isn't just one thing that makes DSGP stand out to a fan, it's the location and history that make it truly special. The low bowl stadium sits at 5,280 feet above sea level, making stamina short for opposing teams. The PA announcer even welcomed the Union out for the second half by listing the symptoms of altitude sickness.
DSGP also has history to it, such as the Rapids 2008 MLS Cup victory and the USMNT's win over Costa Rica in qualifying, which has been dubbed the Snow Clasico.
Alternative View

View inside DSGP
The one food you have to try in Denver? 
This question stumped most Rapids supporters, with the general consensus being that Denver has anything you are looking for. The most mentioned food genre had to be Mexican. Several Mexican places in Denver and Colorado are highly recommended and famous for their green chile and 'Mexican Hamburgers"
One thing you need to do in Colorado?
This was one of the easiest answered from Coloradans, you need to go the Rockies. With Denver located in the foothills of the Rockies, Rocky Mountain National Park is only an hour and a half from downtown. Home to some of the tallest mountains in the American Rockies, RMNP holds Longs Peak, standing at 14,000 feet along with several alpine lakes. The park also is host to various wildlife including bears, moose, mountain lions, elk, deer, turkey and a variety of birds. Word of warning, most of the Park is at an elevation higher than 9,000 feet and in May you'll encounter freezing temps  and several feet, yes feet, of snow.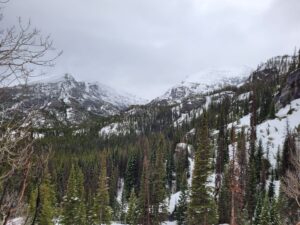 View of the mountains in RMNP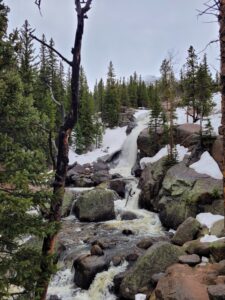 Alberta Falls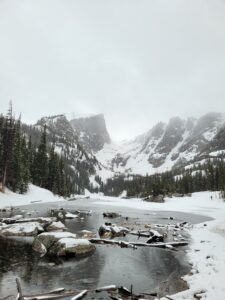 Dream Lake
Our country spans a whole continent, and the Union travel all over it to play the game we all love. If you ever have a chance to see them play away, you won't regret it.