Photo: Paul Rudderow
CASA Soccer League is the premier adult amateur soccer league in Philadelphia. With men's leagues, women's and non-binary leagues, 11v11, 7vs7, co-ed, tournaments and a whole soccer ecosystem of promotion and relegation, CASA truly is soccer for all. Our friends at The Brotherly Game do a great job of recapping all the action from the men's league each week, and we are down to the last week of the season.
For this week's PSP local lower league recap, let's take a break from the normal structure and look at the CASA men's leagues as they close out their Spring season.
Promotion and relegation
Two teams from each division are promoted and two are relegated. First place in the division earns promotion and the right to play in the Kelly Cup for CASA's championship. Second through fifth place in the division enter a promotion playoff to determine the second team to earn promotion. The bottom two teams in the standings are relegated. Promotion playoff finals will be played Saturday, June 18.
Primera – Relegation – Stoney United and Cunningham Squires
Segunda – Division Champion – Washed Up United

Promotion playoff final – Vidas United vs Oaklyn United
Relegation – FC Bobert Munich

Tercera – Division Champion – Yardy FC

Promotion playoff final – Philly Black Stars vs Fishtown FC
Relegation – Berber United and PSS U23

Quarto – Division Champion – Mighty Ducks

Promotion playoff final – Aston Phila FC vs Rebels FC
Relegation – Club Sandwich and LCFC Revolution

Quinto – Division Champion – Mark Wahlberg's Cousins FC

Promotion playoff final – Philly Athletic Club vs Oaklyn United
Relegation – TBC FC and Cityzens FC

Sexto – Division Champion – Boys Do Cry FC

Promotion playoff final – Philly Saint-Germain vs Still Processing FC
Relegation – Donnie Wahlberg's Cousins FC and Philly Strikers

Septima – Division Champion – Sunday Georgie

Promotion playoff final – Sanko United FC vs United Philly Soccer
Kelly Cup
The Kelly Cup is the CASA championship. The top five teams from the Primera division qualify for the Kelly Cup playoffs and are joined by the division winners from the other six CASA divisions. The semi-finals take place on Saturday, June 18 and the final will take place on Sunday, June 26 at Subaru Park, home of the Philadelphia Union.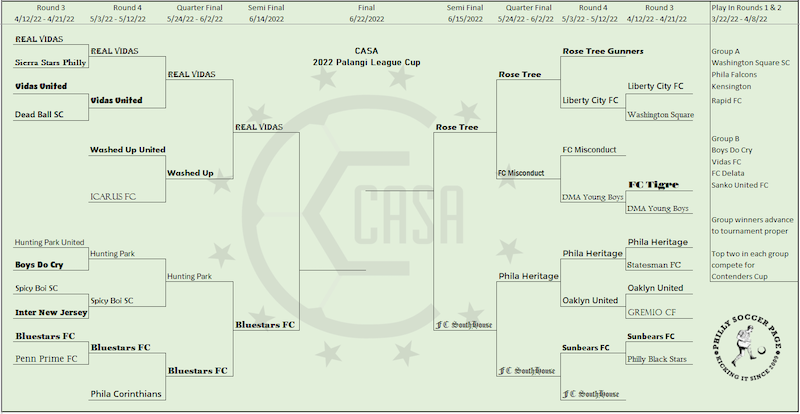 Palangi League Cup
The Palangi League Cup is the league's open cup competition, open to all teams in all divisions playing a knockout style tournament to crown a winner. The final will be played on Wednesday, June 22.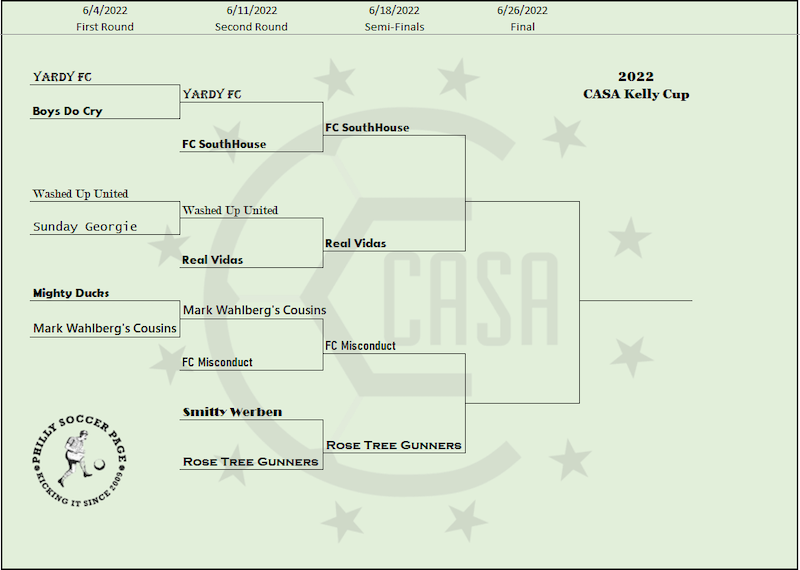 Final notes
Salone FC begin the EPSL playoffs on Friday, June 17 vs Real Central NJ at Marcus Foster Stadium at 7 p.m.

The winner will play International New Jersey FC on Sunday, June 19 at 5 p.m. at Bristol Township Municipal Park.

In last week's PSP Local Lower League Recap Game of the Week, Philadelphia Ukrainian Nationals came from behind for a 4-3 win over Philadelphia Lone Star in NPSL action. Ukrainian Nationals are now 5-0-0.
West Chester United will play in the Region 1 final of the Werner Fricker Open Cup on Saturday, June 18 at the Ukrainian American Sports Center in Horsham, PA. The winner will advance to the national final 4 of the Werner Fricker Open Cup.