Feature photo: Sean Griswold
One of the most unique challenges from a player's perspective about MLS is travel.
Most clubs around the world are flying across a continent multiple times a season for their league matches, something the Philadelphia Union did twice in the month of May. Travel in MLS has drawn the ire of some of Europe's biggest stars, and has seen squads basically "punt" on a cross country road-trip to save first-team players for the rest of the season.
But this oddity in MLS does provide an opportunity for supporters to see far away cities and travel coast to coast, following their club–much like a small group of Philadelphia fans did on May 22 when the Union travelled to Portland to face the Timbers.
I was one of the lucky few who travelled to see the Boys in Blue in action 2,872 miles from their home field. Along the way, I learned a few things about Portland and soccer culture in general from some Timbers fans.
The best place to grab a drink before a Timbers match is….
The Portland crowd was split between three major choices. Kells Brewery, Marathon Tavern and Migration Brewing were the common responses. With Providence Park being in a downtown location, there are many bars and restaurants to choose from, so there really isn't a wrong choice here. Below are what makes each unique.
Kells is an Irish bar that plays Premier League matches in the morning, tends to attract more opposing fans than other places and has ample indoor and outdoor seating. A favorite pregame spot for many Timber fans.
Marathon is a cheaper alternative and closer to the stadium, boasting a nice pregame atmosphere that brings a lot of home fans out.
Migration is known for their own brews and lively atmosphere. Migration is also home to a rooftop looking over Providence Park, though it was unfortunately closed the weekend we visited.
Favorite non-soccer bar or brewery in the city? 
Another beer topic that received many differing answers, which all boils down to preference. The most common answers were Deschutes Brewery and Breakside Brewery. Deschutes is a more nationally known brand, while Breakside is more local. The beers at Deschutes are all brewed in house and offer a great variety, as well as some great food.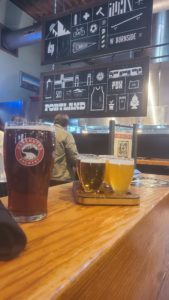 Beers at Deschutes.
Best place to catch Premier League or Bundesliga in the mornings? 
If you thought you had to wake up early for Premier League soccer 7 a.m. kickoffs, the folks in Portland have to rise at 4 a.m. to catch some kickoffs.
Luckily that weekend was the final matchday in Premier League, with kickoffs at 8 a.m. in Portland, and the runaway winner for this question was the Toffee Club. This Everton fan pub serves their own beer from their brewery next door, aptly named Away Days, and offers a full English breakfast and other breakfast sandwiches on the menu. On this particular occasion, the Liverpool match was on in the pub while the Man City game was on in the brewery.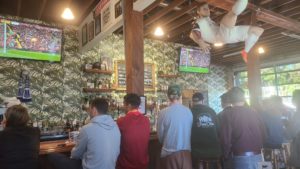 Toffee Club View.
The best part about Providence Park? 
Another question that received many different answers, but all can be summed up in one general statement: "There is nowhere else in the U.S. like Providence Park". It truly is one of a kind–a converted baseball stadium in downtown Portland still sporting old baseball bleachers on one side, hosting the loudest and biggest supporters section in the league. From the river running underneath the stadium to the headlining board outside the stadium, Providence Park is truly unique.

View inside Providence Park.
The one food you have to try in Portland? 
This question only received two basic answers, pizza and donuts. Portlanders love their pizza, so much so that a book was even written about pizza in Portland. The go-to places listed were Apizza Schols, Ken's Artisan Pizza and Ranch Pizza. Much to the demise of our East Coast hearts, New York style pizza is not loved in Portland, with thinner and crispier pizza being the preferred style.
Moving onto the donuts, there are actually no Dunkin Donuts in the city of Portland. Portland has many mom and pop shops making their own donuts such as Voodoo, Sesame Donuts and Blue Star. Voodoo is know their for their crazy donut toppings after being featured on the Food Network, and many residents now consider it a tourist trap. Blue Star also dives into unusual toppings, without waiting in line. Sesame has risen to popularity through their sesame donut and rose water flavored donut, which are both outstanding.
Editor's note: In my view, you can't go wrong with the "grape ape" donut from Voodoo… unless you don't like grape flavor, which, fair enough.

Ken's Artisan Pizza.

Voodoo Maple and Bacon Donut.
One thing you wish Portland was more known for? 
Another question filled with varying answers, but a general gist is that Portland isn't what you see on Portlandia or on the news. It's a city that feels like a small town, where the people go out of their way to be friendly and with plenty of natural beauty outside of the city limits. A great spot to see the city, rose and Japanese gardens is Washington Park, where you can also see a view of Mt. Hood directly behind the city.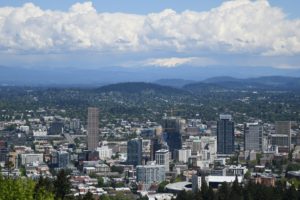 Mt. Hood and Portland
Our country spans a whole continent, and the Union travel all over it to play the game we all love. If you ever have a chance to see them play away, you won't regret it.