Photo: Stephen Speer
Philadelphia Union lost their first game of the season on Saturday night. Is the sky falling?
In a word, no.
The Union played some pretty decent soccer in Toronto, winning the xG battle and generally looking the more dangerous decide. The defensive errors that led to goals were aberrations from the team's norm, and it would be surprising if the rock-solid defense suddenly regressed.
Let's look at three key plays from the game and then turn to the player ratings.
VAR, what is it good for? 
Absolutely nothing, apparently.
There's no real value in dwelling on refereeing decisions. Over the course of a season, the marginal calls are generally going to even out.
But… c'mon.
That's Toronto FC's Jayden Nelson, going in studs-first into Kai Wagner's knee. The tackle sent the German left back flying and left him on the turf. It was a violent tackle, and Wagner could have been seriously injured. It's a red-card offense 99 times out of 100.
Yet Saturday night was that one outlier. The referee only saw fit to issue Nelson a yellow card… and, even more perplexingly, the Video Assistant Referee didn't see fit to call for a monitor review.
If that's not a clear and obvious error, it's hard to know what is.
Defensive miscues
Only one team in MLS has allowed fewer goals than the Union — Chicago Fire — and for good reason. The Union's defense is as disciplined and talented as any in the league. Down the spine, it boasts a dominant No. 6 in Jose Martinez, two stellar center backs in Jakob Glesnes and Jack Elliott, and one of the league's best keepers in Andre Blake.
So it's very unusual to see the Union surrender two goals like the ones they conceded on Saturday. (In fact, it was the first time they'd conceded two goals in any regular-season match since their last trip to Toronto, snapping an eight-game streak.)
The first goal begins with a bad turnover by Martinez. He picks up a loose ball just on top of the Union box and has time to take a touch and find an open man. There's no one within ten yards of him at the time he makes the poor decision to try a one-time pass to Daniel Gazdag.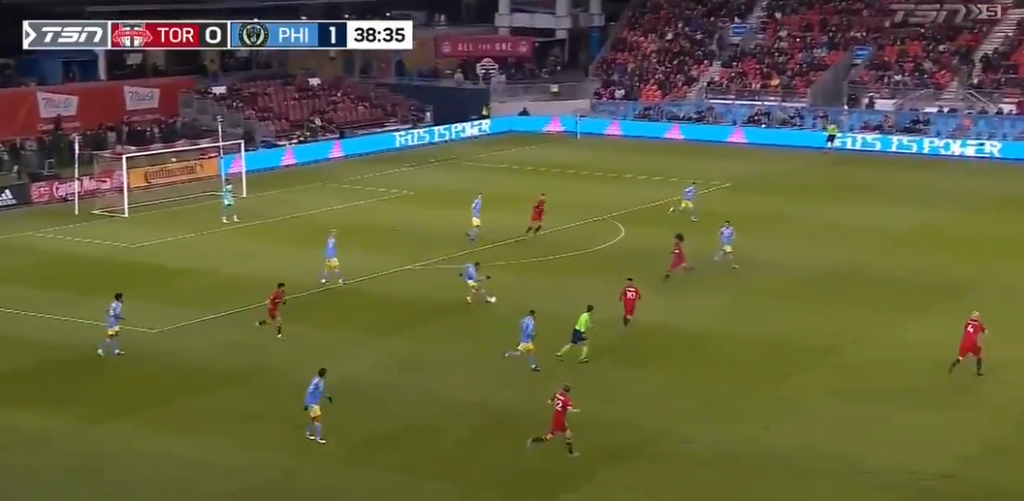 The pass is behind Gazdag and right to Jonathan Osorio, who immediately makes things happen with Jesus Jimenez. When Osorio receives the ball back, too many Union defenders crowd around Osorio to block the shot. It's Nathan Harriel who ultimately leaves Jimenez wide open for a pretty decent finish.
Martinez gets a big share of the blame for the second goal, too, though it's really a team-wide breakdown. When Kadin Chung gets the ball out wide, Wagner allows him to go inside rather than forcing him toward the corner. Gazdag doesn't cut off the pass to Pozuelo, and then Martinez goes for a block that puts him on the attacker's back. Elliott is slow to react and close down the space, and that's all a former MLS MVP needs to put the ball in Blake's net.
Vintage Poz in front of the Southend 😍@Pozuelo_10 | #TFCLive pic.twitter.com/F6B3kbi6jP

— Toronto FC (@TorontoFC) April 17, 2022
Ultimately, the Union were punished for uncharacteristic errors. Those errors are magnified when the opposing team has quality attackers and the Union's offense is still not firing on all cylinders. No doubt manager Jim Curtin will expect to see a sharper defensive performance this week in training and this weekend against Montreal.
Player ratings
Andre Blake — 6
Not much he could have done on either goal.
Kai Wagner — 6
Very involved in all the action, good service from corners and it's a pity his long-range goal at the end of the first half didn't count. As mentioned above, could have done more on Chung in the buildup to the second goal.
Jakob Glesnes — 5
The better of the two defenders on the night, continues to be very stable at the heart of the backline.
Jack Elliott — 4
Should have closed down Pozuelo better on the second goal, and missed a key early chance when Wagner's corner found his feet right in front of goal.
Nathan Harriel — 4
Not a great night for the young right back, lost his man on the first goal and failed to make much impact in the attack.
Jose Martinez — 3
At fault on both goals.
Leon Flach — 5
Another hardworking performance, would like to see him finding ways to connect with the attacking trio.
Alejandro Bedoya — 5
Ditto Flach.
Daniel Gazdag — 6
He only gets a hockey assist, but you could see his sharp decision-making in setting up Uhre for Carranza's goal. At the heart of everything good the Union did offensively.
Mikael Uhre — 5
Hard to know what to make of Uhre. He makes the goal happen with his running and a really cultured ball for Carranza. But the finishing is just not there yet, and he wasted chances to earn a second-half point.
Julian Carranza — 6
Great positioning and good finish on the goal. Ended up the offside culprit on Wagner's disallowed goal.
Substitutions
Sergio Santos 69′ — 5
The TFC killer couldn't quite make it happen on Saturday night.
Jack McGlynn 69′ — 5
Wouldn't mind seeing McGlynn get a start over Flach every now and then, as he clearly offers more control of the game.
Cory Burke 77′ — 5
Nearly scored with his first touch; otherwise ineffective.
Paxten Aaronson 87′ — N/A
A late cameo in place of Alejandro Bedoya. No reason the sub couldn't have come ten minutes earlier.
Geiger Counter
Alex Chilowicz — 2
Got the biggest decision — what should have been a red on Nelson — flat wrong.