Football and branding are intertwined in the modern-day world more than we may realize.
For someone like me, a collegiate soccer player thinking about my life and career endeavors post DIII soccer, sports branding always catches my eye no matter what game or league I am watching. I try and understand why a specific sponsorship deal makes sense; from kit sponsors to surrounding advertisements.  I'm always looking to understand what is being server up on our screens during games so I can imagine the business partnership behind it — and that includes deals to make kits and gear for teams.
As we all know Adidas owns the outfitting rights for the entire MLS. But around Europe and the rest of the footballing world, there are many brands that the more sophisticated American soccer fan ought to familiarize themselves with.
So that's why I'm sharing with the PSP community what I know about some of these branding deals abroad because many Americans may only know the household names when it comes to football branding — Nike, Adidas, Puma, Umbro. Some of these kit brands don't get enough love and attention in the states for their professional business sense, expert branding, and commitment to outfitting and sponsoring the game anywhere and everywhere.  
Some of these brands you might have heard of before but I'll try and stump you.
Joma
Joma has been making sportswear and footwear for various sports since 1968. And not long after that they were one of Spain's top footballing brands. In 2020, their kits can be found all around the world and even in the US, but they are particularly popular in Hispanic and Eastern European soccer cultures. They are the official kit provider for Cuba, Honduras, Nicaragua, and Puerto Rico, as well as Bulgaria, Corsica, Romania, Ukraine and some smaller Asian teams. They work with hundreds of football teams, the most notable club might be Serie A side Atalanta, who have caught many by surprise making the final 16 in the Champions League. Other noteworthy Italian sides that wear Joma include Torino and Sampdoria. And in their birth country of Spain, they are partnered with Villarreal and Gatafe who finished 5th and 8th in La Liga. This year's Hoffenheim kits are top-notch especially the third shirt, a crisp black-and-white kit. Lastly, honorable mention for their work with Swansea City and Vicent Kompany's boyhood club RSC Anderlecht in Belgium.
If you're looking for some throwback Joma drip, they sponsored Fiorentina for a while and those purples (plus that crest is clean), but I'd go for the grey third kit with Cuadrado on the back from '13 – '14.
Burrda
Burrda is a Qatari-based company that specializes in equipment and performance  and lifestyle clothing. 
Most notably, they have sponsored OGC Nice, Wolverhampton Wanderers, Leicester City, Watford, and the Belgian National Team. Remember Tim Howard's excellent performance against Belgium during the World Cup in 2014, in which he logged 16 saves before finally getting beaten by Romelu Lukaku in the 105th minute? Belgium wore their Burrda red kit that day — but I prefer their blacks, which only made an appearance against Korea during the group stage of the tournament. (I had a Hazard Burrda Black Jersey but quickly grew out of it).
Burrda has not landed a major European kit deal since 2015/16, but many of their Qatari kits are high-grade. 
Le Coq Sportif
Sacre bleu! This French brand has made some fire kits and is largely responsible for the way kits are perceived from a fashion sense to this day. Founded in 1882, Le Coq Sportif trademarked the famous French Rooster that appears in their national team crest. They've provided kits for numerous famous clubs throughout their history. PSG, City, VIlla,  Everton, Chelsea, Palace, Spurs… the list goes on. Not to mention the national teams they sponsored, including the US from 1979 to 1983 and obviously France before Adidas got a hold of them in 1972. Currently, Le Coq Sportif  have kit deals with the Cameroonian, Moroccan, and South African national teams as well as Korean side FC Seoul, French side AS Saint-Etienne, and a handful of other teams from Africa, Europe and South America.
Hummel 
German for Bumblebee, Hummel stands out from the crowd with its rich history and unique logo design. Born in Germany in 1923- then Denmark in 1956 after a whole ownership and branding lawsuit- Hummel has been in the footballing industry slightly less long than its French counterpart Le Coq Sportif. Hummel has previously been worn by Real Madrid, Benfica, Spurs, and Aston Villa and a plethora of other teams currently wear Hummel. They have recently announced a deal with Everton for '20-'21, and have produced consistently creative designs for every club they supply kits for. More than any other kit provider on this list Hummel pushes the envelope with modern kit design in my opinion. Some lower-league American Clubs sport Hummel kits, including Forward Madison, Green Bay Voyageurs, and Chattanooga FC.
Kappa, Macron, and Errea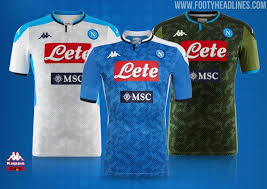 Napoli Kappa kits 2019-2020
Three of Italy's most notable kit suppliers in 2020. Italy has been a manufacturing goliath since the Middle Ages; Italians' innate desire for finer things has shown in their fashion production time and time again. Kappa is perhaps the most notable of the bunch having club partnerships with Napoli, Sassuolo, Real Betis, Monaco, Aston Villa, and Leeds all currently sporting the Kappa logo: two women sitting back-to-back (which you've probably seen in your local PacSun).
But don't sleep on Macron and Errea who have a good collection of kit and outfitting deals throughout the footballing world as well. Errea recently made a six-year-old's kit design come to life for his favorite club Pescara Calcio after he won the clubs design-a-kit contest. The kit sports a diagonal rainbow and the club's signature dolphin preparing for a "diving" header. And Macron is no nudge with the likes of Lazio, Real Sociedad, Union Berlin, Cagliari, and Sporting Lisbon all currently reppin' the blade of a javelin. They also carry the outfitting deals for many match officials in leagues around Europe including the UEFA Champions League Match officials.
So how many did you get? Know all of them? You're either lying or you know your kits!