Photo: 215pix
Today, we're running the next three of our staff picks for the Union's Best XI of the 2010s.
As a reminder, the only rules are these: You can use any player who was signed to a Union contract at any point before Dec. 1, 2019. You can use any formation you want. And you can use any criteria you want.
Steve Whisler

Boy, the pickings are slim at left back. Gaddis gets the nod for his time dutifully filling in, opening up right back for Keegan Rosenberry. In midfield, I wanted to get all the many central mids onto the field, ending up with a diamond of Tranquillo Barnetta, Vincent Nogueira, Ale Bedoya, and Maurice Edu. Not a bad machine in the middle, eh? Stretched my picks up top a bit with Borek Dockal playing under Sebastian Le Toux. This team might not be great, but would sure be fun to watch, which feels appropriate for a Union all-decade team.
Tim Jones
My all-time best Union XI is, in fact, a best XIV because it includes three specialists: John McCarthy as penalty kicks goalkeeper, C.J. Sapong as 75th minute defensive substitute, and Kleberson as game-winning free-kick taker. (Ilsinho is already on the team, but he'd be the 60th minute offensive substitute.)
It is a 4-2-3-1 because that is the shape played predominantly throughout the decade, including 2019. My selections are heavily biased towards recent years and foreign-trained players as quality has improved markedly over the decade and the internationals have been key.
John Osborn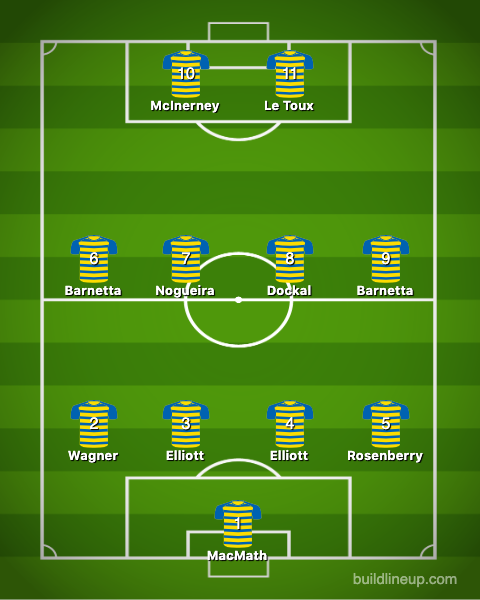 Since I didn't start following the Union until around '15, my Best XI are fairly recent. I always thought MacMath was a better keeper than Nick Sakiewicz gave him credit for. I was trying to think of a left-footed forward, but McInerney and Le Toux were amazing in their prime — they could make it work with two right-footers. And, yes, Elliott appears twice on purpose . . . it's almost 2020, shouldn't we be able to clone him with a 3D printer or something? He can do no wrong in my playbook!