The ball is round. The place is Philly.
Photo essays / USL - Philadelphia Union II
Posted by Rob Simmons on June 12, 2019 at 10:00 am
Author: Rob Simmons
Rob enjoys taking pictures. Rob enjoys soccer. Rob enjoys taking pictures of soccer. Here are the pictures that Rob enjoys taking.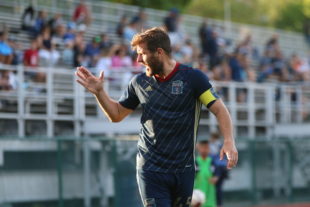 Comments
Lefthalfback: It was wild for those two minutes. Just unbelievable. I thou…
Andy Muenz: True, I had forgotten about that by the time I get to the en…
Andy Muenz: Sorry about the overreaction, jhv. Let's just say I vehement…
JuanD: Andy…If you defer back to my comment, I know someone with …
Andy Muenz: Last week, the Islanders games against the Rangers and Flyer…
Union highlights: Bedoya claims the Supporters' Shield for Union
Union captain Alejandro Bedoya speaks to fans as the Union claim the Supporters' Shield on Sunday.
Press conference: Jim Curtin
Union head coach Jim Curtin speaks with reporters after the Union's 2-0 victory over New England to claim the Supporters' Shield.