The ball is round. The place is Philly.
Photo essays / USL - Philadelphia Union II
Posted by Rob Simmons on June 12, 2019 at 10:00 am
Author: Rob Simmons
Rob enjoys taking pictures. Rob enjoys soccer. Rob enjoys taking pictures of soccer. Here are the pictures that Rob enjoys taking.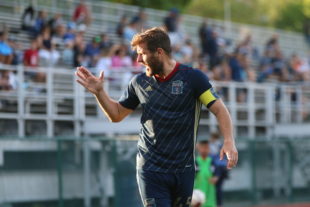 Comments
Tim Jones: McKenzie did not make the game-day squad for Genk. They lost…
Tim Jones: Unless the new CBA being renegotiated yet again under "force…
Tim Jones: Here is the UEFA URL for the eligibility of January transfer…
Tim Jones: Apologies for the duplicate comment. No idea what I did, but…
Tim Jones: For what it's worth, McKenzie is in the "squad list" of 21 f…
Union highlights: Bedoya claims the Supporters' Shield for Union
Union captain Alejandro Bedoya speaks to fans as the Union claim the Supporters' Shield on Sunday.
Press conference: Jim Curtin
Union head coach Jim Curtin speaks with reporters after the Union's 2-0 victory over New England to claim the Supporters' Shield.