The ball is round. The place is Philly.
Photo essays / USL - Philadelphia Union II
Posted by Rob Simmons on June 12, 2019 at 10:00 am
Author: Rob Simmons
Rob enjoys taking pictures. Rob enjoys soccer. Rob enjoys taking pictures of soccer. Here are the pictures that Rob enjoys taking.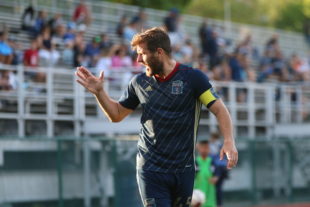 Comments
el Pachyderm: Good to see you contributing a bit more lately. Appreciate t…
Jeremy Lane: You're not wrong.…
James: Yeah if that is the way Martinez is going to play this seaso…
wbev: Great breakdown Chris! Unless I am misunderstanding this, it…
Awids: I had the same thought about the fontana play. Im pretty sur…
Popular
Union highlights: Bedoya claims the Supporters' Shield for Union
Union captain Alejandro Bedoya speaks to fans as the Union claim the Supporters' Shield on Sunday.
Press conference: Jim Curtin
Union head coach Jim Curtin speaks with reporters after the Union's 2-0 victory over New England to claim the Supporters' Shield.