For those who do not know, Philadelphia Public League Boys soccer has three divisions, and there are whole bands of Twitter that would be excited to find that we have promotion and relegation, and have for decades.
The lowest tier of Philly Public League Boys Soccer is the National Division. The top team was West Philly, who, along with E&S, earned promotion to the Liberty Division. West Philly also got a shot at the playoffs.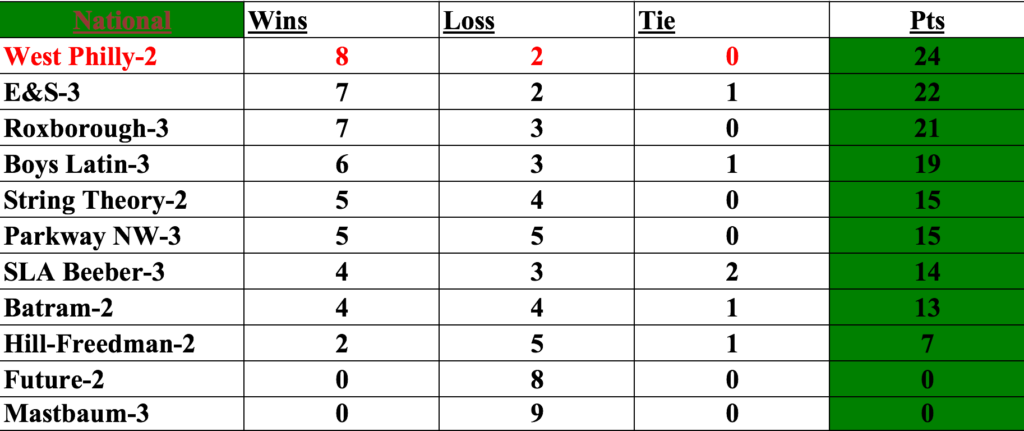 Liberty, the middle tier league of PPL, saw great action as the standings came down to the final few games, with Palumbo ultimately earning a playoff berth over Fels based on the head-to-head tiebreaker. Master South and Furness earned playoff spots and promotion to the Independence division, while Tacony Charter and Edison will drop down to the National division.

The top division saw perennial powerhouse Northeast not claim first place for the first time since 2012. FTC's victory on the Vikings home turn would prove to be the tiebreaker after both teams finished with 27 points. Head-to-head tiebreakers were the deciding factor elsewhere in the final table, as Central beat South Philly 4-2 and Franklin Learning Center beat Kensington 3-2.
The results put the top eight teams in the playoffs, with Kensington and Bodine headed to the Liberty Division next year.
PPL Playoffs
October 18, 2018. The play-in round seeds teams first based on division and then by divisional standings. The 5th through 8th place teams of Independence face the top three from Liberty and the top one from National. PACS beat West Philly 3-0, while Washington beat Palumbo on penalties 5-3 after 120 minutes of scoreless soccer. Masterman used good defense and a single goal from Andrea Ngjela to beat Furness 1-0. Mastery South provided the lone upset of the round, and roundly too, pounding four unanswered past Olney, including a brace from Joseph Yanzaguano.
October 23, 2018. Top-seeded FTC beat Mastery South 4-0 with two braces from senior leaders Conor and Liam Graves. Second seed Northeast beat Masterman with two second half goals from Peter Bazin 2-0. Third seed Central beat Washington 4-1 with a brace from junior Moritz Endriss. Fifth seed PACS was looking at an uphill battle when they traveled to South Philly. Eight days before they had lost to South Philly 6-1! The team pulled out all the stops and won 2-1 for the only upset of the round.
October 25, 2018. Another perfect day for soccer saw perennial rivals Central and Northeast matched up. Northeast Junior Peter Bazin scored on some expert dribbling. In the second half Central senior Jason Worrell converted a penalty to set up extra time. Bazin was again the hero scoring in seven minutes into double overtime.
PACS fairytale run came to an end as they faced an imperious FTC looking to avenge a regular season upset. FTC scored three minutes in and did not stop with a final score of 6-1.
While Northeast had won the championship for four years running, they had lost to their opponent 3-1 in the regular season. Franklin Towne scored first and then second. A fracas in the second half meant both sides were playing with ten men. Northeast pulled one back, but Franklin Towne stood firm and ultimately won the school's first (boys soccer) championship. Coach Chris Logan said, "I was impressed each day by the spirit of the team and their willingness to do whatever it takes to come together as a group."
District Playoffs
The numbers in the tables above refer to the school's PIAA classification for state playoff purposes, 4 referring to the most populous classification while 1 is the least. PPL has a true playoff where school size does not matter, only seeding and performance, and then uses how deep a school goes in playoffs to determine the champions based on size. Masterman was the only 1A school to reach the quarterfinals. While in the past Masterman advanced to states directly, Devon Prep has joined the Catholic League and will face Masterman on November 1st.
FTC and PACS were the only team in 3A and 2A, respectively, to reach the semis, so they advanced to playoff against PCL teams Archbishop Wood and Lansdale Catholic. Northeast became 4A league champs when they finished the other big school Central in the semis.
The Catholic League swept the series, you can read about it here.