Photo: Ryan Griffith
It's not often in life that you have an immediate chance to fix your mistakes.
A do-over, if you will.
(If that sounds like the name of a dreadful Adam Sandler movie, that's because… it is. Of course it is.)
The Philadelphia Union are fortunate enough to have their own opportunity for a do-over coming up tomorrow night. (The Do-Over 2: Do Harder.)
With a home playoff game on the line on Sunday, the Union wilted, allowing New York City FC to put three first-half goals past them en route to a disappointing defeat.
As a reward, they get the exact same matchup in the first round of the MLS playoffs, a spooky Halloween night trip to Yankee Stadium, attempting to exorcise nine years of postseason demons.
For this week's post-match analysis, let's take a look at the tape from Sunday night and see what the Union would do-over if they got another chance to tackle Domenec Torrent's side.
Creating width
The Union have never won a match in their four trips to Yankee Stadium.
Their best result was a 1-1 draw in 2015, the first season of City's existence. Since, they've lost three in a row.
It's a dreadful stadium for soccer, whether you're a player or a fan.
(And, aside from whether it's a nice stadium for soccer, it's an unpleasant stadium overall. Everything is covered with corporate gloss, a hot dog costs 48 American dollars, and the New York Yankees play there. Even the best press box spread in MLS can't make a visit there worthwhile.)
However wide the pitch actually is, it creates a challenge for visiting teams not used to playing in a bandbox. The Union sure seemed to struggle with it on Sunday.
At their best, Philadephia like to pin their opponents into a tight box, letting their three-man midfield turn the screws on the opposition. Instead, City turned the match into a end-to-end roller derby, using the Union's lack of team speed against them and finding goals in the chaos.
Without a ton of speed at either striker or right wing, the Union are at a disadvantage in a match like that. A field like Yankee Stadium favors technical players with good touch and close control. Thankfully, the Union have one of those players on their bench, just waiting for his shot… Kacper Pryzyblko!
No, I'm kidding, it's obviously Ilsinho. The Union looked sharper as soon as he hit the pitch on Sunday. In the looming playoff match, the question for Jim Curtin will be whether to bring the Brazilian off the bench, where he's been a weapon all year (including against NYC), or whether to give him the start and hope that he can influence the game for 60 minutes instead of 30.
Of course, that would mean benching C.J. Sapong. The striker-turned-winger has started 29 games this year and returned 4 goals, or about 1 goal every 580 minutes. It might be too late now to change course, but this matchup really doesn't seem to favor Sapong's skillset, especially as poor as his current form is.
There's no point complaining about the pitch. The Union knew how wide it was before they traveled on Sunday. It's not getting any wider before the playoff game, and it'll be up to Curtin and the Union to adjust.
The trouble with Haris
The Union need Haris Medunjanin to play well — and to be a factor — in order to beat good teams.
He wasn't that on Sunday.
Compare, for example, the Bosnian's passing map on Sunday night with that from the Union's sole win in October, their 5-1 drubbing of Minnesota United.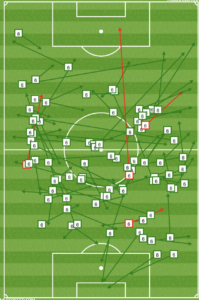 On the left is the Minnesota map. There's barely any red to be found, indicating that Medunjanin completed passes at a high clip. He's also taking advantage of the width of the pitch, getting in good spots for the backline in his own half while sliding in to the channels in the attacking third.
At Yankee Stadium, Medunjanin simply doesn't have as much room to operate. You can see that in a few different ways on his passing chart. First, there's a lot more red. And a lot of that red is coming on long balls — with City disrupting the easy passes in the midfield, Medunjanin resorted to trying to play more vertical, which isn't necessarily a skill of this team. Finally, you can see how much more central he is, with a much greater percentage of his passes within the edges of the 18-yard box. For a Union side deeply reliant on Medunjanin, Bedoya, and Dockal controlling the midfield, City's ability to throw Haris off his game really impeded the Union's chances of getting a win.
Looking at passing doesn't tell you everything about Medunjanin's game, of course. But we have to start there, because it's his most essential skill. Medunjanin is increasingly a defensive liability, with the faster Pigeons slicing past him like he was a traffic cone with a buzz cut.
What's Curtin's best move? In a vacuum, it might be inserting Derrick Jones (or Warren Creavalle, if you need to keep things veteran-y) in place of Medunjanin. Jones's abilities as a defensive destroyer capable of operating in a crowded midfield could add some defensive stability without sacrificing too much offense. Such a move isn't likely, though. Medunjanin has only missed four regular season games in his two-season Union career — three through a red card suspension and one when Curtin started a reserve lineup. With Medunjanin almost certain to start, look for Bedoya to drop a little bit deeper to give Medunjanin defensive cover and an easy passing outlet.
Defensive miscues
Not everything is the field, of course. NYCFC have some pretty good players, too.
The Union's young centerbacks have largely been very good this year, but they're prone to frightening collapses. Against attacking players as potent as David Villa, the risk of a catastrophic mistake is high.
Let's take a look at that third goal.
Can't give @Guaje7Villa two cracks at it… ⚽️ pic.twitter.com/w3O03l8dmR

— New York City FC (@NYCFC) October 28, 2018
It's mistake after mistake, all in a ten-second span.
Ray Gaddis sells out to stop a cross, allowing Anton Tinnerholm to breeze past him to the end line.
Auston Trusty loses Jesus Medina in the box. With a better cross, that's the goal right there.
After Villa nearly beats Andre Blake, Mark McKenzie stares at the ball, allowing Villa to get right past him and put in the crucial finish.
It didn't end up mattering, but Keegan Rosenberry lets Ronald Matarrita have about ten yards of space to himself on the far side of the field.
It's all too easy for New York City to get the Union defense scrambling, and it's a lack of discipline across the pitch that lets it happen.
Most worrying of all is Auston Trusty, who's been the Union's best defender all year. But he's put out his two worst performances of the year in crucial games, punctuating both with unfortunate but avoidable own goals.
What's the solution? The issue here isn't a tactical adjustment, but a mental one. The Union's defenders need to regain the discipline and composure that have served them so well this season.
If they play like rookies on Wednesday night, it will be another short trip to the playoffs.