Photo: Earl Gardner
Who: Philadelphia Union (5th place, 46 points, 14-12-4) vs. Houston Dynamo (10th place, 32 points, 8-13-8)
What: 2018 Lamar Hunt U.S. Open Cup Final
Where: BBVA Compass Stadium, Houston, TX
When: Wednesday September 26, 8:00 p.m.
Watch: ESPN2, Univision Deportes
Whistle: TBA
Get your Tum's ready. Philadelphia Union are hoping third time's the charm as they seek their first-ever trophy in the Lamar Hunt U.S. Open Cup final. After two consecutive heartbreaking defeats in the final at home in 2014 and 2015, Philadelphia travel to Houston with redemption on their minds. [Watch the video linked above and listen to how much this game means to Fabinho.]
The scenario this time is far different too. In the prior finals, it was Philadelphia who was the home side underdog, beat by either a far superior side in Seattle in extra time and on nail-biting penalties by Sporting Kansas City.
In 2018, though, it's Philly who plays the traveling favorite. Fresh off two massive wins against top western conference foes, the Union face a Houston side mired in mediocrity and buried deep in the standings.
Wednesday's weather in Houston will be hot (it will feel 90° at kickoff), muggy, and rainy. The game will likely be messy and physical. If Philadelphia's well-rested starting XI can play with composure in a big moment, that forecast may include some silverware for a club hitting their stride and desperate for a trophy.
Scouting report: Houston Dynamo

This is going to be a very tricky matchup for Philadelphia. Against Montreal, fans saw what happens when the Union — if they're not on their game — can't break down an organized counter-pressing team. Poor turnovers doomed Philly versus the Impact and, should they make similar mistakes, it will doom them in Houston.
Houston's familiar 4-3-3 thrives on transition and chaos. In the front line of Romell Quioto, Mauro Manotas and Alberth Elis, manager Wilmer Cabrera has formidable attackers who love to pounce on loose balls and tear up the field.
The trio will be eager to capitalize on any Union missteps and look for space behind Philly's fullbacks, stretching the backline apart during full-speed counter attacks. Houston is also very good on set pieces, knocking down balls, and bashing them into goal. It's not pretty, but it's pushed them to this final.
That strategy, however, yields major inconsistencies and that's where the Dynamo has been let down this year. Without any type of fluidity in possession, Houston sit back and absorb pressure without any Plan B. When the turnovers don't come, it means that Houston's attackers don't see the ball and opponents see goals.
With Houston's reactive style of play, it will be Philadelphia to dictate the game.
Suspended: None
Injury Report: OUT: D – A.J. DeLaGarza (torn left ACL), F – Mac Steeves (left hip injury)
Scouting report: Philadelphia Union
The Union are, simply, the better team in this matchup. They have shown they can beat good teams. They have shown they can beat bad teams. And if the Union play their game on Wednesday, they will be coming back to Chester with a trophy in tow.
But it won't be easy. Houston's defense plays with a bend-but-don't-break mentality, only allowing 43 goals all season despite being rather porous at times. Philadelphia can and will break them down, but they must finish their chances.
Look for Borek Dockal and Haris Medunjanin to possess the ball heavily in the middle of the field before picking their opportunities to break Houston's flat backline shape. C.J. Sapong should factor in heavily in hold-up play versus the spright but ageless (and my hometown of Ft. Wayne, Indiana's favorite son) DeMarcus Beasley.
If Jim Curtin knows what's good for his club, he would be smart to give Houston some of their own medicine by sitting back, absorbing pressure, and then springing the counter attack. Houston does not have the midfield to boss the game and Philadelphia has the incisive passing and speed required to cut the Dynamo defense up at will when they're not set. If Houston doesn't have options, they will make mistakes the Union can capitalize on.
In the team's first meeting this season — a 3-1 Union victory — Philadelphia were the better side even more a physical Houston team went down to 10-men thanks to a red card. Looking at the stats below, those duels and tackles numbers show a Philadelphia side that limited Houston's chances for second balls and dangerous counter opportunities.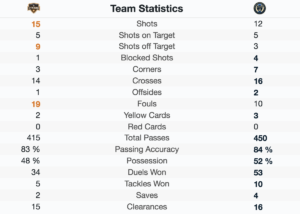 Ultimately, it will be turnovers that will decide this matchup. If Philly can take care of the ball and be wise about when they attempt those line-breaking balls, they will win this game.
Suspended: None
Injury Report: QUESTIONABLE: D – Matt Real (left knee sprain), M – Ilsinho (quad strain),  D – Raymon Gaddis (left ankle sprain)
Key matchup
Alberth Elis vs. Ray Gaddis. Elis is very, very good, but can also disappear from games or come up with some mind-boggling misses. Gaddis will have his hands extremely full for 90 minutes. He will be tasked with staying home and staying tight on Elis all game. If Gaddis can hassle Elis enough and push him away from the ball, Philadelphia will be in good shape.
Player to watch
Fafa Picault. The road goal maestro came up huge last week in Seattle and off the bench with a sublime ball to free up Bedoya for the second goal versus Kansas City. His fierce running and endless energy will be needed as he takes on — wait for it — former Union darling Andrew Wenger, now Houston's right back. Picault can and should win that matchup and see real opportunities in front of goal. If Picault's finishing continues to improve, he will likely find himself a place on the scoresheet and in Union lore forever.
Prediction
Union bring it home 2-1. It's not going to be easy, but if the Union play smart, tidy soccer and rely on their midfield trio to run the match, fans will be celebrating the club's first-ever trophy around 10 p.m. on Wednesday. Keep in mind that Jim Curtin has never been beaten in 90 minutes in the Open Cup as a manager. Somehow, he just gets his clubs up for the tournament. I think the Dynamo snatch a goal in transition, but the Union have the players and strategy to put two goals in the onion bag. Let's just hope they can do it before extra time or penalties because I'm not sure any of us can take that again.
Sing that song, baby.
We want the Cup, gotta have that Cup 🏆

https://t.co/Nf0E9oD1QB @SonsofBen @SoBTifo @thatsadambooth @21_djones pic.twitter.com/fkn7UNSGcc

— Philadelphia Union (@PhilaUnion) July 13, 2018