Photo: Paul Rudderow
Who: Philadelphia Union (7th place, 18 points, 5-6-3) vs. Toronto FC (10th place, 11 points, 3-7-2)
What: 2018 regular season game
Where: Talen Energy Stadium, Chester, PA
When: Friday, June 8 at 8:00 p.m.
Watch: PHL17, ESPN+
Whistle: TBA
The Philadelphia Union will surely be happy to be home on Friday night after a tempered debacle in Atlanta over the weekend. Before that match, things were taking a wide turn for the better. Four matches unbeaten in MLS and three wins by two goals or more. Hey, maybe the playoffs aren't such a stretch. Then, very suddenly, Alejandro Bedoya and Haris Medunjanin get sent off on the road and the streak comes to a screeching halt with a 3-1 loss. What will the response be?
A 5-0 win over the Richmond Kickers was a nice intermediate bounce-back during the week, but Jim Curtin will be forced to make some changes and send out a much different lineup in a rematch against the reigning MLS champs in Toronto FC. Time to make sure the Union don't start a streak in the opposite direction.
Scouting report: Toronto FC

The 2018 Toronto squad is a bit deceiving. A quick look at the Eastern Conference table and you might think they're a struggling side sitting in 10th place on just 11 points, but there's more than meets the eye. A deep run in the CONCACAF Champions League took priority early in the season and led to a couple quick losses in the league. Toronto eventually lost to Guadalajara in the final, but turned in a winless April and lost three matches in a row on the way there.
Couple a poor start with a huge mound of injuries and suddenly just three wins on the season make more sense. They also have two matches in hand on most of the conference.
As the Union found out on May 4, though, Toronto is still wildly threatening and is not the club you want to be facing in a bounce-back situation. U.S. international Jozy Altidore is one of the many players out injured for the Reds, but healthy and dangerous is forward Sebsation Giovinco. The Italian has three goals (including one against Philly) and two dimes in nine matches thus far. He's also proven to be one of the most potent attackers in the league. It's tough to predict a formation for Toronto, but Giovinco will be in the attack regardless, which is cause for concern.
Victor Vazquez, who also leads the team with three goals on the season, sometimes plays up top with Giovinco and sometimes roams the midfield. Same goes for Michael Bradley, who is traditionally a holding midfielder but was in the backline again during a 3-3 draw with Columbus on Saturday. Jonathan Osorio has a nagging injury at the moment, but has played in 10 matches and scored twice from the midfield. The Reds often play a 3-5-2 but won't hesitate to switch things up, even in-game. Whatever works.
Injury report: OUT: F – Jozy Altidore (foot surgery), D – Drew Moor (quadricep strain), M – Ager Aketxe (hip flexor), D – Chris Mavinga (hamstring strain); DOUBTFUL: D – Ashtone Morgan (hamstring strain) QUESTIONABLE: D – Justin Morrow (calf strain)
Suspended: None
Scouting report: Philadelphia Union
Unfortunately for Curtin, one of the most concrete parts of the unbeaten streak was his midfield pair. Medunjanin, who has played in every match this season, and Bedoya had some real chemistry going and were one part of the starting 11 that you didn't expect change from. Now that it's required, Anthony Fontana and dare I say Derrick Jones should see at least some time on Friday. The good news is Borek Dockal has come into some form and if the midfield replacements can bridge it to him, goals can come out.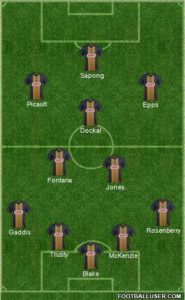 As for the attack, you have to wonder if the midweek match will have any effect on Curtin's thinking. It was a great opportunity for David Accam to get some minutes and gain some confidence, but, despite scoring his first goal of the season, Fafa Picault almost has to be the top option right now. Ilsinho has provided some real flare and scored an absolute worldy of a goal against Chicago, but hasn't proven he can play a full match. Marcus Epps will start if Curtin opts to bring the Brazilian in off the bench.
Defender Jack Elliott also had a big night against Richmond and found the back of the net, but of late, Curtin has seemed to favor Mark McKenzie next to Auston Trusty in the back. Ray Gaddis has started the last two league matches and will switch over to left back if Keegan Rosenberry plays.
All eyes will be on the midfield Saturday, but the bottom line is Toronto took the Union's top lineup to the woodshed a little over a month ago. Curtin will need to approach this one differently and not hesitate to make adjustments. Playing at home isn't enough to change the outcome by itself.
Injury report: OUT: D – Richie Marquez (sports hernia), D – Joshua Yaro (concussion)
Suspended:  M —Alejandro Bedoya (red card), M — Haris Medunjanin (red card)
Key matchup
Union centerbacks vs. Sebastian Giovinco
Trusty and McKenzie were really put to the test last weekend against one of the league's best strikers in Josef Martinez, who ended up with a hat-trick. Now, a lot of that had to do with playing down two men for over 60 minutes of the match, but Giovinco may be on an even higher level. It sounds simple, but there's definitely no way the Union get something from this match if it can't slow down Giovinco.
Player to watch
Derrick Jones
Talk about an opportunity for Jones. He's the homegrown lad, the future of the midfield. We've been wondering about him this season, and now he has a chance to fill the role. A night like Friday, playing one of the best teams in the league under the lights, is much different than hosting the Richmond Kickers. This one will be a true challenge and may be an indicator of what we can expect from Jones moving forward.
Prediction: Philadelphia Union 2-2 Toronto FC
Toronto will score. It's a lot to ask on a young defense to prevent them from doing so. Still, the Union have scored 12 goals in the last three matches at home and will find the back of the net as well. A draw would be a welcome result.