Editor's Note: An earlier version of this article incorrectly listed the kickoff day as Friday, May 25 instead of Saturday May 26.
Photo: Paul Rudderow
Who: New York Red Bulls (4th place, 21 points, 7-3-0) vs. Philadelphia Union (7th place, 14 points, 4-5-2)
What: 2018 regular season game
Where: Red Bull Arena, Harrison, NJ
When: Sat., May 26, 7:00 PM ET
Watch: PHL17, ESPN+
Whistle: Ted Unkel; Kathryn Nesbitt, Adam Wienckowski; Guido Gonzales; VAR: Dave Gantar
Philadelphia Union are riding high right now, having won three of their last five games including both of their last two. With Borek Dockal seemingly finding his form, fans are finding hope for future matches. But the Union kick off their Memorial Day weekend with a Saturday night away match against a much tougher New York Red Bulls side.
Scouting report: New York Red Bulls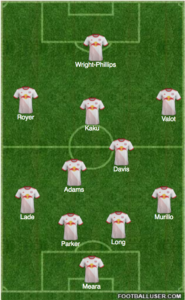 New York Red Bulls might be the toughest opponent the Union have faced this season because New York Red Bulls might be the best team in MLS. While the Union have won their last two, Red Bulls are on a four game winning streak, having beaten the top two teams in the Eastern Conference in NYC FC and Atlanta United.
The latter victory came last weekend, as an away game at Atlanta no less. With one goal from Danny Royer and an ensuing brace from Bradley Wright-Phillips, Red Bulls put a stamp on the match. Wright-Phillips is on fire right now; his brace
brought his goal average to 0.8 per game, and he's tied for most in the league. Stopping him might not be possible for the young Union backline, and Andre Blake will undoubtedly have to pull out some #SavesByDre.
Jesse Marsch has become one of the premier managers in MLS, and you can be sure he will come with a game plan to unbalance the Union's attack and pressure the young back line. With injuries to Tyler Adams and Kemar Lawrence, his game plan might have had a wrench thrown into it, but he revealed that they will both most likely be in the game.
Injury Report: OUT – Kyle Duncan (D – torn right ACL), Luis Robles (GK – knee); QUESTIONABLE – Tyler Adams (M – knee), Kemar Lawrence (D – head injury), Marc Rzatkowski (M – calf)
Suspended: None
International Duty: Fidel Escobar (D), Derrick Etienne Jr. (M)

Scouting report: Philadelphia Union
Again, Philadelphia Union are feeling about as good as they can right now, winning their last two games – one of them an away match. nternational no. 10 Borek Dockal seems to have found the form Union fans were looking for, and Jim Curtin has made some adjustments to the roster that look to have helped the squad out, keeping David Accam on the bench as a super sub and switching out young center back Jack Elliott for much younger center back Mark McKenzie.
All that being said, it doesn't look promising for Philadelphia Union, who despite winning an away game against Montreal, have still only won one away game in a year. The back line has been performing wonderfully, but the young are bound to break down once or twice against a tactical Red Bulls attack. On the opposite end, C.J. Sapong will make his second start since his absence. We'll have
to see how he starts out, as he still looked to be coping with the injury a bit against Real Salt Lake. A win isn't impossible, but the Union will need to capitalize on every opportunity they're given to make it happen.
Injury Report: OUT – Richie Marquez (D – sports hernia), Josh Yaro (D – concussion)
Suspended: None.
International Duty: None
Player to watch
Borek Dockal
The Czech no. 10 has done well the past two games, but the biggest question for the Union's success is "can he do it consistently?". The idea that he came to the team late and just needed time to adapt before become an elite playmaker is a nice narrative. It may even be the correct one. This match will help us find out.
Prediction
New York Red Bulls 3 – 1 Philadelphia Union
Take any kind of win streaks away. Take scoring records away. On paper and on the field, the Red Bulls are just a better team. Bradley Wright-Phillips may be the best pure goal scorer in MLS, and Jesse Marsch can put a match plan together like no other. The Union have great pieces and great promise, but they're not at Red Bulls' level yet.
Now add the records back in. Philadelphia Union have a two game win streak, with one away win in the past year. New York Red Bulls have a four game win streak with a combined three losses at home between last season and this season.
It's not going to be great for the Union, but we can use it as a litmus test for how our young line takes on elite offenses.