Standard soccer statistics often aren't the best way to determine how well a team played. I want to get that out of the way immediately.
I think that most of us understand that soccer is a very challenging subject to evaluate objectively with numbers, and that broad statistics, such as those most commonly available to us, are limited in their ability to describe why teams succeed or fail.
Nonetheless, it can still be worthwhile to look at how the Union have fared so far this season within these statistics, and compare their results to winners and losers so far this season. I worked on these charts to try and glimpse at what underlying factors are driving Philadelphia's performance, and I thought they might be interesting to share.
I have two types of "Radar" charts that I wanted to share for each section, showing aspects of how the Union have performed.
2018 Union Average
This first type of chart shows the statistical magnitude of the Union's performance (blue) compared with the average performance in each statistic from winning teams (green) and the average from losing teams (red).
For practical reasons, this only shows the top 20 statistics ranked by "variable importance" from a model, which ranks the statistics based upon how consequential the statistics tend to be in predicting match results.
First, some notes on reading this chart:
The order of the ranking of statistics starts at the top ("OppShotsonTarget") and moves counter-clockwise in importance.
"Opp" refers to the opponent's statistics against the Union at the time.
Even if winners and losers tend to average at around the same value for a statistic, this doesn't mean the statistic is meaningless. It just means that this stat doesn't drive victories on its own, but it is still likely a factor in some matches.
You may be surprised to see red cards so low in importance, but remember that teams with only 10 players will see impacts in all of the other performance statistics.
What can we take away from this chart?
Given their record, the Union have put a lot of shots on goal, usually a heavy indicator of winning. This could indicate bad luck for the Union or unusually poor quality of shots. The reality is probably a bit of both. Opponents have made a substantial amount of saves against the Union, which follows this same line of thinking here. The Union's shots are also being blocked a bit more than normal.
Philadelphia has also given up a fair amount of shots on goal, but not a crazy, out-of-proportion amount considering their record. Philadelphia's opponents have an extraordinarily low amount of shots-not-on-goal, which could be due to either luck or poor defending. Again, this is probably a little of both. The Union's defense is similarly not blocking as many shots as winners tend to, especially given how many shots are on-frame.
The next chart is a little different. I dug into a model's predictive expectations to break apart "win contributions" and "loss contributions," to try and help determine what statistics were more or less predictive of results and where the Union have excelled or under-performed. Again, we're still looking at the average for all of Philadelphia's 2018 matches.
While some statistics and categories don't appear to contribute directly towards wins/losses, it could be that they are correlated with other statistics. For example, if crosses are correlated with shots (they are), then the effect of crosses on wins might be partially replaced by the influence resulting shots have on wins.
To avoid some confusion, I also grouped all of the statistics into categories.
Shots, Shots-off-target, and Shots-on-target all combined for the Shooting category (and the opposite for "OppShooting").
Clearances, Saves, Tackles Won, Opponent's Blocked Shots, GK Crosses Caught, and GK Punches all combined for the "GK_and_defending" category (and the opposite for "OppGK_and_defending").
Duels Won, Offsides, Passing Accuracy, Possession, Total Passes, Opponent's Duels Won, Opponent's Offsides, Opponent's Passing Accuracy, and Opponent's Total Passes all combined for the Ball Control category.
Fouls, Yellow Cards, and Red Cards all combined for the Discipline category (and the opposite for "OppDiscipline").
Corners and Crosses combined for the "Crosses_Corners" (with the opposite true for "OppCrosses_Corners").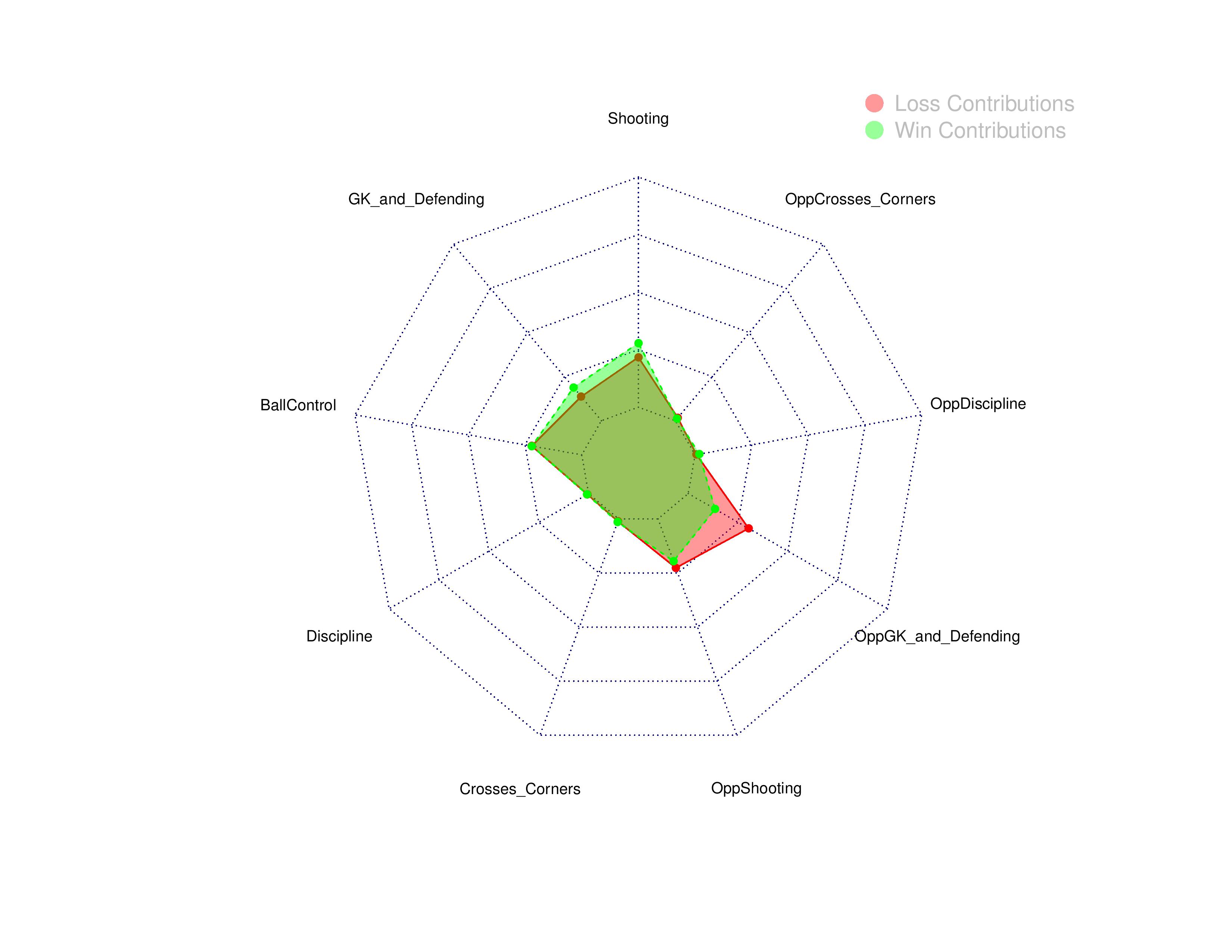 A key takeaway for me here is that, on average, a big thorn has been Philadelphia's opponents saving, blocking, or otherwise successfully stopping the Union's attack. This could be due to less-than-average quality by the Union attack and/or a higher-than-average quality of opponent defense when playing against the Union (i.e. bad luck).
Per-Game charts
Now that I have the 2018 Union averages done, it may be helpful to show these charts for each Union match individually.
The only difference for these charts is that the Win/Loss contribution chart also shows what the model would have predicted for the result given the statistics.