In part 2 of 2 in our one day series on change in the Philadelphia Union organization, Chris Sherman looks at the data to see if changing things up may help or hurt the Union. Check out Part 1, in which Tim Jones gives his thoughts on the benefit of a consistent system.
Narratives in sports often focus on change within a team, or lack-thereof. Many fans believe the Philadelphia Phillies held onto their championship roster for too long. The Philadelphia Eagles, on the other hand, baffled fans during Chip Kelly's tenure as he nearly flipped an entire roster that most pundits deemed talented.
For the last several seasons, Philadelphia Union have faced these narratives heavily. While many fans clamored for a coaching change or a game-to-game lineup switches, others are now begginning to Trusty the Process. Sporting Director Earnie Stewart has personally made it clear that he does not believe in "change for the sake of change," but rather sees a benefit in staying the course.
This question brought me to investigate whether change, in and of itself, is harmful or beneficial (or irrelevant).
Executive Summary
Manager experience counts for something, and a non-insignificant factor over the course of a season.

This seems to indicate that, while a clear upgrade in manager could have a greater impact than the experience, replacing a manager without an assuredly better manager could do more harm than good.

Keeping your lineup the same from match to match appears to help team cohesion as common narratives suggest. A lot of change, however, doesn't appear to be more harmful than medium amounts of change.
More Detailed Analysis: Manager
Last year, many fans began to question at what point Union head coach Jim Curtin would lose his job. Though the first game shone bright for the Union this year, many fans – right or wrong – will assuredly raise the same question when the Union fall into a rough patch, as nearly all clubs do in an MLS season. The club on the other hand maintains that developing coaches was a part of their plan, and that takes time.
Let's then begin with how a manager's experience relates to performance:
*Data is from 2013 through 2017 and is for MLS matches only.
*Managers who were already in place with their club before 2013 had their game count added in manually by me.
*Some of the pre-2013 data (for managers in their position prior to 2013) was hard to nail down, and so is probably not exactly-correct, but near enough.
While it doesn't seem like a lot to add 1.45 points per season, this indicates Jim Curtin's 3.5 seasons with Philadelphia is worth around 5 points which could certainly determine a playoff spot.
However, the problem with the above analysis is that only good managers are likely to survive in their position long enough to have high amounts of games managed. Therefore this data is biased.
To offset this, we need to control for the manager, himself. To do this, we are essentially grading each manager upon their own curve rather than that of others in the league. This way, we can actually measure whether their experience in their job contributed to higher performance than their own career average.
* In the below, when the dots or lines are above the black line (zero), it indicates that the manager performed worse than expected. When the dots or lines are below the black line, it indicates that the manager performed better than expected.
This shows that managers tend to perform worse than their career-for-club average at the very beginning (1st season or so) and actually continue to get better as time goes on.
More Detailed Analysis: Player Lineup
Another point of contention last season was switching lineups from game-to-game. Indeed the question is on many minds as to whether Jim Curtin will continue to stick with a consistent lineup all season or whether he will change depending on opponent.
Let's see if there is any data backing up the theory that players perform better when they get used to playing with one another:
The next chart shows how clubs perform over a season compared with how often they change their player-minutes distribution match-by-match.
We can clearly see a trend where greater volatility leads to fewer points.
However this isn't quite a fair analysis because teams that win (and are already good) will inherently be less likely to try out different players, and teams that lose may need to experiment more.
So the next chart breaks it down by match and simply looks to how the team performs compared with how their minutes given changed from the previous match.
We can continue to see that greater change between matches leads to worse results.
However this is still not quite right, because, as before, better teams will still be less likely to change their lineups in any given match.
What we do next is to try what we did for the manager analysis above and control for the quality of players (among the home/away/opponent factors).
What I did was, for each season and team (i.e. 2017 Philadelphia Union), I chose the five most common starting lineups. With that in mind, I graded each match's performance on its own starting lineup's curve, to try and measure how change, itself, affected results, even among the same starting lineup.
*As with the manager analysis above, dots and lines above zero indicate worse-than-expected performance, and below zero better-than-expected performance.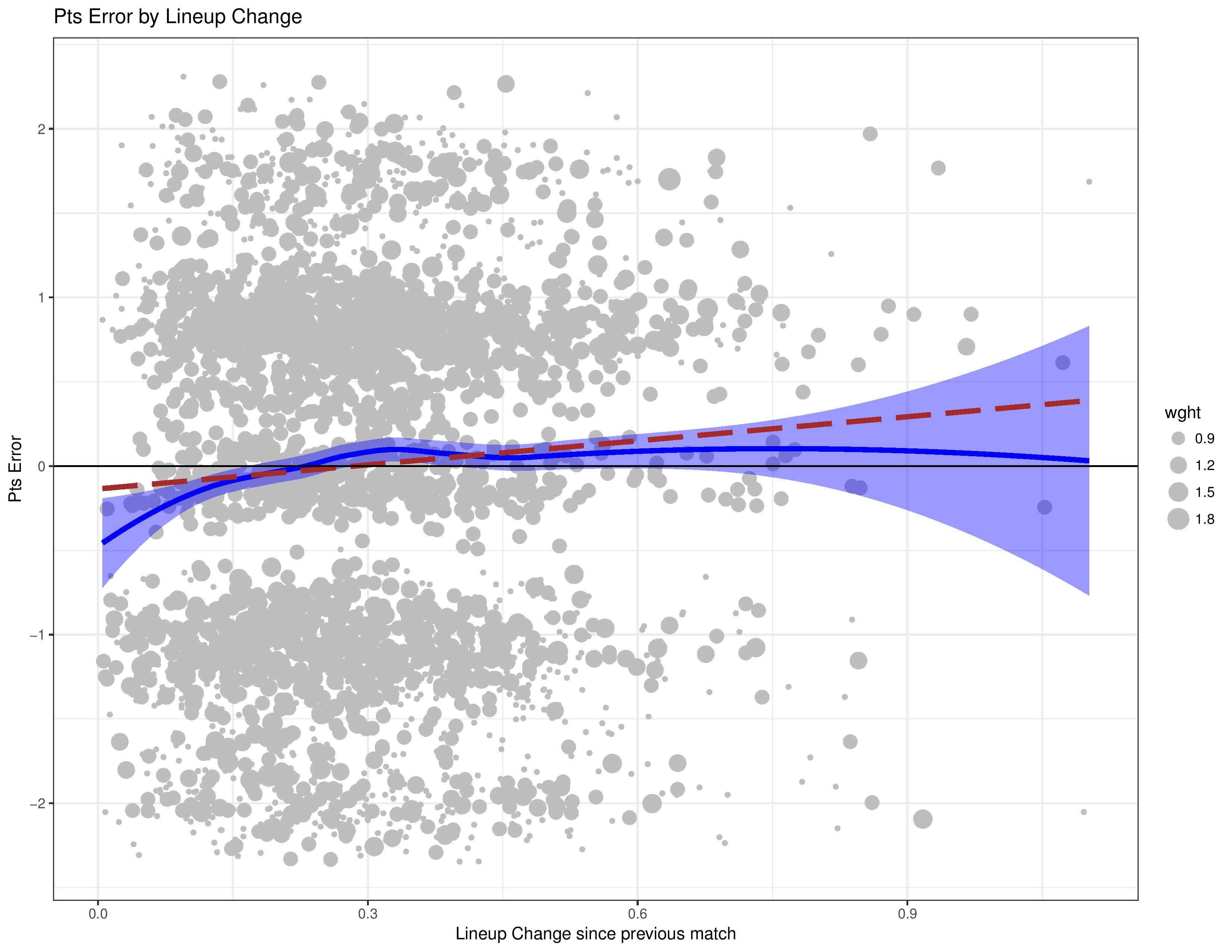 As the blue line shows, the difference between medium amounts of change and large amounts of change has no noticeable affect of the team's performance, but it does appear that any changes from match to match does, in fact, appear to harm team performance.
Conclusion
This is certainly an indication that retaining Jim Curtin was a good idea by Earnie Stewart in lieu of a clear upgrade at his position.
Furthermore, I don't actually blame Jim Curtin for his refusal to play youth when the club is out of contention or his substitution choices.
Since Jim Curtin has no job security or fan support to allow him to disobey an instruction from Earnie Stewart, then these decisions must be getting made by Stewart, himself (or at least a shocking amount of negligence on Stewart's part, which would still lead me to blame him). Furthermore, I expect that Curtin is probably very personable and good with managing the players in the background for the 95% of his job that we can't observe.
The lineup-change analysis does also bolster the theory that playing the same lineup is likely to improve team cohesion.
Fun fact in this analysis: only 11.4% of distinct starting lineups in MLS were repeated for a second match within a season (this represented only about a quarter of matches that involved the same lineup as a different match).
So it looks like Philadelphia isn't the only club to throw out numerous starting lineup changes.
However, it does appear that if health, timing, and quality allow, it would be beneficial to trot out the same lineups (or maybe one player switch) in repeated matches to see if they can perform better with enhanced team chemistry.
On both accounts in MLS, it seems, change is bad, in of itself, without clear upgrades in players or managers.
Appendix