Photo by Paul Rudderow
There isn't much traffic on the road to the bench from the MLS All-Star team. Philadelphia Union right back Keegan Rosenberry got there very quickly in 2017.
Looking outside in, Rosenberry's year was truly puzzling. After a groundbreaking rookie season in which he played every single minute of every match, he was practically nowhere to be found. Coach Jim Curtin was flooded with questions throughout the summer, but mostly pointed to Ray Gaddis simply winning the job.
"Playing time is earned during the week in training," Curtin said in August. "We're looking for him (Rosenberry) to continue to improve each and every day in training, first and foremost, and then ultimately he'll get an opportunity back with the 11 when that situation presents itself."
By the time that happened, it was August 20th against the San Jose Earthquakes and Rosenberry hadn't played in the 13 prior matches, dating back to May 17. He also seemingly only came on as a substitute because  Giliano Wijnaldum was injured and Gaddis moved over to the left side.
It was back in the lineup a week later where Rosenberry played very well in a long-awaited start against Atlanta United.
"Keegan was very proactive on the night," Curtin said after the 2-2 draw. "He was aggressive with his defending, made early decisions with the ball, and connected his passes. It was a really strong performance for him and we're happy with him after some time off, a layoff, to bounce back with a game like that. It's important and something we knew he was capable of and want to see more of."
So, what exactly was behind this layoff? Was it simply Gaddis playing well? To his credit, Gaddis did that consistently. He's a physically gifted outside back that specializes in one-on-one defense. At the same time, Rosenberry provides more going forward. He makes overlapping runs and whips in crosses that are less common for Gaddis. He was also runner-up in the 2016 rookie-of-the-year voting and was selected into the Fan XI.
Losing your job is one thing, but losing it after such a dynamite rookie season begs a lot of questions. It was almost as if something behind the scenes went down — something totally unrelated to soccer that wasn't made public. We may never know if anything secretive went into the hiatus and it may just be in the books as a sophomore slump.
Thinking it over
Overall, it's unclear exactly what the Union lost without Rosenberry this season, if anything. On paper, Curtin lost the aforementioned attacking ability, but it's also possible Gaddis provided a more consistent defensive presence. We don't know what he saw in training throughout the season and we don't know what kind of difference Rosenberry would have made.
The other key aspect of this situation, though, is how it all affected Rosenberry himself. Historically, Curtin has been firm in his lineup choices and has stuck with slumping players for extended periods of time. This was clear with a struggling Andrew Wenger at the end of his tenure in Philadelphia and it was even more clear this season with Chris Pontius. Albeit in a different position than his 12-goal onslaught in 2016, Pontius didn't score until September 23 and yet he remained in the starting lineup for months.
That's not to say he didn't provide anything else, but to Rosenberry, it's all the same. Why wasn't he given more chances to prove himself after such a great rookie year? What does sitting out almost the entire season do to his confidence? There's no question he can learn from such an experience, but at some point it may simply be harmful.
Take this now infamous tweet for instance: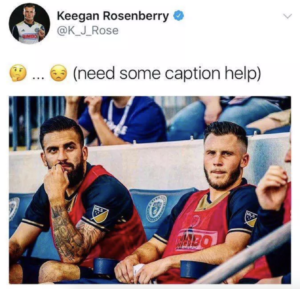 It's not totally clear what Rosenberry meant by this tweet and it was quickly deleted, but because of his situation, followers assumed he was frustrated with being on the bench so often. Maybe that wasn't at all what he had in mind and maybe it wasn't controversial at all, but he was still suspended for it. Curtin found it unprofessional and it may have dampened his chances of playing even more.
Views on the message will vary, but you've got to think that if Rosenberry was a regular in the starting 11 and was preparing for a match, he wouldn't have tweeted anything less than an hour before tap.
Pressing forward
Heading in to next season, Rosenberry is one of the most interesting Union players to keep an eye on. The club picked up the option on both his and Gaddis' contract, which could mean beneficial competition or more confidence draining. Here are three scenarios for 2018.
Rosenberry simply doesn't recover — not in Philadelphia, anyway. If his confidence is shot, the last thing he wants is a long offseason to think about it. Maybe he comes back to training still out-of-whack mentally and isn't performing his best. It could potentially spiral out of control and would become fixable only in a totally new environment.If Gaddis is starting on opening day, the questions will be back with force.
Rosenberry responds. Perhaps all of this was nothing but motivation — motivation to prove everyone wrong and get his job back. One quick way to end this story would be to take the RB spot back and play well to start the season. At the end of the day, Rosenberry is still just 23. He has miles ahead of him and bumps in the road are common for any young player.He's proven he can be a viable defender in MLS. Now he just has to prove he can do it again.
Somewhere in between. Maybe this is the most likely scenario. Maybe Rosenberry has a solid offseason and impresses Curtin enough to warrant some starts. At this point, even some minutes off the bench would probably do him a world of good. He doesn't necessarily have to be stellar like his rookie season. He just has to be a solid option that sees the pitch consistently. A lot of that isn't up to him, which is precisely why Union supporters will be watching closely.