Photo: Earl Gardner
Fifteen points separated Chicago Fire and Philadelphia Union going into Saturday night's affair in Chester, but with the Fire missing Bastian Schweinsteiger — and Philly finally giving up on transmogrifying players into No. 10s — the match played out in favor of the home side.
The Union were dominant throughout. And not dominant in the sense that they were whapping shots at Matt Lampson for 90 minutes or running the Fire ragged with passing moves. Instead, Jim Curtin's team dominated the shape and space of the game with focused organization and movement and a commitment to get forward in transition. The 4-1-4-1 that Philly played — just because Jim Curtin insists it's a 4-2-3-1 to avoid getting more questions about shape doesn't mean that's the best description of what we saw Saturday — addressed numerous issues for the Union, though it is not the cure-all it appeared to be against a stubborn Chicago side. The Fire played slow out of the back, committed four to a buildup in which only Sapong defended high, and rarely forced Keegan Rosenberry into uncomfortable situations against David Accam.
So the Union played to their strengths, Chicago didn't play to Philly's weaknesses, and the result was a match that the Union should have won convincingly, and did.
Better protection of the center
The first problem the Fire had with Philly's new setup is that they insisted on using three players deep in the first line of play. This meant Chicago was often using three players to bypass one Union player: C.J. Sapong. As a result, the visitors would move the ball too slowly to avoid Sapong's relentless pressure, and they would find a well-positioned midfielder in lanes when they did rotate. In the past, Ilsinho and Roland Alberg have hewed too closely to the dropping midfielder in buildups, allowing themselves to be dragged out of passing lanes quite easily. The new shape made it easier for the Union to retain a triangle in midfield that let them trap passes into the channels that previously destroyed them.
[gfycat data_id=HarmlessInbornHairstreak data_autoplay=false data_controls=false data_title=true]
Above, you can see that when Chicago is able to squeeze a player between the Union lines, he's quickly closed down. Additionally, there is still a wide swath of space behind the Union midfield because the defense continued dropping after the pass was played into De Leeuw's feet. Importantly, though, Chicago could not access that space because Philly had bodies close enough to close down the ball before De Leeuw could turn. And if he played the ball back, the Union still had numbers to put up the immediate pressure that limits opponents' ability to play long and accurate through the defensive lines.
[gfycat data_id=SilkyAdventurousDugong data_autoplay=false data_controls=false data_title=true]
In this clip, the Union are again able to trap Chicago with multiple players near the ball. A key feature of Philly's play here is the read and transition from Fafa Picault and Fabinho, plus the late burst and angle on Sapong's run. Those have all been lacking at times this season for the Union, and it was notable that Curtin's team almost always looked to get at least two players forward in transition. In the past few matches, they have rarely been so confident, coordinated, or aggressive in their transition running.
[gfycat data_id=DownrightDazzlingGrouper data_autoplay=false data_controls=false data_title=true]
Again, the Union are able to do two things they haven't done well in a while: Control the space around the ball and rotate effectively to avoid exposing their defensive line. You can see that even when the U push bodies forward to stay near McCarty, they still rotate quickly to keep Chicago from getting at the exposed left side.
To get at the Union, the Fire needed to move the ball quickly and create depth in their buildup so they were passing at angles that bypassed Sapong instead of sideways passes that allowed him to rotate and restrict space in the center.
[gfycat data_id=OffbeatParallelGardensnake data_autoplay=false data_controls=false data_title=true]
Above, Chicago creates depth but never draws Sapong out of the center. Ideally, they could play a deeper ball when Sapong presses and draw him forward, then use the third player in buildup to step forward into the space on the far side of the field ahead of Sapong.
Regardless, they catch Pontius in a long closing sprint that leaves the wide player uncovered, and this is a common and vulnerable position for the Union. But Rosenberry does not end up in no-man's land this time; he stays deep and close to the dangerous Accam. If Vincent immediately moves forward, Philly is at risk of an Accam-v-Elliott matchup in space. Instead, they played to strengths and gave Vincent a chance for an early cross, betting that this was not the Fire's preferred method of attack. They're right, and Vincent recycles play.
Bedoya's busy day
With Chicago's attack lumbering around in their own half, the Union were creating turnovers in the middle third with smart pressing. Bedoya's higher positioning allowed him to trigger traps from which Philly could transition quickly. The Union have only inconsistently created these types of turnovers in recent weeks, and they have rarely been able to capitalize on them.
[gfycat data_id=OpenReadyAmurstarfish data_autoplay=false data_controls=false data_title=true]
On Saturday, however, Philly responded with forward runs following turnovers, and this created space near the ball-carrier that allowed for more effective transition attacks.
[gfycat data_id=BowedZanyAndeancat data_autoplay=false data_controls=false data_title=true]
Here you can see Bedoya triggering a period of pressure that ends with an aggressive Picault tackle.
But these defensive plays are most effective when paired with quick attacking that gets at a defense before it settles. Against Minnesota and NJRB, that rarely occurred.
[gfycat data_id=BetterDarlingGharial data_autoplay=false data_controls=false data_title=true]
On Saturday, things were different.
[gfycat data_id=BossyElegantBobcat data_autoplay=false data_controls=false data_title=true]
That is a far better counterattacking look than recent weeks.
Additionally, Bedoya's situational awareness meant he was far quicker to read and break than either Ilsinho or Alberg have been this year. The captain's quick reads meant Medunjanin could do what he does best.
[gfycat data_id=VacantSparklingCanary data_autoplay=false data_controls=false data_title=true]
That pass should reject all adjectives; none do it justice.
Bedoya also showcased his movement off the ball, and the extent to which Philly can use him more effectively going forward.
[gfycat data_id=AcademicDisastrousCrayfish data_autoplay=false data_controls=false data_title=true]
Here he stays close enough to Picault to provide support or pick up loose balls. Bedoya did a lot to ensure that Sapong was rarely isolated up top. Meanwhile, Chicago's midfield was dropping so deep to pick up the ball that star striker Nemanja Nikolic was stranded for most of the evening.
Additionally, Bedoya made runs like this.
[gfycat data_id=FluidIllfatedClumber data_autoplay=false data_controls=false data_title=true]
These are a hallmark of the US international's game, and he made them often when he played as an attacking midfielder. They have been less common as Bedoya has moved deeper, but now that he is positioned higher, Philly again looks as though they are not certain how to take advantage of these movements.
An early run into the defense often leaves an attacking player fairly isolated, but it can create pockets of space by driving a defensive line deep or pinning them so they cannot step up into open gaps. The Union often treat these runs as something more than space-creating, though, and attempt to use them more directly to advance the ball. This is why Picault, Pontius, and, at times, Bedoya find themselves stranded in corners without anyone but Sapong in the box.
Hitting that run could move the ball forward, but it is far more useful as a precursor to an offensive move than as the move itself.
In a similar example below, the Union very nicely overcome one of their common shape-related issues by posting Medunjanin and Rosenberry near the touchline and allowing Pontius to move inside. However, once Rosenberry has the ball, look at Pontius' run.
[gfycat data_id=ContentSourAidi data_autoplay=false data_controls=false data_title=true]
With apologies to Pontius — who was excellent both in front of goal and helping on David Accam — let's break this run down.
Here you can see Pontius break inside, showing good angled movement.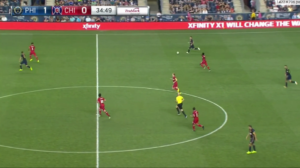 And once he is vertically past Vincent, Pontius breaks back to the outside quickly.
Here you can see that he makes the movement back to the touchline almost immeidately after rounding Vincent.
And in this last shot, you can see what Pontius' run has created: He is in space behind the fullback, but he has done little to draw the central defender out of the middle. Instead, Joao Meira can play like a safety and read whether he needs to vacate his position.
Ideally, Pontius could run more directly at Meira, forcing the defender to freeze and protect the middle. This means that anybody arriving in the space behind Pontius won't have Meira free to break forward on them, and it means that if Rosenberry lofts a very similar ball into the corner, Pontius can still be the first to it and establish deep possession.
In other words, this angle on the run treats it as what it is: A decoy that can also become a hockey-like attacking-zone dump if it needs to be.
To balance out the critical dissection above, lets pause and applaud Pontius for doing what Jim Curtin wanted to happen prior to Minnesota's goal a few weeks ago. Here is the turnover that led to the MUFC goal:
[gfycat data_id=ShowyDefiantChevrotain data_autoplay=false data_controls=false data_title=true]
Picault comes short, but Curtin indicates the ball should go deeper. Now this is Pontius last Saturday:
[gfycat data_id=DrearyWatchfulFinwhale data_autoplay=false data_controls=false data_title=true]
Helping Haris
Another beneficiary of the Union's Saturday setup was Medunjanin. Creating high turnovers meant the Bosnian could advance into dangerous areas before receiving the ball.
[gfycat data_id=HastyBruisedGrison data_autoplay=false data_controls=false data_title=true]
Here you can see the Union again using Medunjanin on the touchline and pushing Rosenberry high. This pulls Medunjanin out of the center and gives him more time to pick out passes (not unlike how many teams move their No. 10s into channels or touchlines to find space upfield). Note that the biggest advantage for Philly comes at the end of the clip: Medunjanin collects the ball with time in an area that he can absolutely pick out a ball into the box.
In the next clip, Creavalle moves forward and creates space around the middle third for Medunjanin to run an offense. He does, and then collects the ball in a favorite position moments later.
[gfycat data_id=WholeDeliciousBobwhite data_autoplay=false data_controls=false data_title=true]
Lingering issues
There are three biggies that a change in shape has done little to solve.
First, there is the reality that removing a player that struggles with final third decision-making does not, reflexively, make anyone else a better decision-maker. Ilsinho has struggled to create all season, but Bedoya had similar troubles in an advanced role to start the year. Why? It's… just not his strong suit. For all his qualities, Bedoya is not a controlling player around the box.
[gfycat data_id=RecentAmpleBarnowl data_autoplay=false data_controls=false data_title=true]
Jim Curtin often talks about getting his best players on the ball in good positions, and the tweaks he made to Philly's shape did just that on Saturday. Medunjanin was on the ball with time in the opponent's half, Rosenberry was on the ball around the final third, and Bedoya found the ball around the box.
But one of these is not like the other: Bedoya is by no means a bad player on the ball, but the truth is that he might be more effective off of it.
In other words, the Union may be improved defensively and in transition with a true holding player in the lineup, but they still lack a player to play the final ball.
Furthermore, Philly needs to figure out how to solve the issues that come up every other time they have used attacking fullbacks and Creavalle. Here's how it has played out in the past: First, teams struggled to deal with Creavalle's absurd quickness and closing speed, then they watch tape and realize that he's very man-oriented and will vacate his central zone quickly to follow runners to the wings.
Time has passed, and Creavalle may be prepared for these approaches now, but past evidence says it is a potential problem.
Second, Rosenberry and Fabinho offer so much going forward, but they are vulnerable defensively. Chicago rarely got enough penetration to draw the fullbacks out of position, but it hasn't taken a team as talented as Atlanta to expose Philly's backs in the past. Plus, Fabi is seemingly always just as capable of his wonderful run and assist to Sapong as he is this:
[gfycat data_id=MasculineSolidEsok data_autoplay=false data_controls=false data_title=true]
So to state the obvious: using two attack-minded fullbacks is a tradeoff, and the Union did not feel the consequences of that tradeoff on Saturday. Can they continue to account for it in the future?
Clearly, the Union were far better with more defensive steel in midfield, but they will face one of the most disruptive attacks MLS has ever produced midweek.
In other words, it may take more than an additional 90 minutes to find out how effective this new Union setup can be going forward.
It won't take any more time to figure out who the absolute undisputed finest slide tackler in MLS is though. Richie Marquez take a bow!
Take. A. Bow, sir!
[gfycat data_id=ElegantWelllitDinosaur data_autoplay=false data_controls=false data_title=true]