Photos: R.J. Morton
Editor's note: Philadelphia Union fan, Delaware County resident, and history buff R.J. Morton shares a look at a signer of the Declaration of Independence whose burial place is located near Talen Energy Stadium.
I love Independence Day. I love the parades with fire trucks, marching boy scouts, and the veterans in antique convertibles decked out in their old uniforms. I love the block parties with hamburgers on the grill, coolers full of beer, and water balloon fights between all the neighborhood kids. I love finding a spot in the grass, laying on my back, and watching the fireworks to end the day.
But most of all, I love the meaning and history behind Independence Day.
One of the many perks of living in Philadelphia is that you don't have to look very hard to find living remnants of the early years of our country. You can walk the same cobblestone streets as Benjamin Franklin. You can go for a hike in Valley Forge where George Washington and the Continental Army spent that long, cold winter in 1777 and 1778. You can stand in the room where our founding fathers debated secession from England. These are just some of things we learned about in high school history class.
But there's a lot more of the history of our colonial and revolutionary period all around us.
I recently learned that I pass one of these hidden gems while driving through Chester on my way to watch the Union play.
John Morton, key swing vote for independence
Right across Route 291 from Chester City Hall, just over a mile from the center circle at Talen Energy Stadium, is an old church cemetery.
In that cemetery lies the grave of John Morton, signer of the Declaration of Independence.
As a history buff and Philadelphia Union fan, discovering that one of our founding fathers was buried in Chester — one who also happened to have the same last name as me — was just too much. I was immediately hooked and had to learn more.
John Morton (we aren't related) was a farmer, surveyor, and politician from Ridley Township in what is now Delaware County (it was still part of Chester County in those days). He was descended from the original Finnish and Swedish colonists that settled in the Delaware Valley in the mid-1600's, back when the city of Chester was still called Upland, its original Swedish name. He was born in 1725 to John Morton senior and Mary Archer. He had a difficult childhood. His father died before he born, and his mother raised him until, when he was seven years old, she married an Englishman named John Sketchley. He had little formal education and yet went on to have a long career of public service that culminated in the creation of a new republic. He was first elected to the Pennsylvania General Assembly at the age of 31, and he went on to serve as county sheriff, a county judge, and an associate justice of the Pennsylvania Supreme Court. He was chosen to represent Pennsylvania at the Stamp Act Congress in 1765, the First Continental Congress in 1774, and the Second Continental Congress in 1775.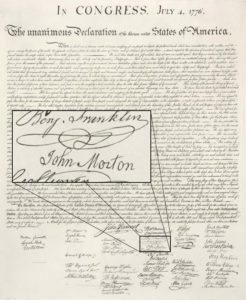 John Morton was a moderate voice in the debate for independence but eventually chose to join with Benjamin Franklin and James Wilson, providing the swing vote in the Pennsylvania delegation's decision for independence. He voted for independence on July 4, 1776, and then returned to Independence Hall to sign the document on August 2.
Sadly, he did not live to see the blossoming of the new republic, dying at his home of tuberculosis less than a year later on April 1, 1777, at the age of 51. He was the first of the 56 signers to die.
The weight of the decision that John Morton and the other founders faced in the debate for independence must have been enormous. He knew the status quo was unacceptable, but that a vote for independence would result in a war that would pit friends and family members against each other. As he wrote in a letter to an acquaintance, "I sincerely wish a Reconciliation, the Contest is horrid, Parents against Children, & Children against Parents, the longer the wound is left in the present state the worse it will be to heal at last."
His fears were realized: His son Sketchley served as a Major in the Continental army, another son John became a surgeon who died as a prisoner of the British during the war, and his wife, Ann Justis, had to flee her home from advancing British soldiers after the Battle of Brandywine in September of 1777, just six months after his death.
Over 240 years later, whenever I drive past John Morton's grave on my way to sing our national anthem before the Union play, I glance over and reflect on the gravity of the decision that our founding fathers had before them, and I am thankful for their courage and sacrifice.
If you go
John Morton is buried in the Old Swedish Burial Ground at the site of the first St. Paul's Episcopal Church, originally built in 1702. It's situated just across Route 291 from Chester City Hall.