Photo: Earl Gardner. All screenshots taken from MLSsoccer.com
Six seconds is all it takes to undo 90 minutes of good work.
A fraction of a second can undo six seconds.
Philadelphia Union's Andre Blake got it all right with his fantastic late save Saturday to secure Philadelphia Union's 1-0 win over D.C. United.
Here is video of the save with two alternate angles.
The breakdown, part 1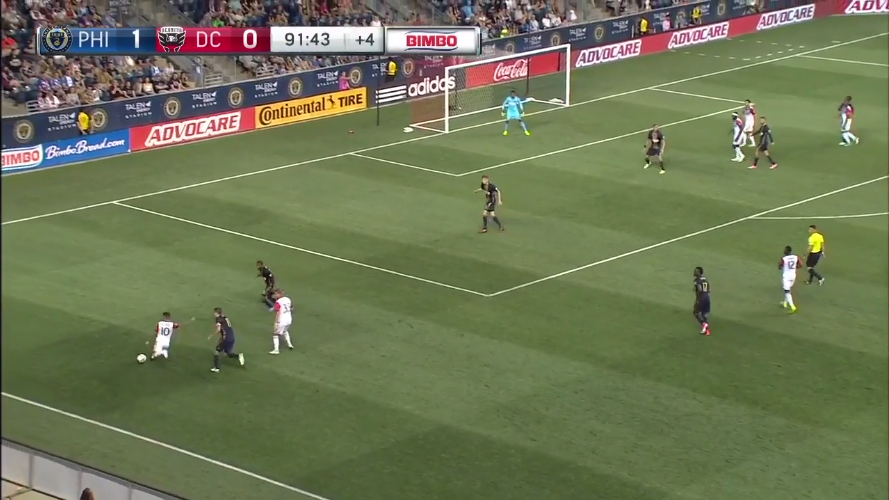 When a goalkeeper makes an amazing save, there was usually a defensive breakdown somewhere along the line that led to it.
Here, Gaddis and Bedoya have a miscommunication, allowing an uncontested cross. Jack Elliott is marking nobody. Medunjanin is upright and behind the play, taking himself out of the play. That's four of the seven defenders here.
Sapong defends the late runner, tracking all the way back. Wijnaldum fights for position with the back man. Onyewu gets in the ready position between the ball and the target men.
Andre Blake leans to the near post, defending it from a surprise shot and getting in good position to smother a low/close cross before it reaches the target men.
The breakdown, part 2
With the cross in the air, there are now three defenders against three attackers.
Onyewu realizes too late that he is too shallow and too far away from the target men and is unable to recover.
Medunjanin stops completely.
Wijnaldum gets shielded out.
This leaves two men free for the header against Blake.
Blake recognizes that the out-swinger is floating too far outside the box for him to get to and immediately starts to sink back to the goal line, keeping his eyes on the play in front of him and maintaining ready position as he retreats.
Blake does two very difficult things here.
As soon as he determines that he will not reach the ball, he immediately keys on the players instead, reading their eyes and head movements to determine where the shot is most likely to go.
He retreats precisely to the goal line without taking his eyes off the play, giving himself the most time possible to react to the shot.
The shot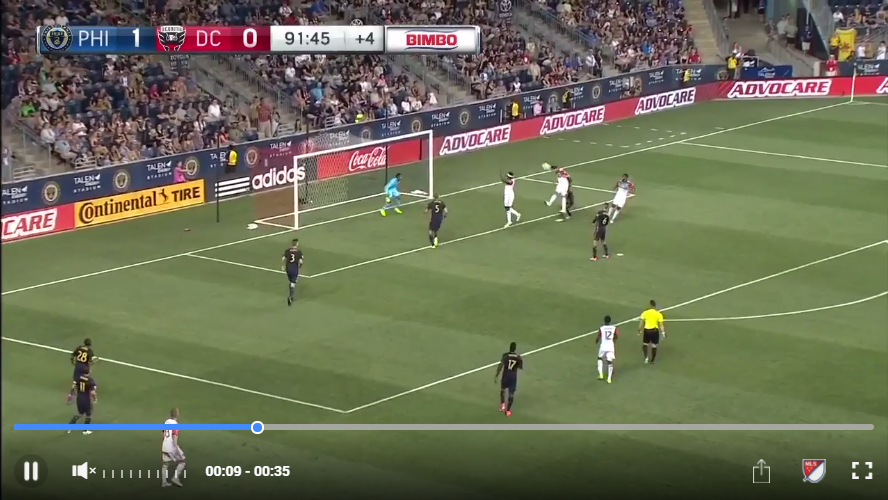 At the time the shot is struck, Blake's heels are just about on the goal line. Most importantly for Blake, his weight is on his left foot and he is on his toes. He is anticipating a shot to his right, and by putting his weight on his left foot, he is ready to dive hard and fast to his right.
This is why it is so key for Blake to read the players rather than the ball. Blake was able to cut out half of the net by keying on the head movement. Heading an out-swinger to the far side of the net would have required a head whip that Blake never saw. Unlike the penalty save, which required a guess, Blake was not guessing on this shot. He read the player and was able to identify where the shot could go.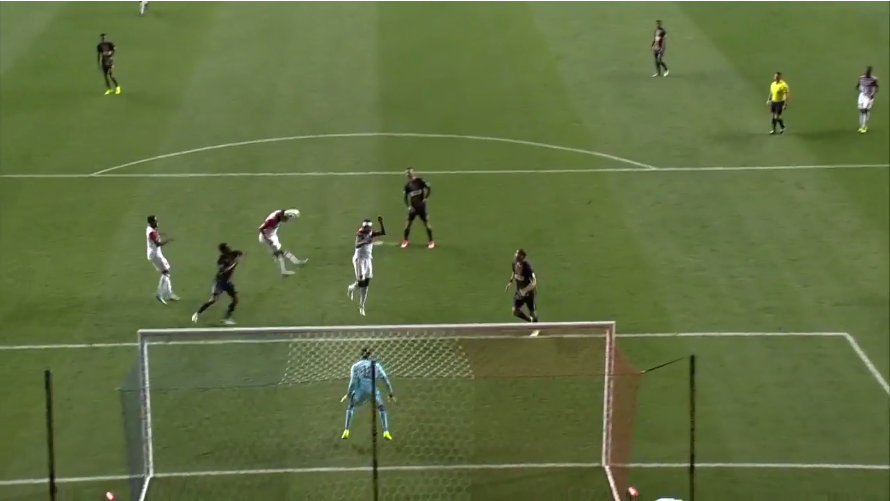 The alternate angle shows just how free the header was and just how out of position the Union defenders were. It's also a little easier to see Blake already leaning hard to his right. That's as free as a header gets, and from about 7.5 yards out.
These saves are practically impossible. Lamar Neagle knows that if he puts the shot on frame with power, it is going in unless he strikes it directly into Blake. Even a foot or two away from where his body already is and there's no time to react.
The save
Lamar Neagle does his job perfectly. He heads it on frame, with power, high and to the side of Blake. Easy goal.
Enter Superman.
Words can't describe just how insanely hard this save is. If this were the Olympics, Blake would get a 10 for degree of difficulty alone. Keepers just don't save power headers from that range. This save may have been Blake's best ever, and that is not hyperbole. It shows off the full range of Blake's tools: his height and length, his athletic ability, his instincts, his reaction speed, and his hand strength.
Blake prepared properly. He got to the right spot and got in the ready position leaning the correct direction. As the ball is struck, he uncoils and contorts his body and gets his hand way up above his head in about a quarter of a second.
Despite the ball going to his right, Blake reaches to it with his left because of his ready position. He was ready to dive right, which puts his left hand high, so he used momentum to get his hand there in time. He arches his body to get his feet on the line but his body in front of it. This means that the core of his body is providing almost no strength to his arm here. His hand finds the ball perfectly and he is strong enough to power it up over the bar from no more than a foot or two in front of it. This is Andre Blake's weak hand getting to the ball and staying strong enough to knock it almost straight up. Truly unbelievable.
Brick Wall Blake, indeed.