Photo: Paul Rudderow
Who: Philadelphia Union (11th place, 4 points, 0-4-3) vs. Los Angeles Galaxy (10th place, 6 points, 2-5-0)
What: 2017 regular season game
Where: StubHub Center, Carson, CA
When: Saturday April 29, 10:30 p.m. EST
Watch: TCN, MLS Live, Spectrum SportsNet
Whistle: Alan Kelly, Matthew Nelson, Felisha Mariscal, Daniel Radford
In the first half of their respective games last week, Philadelphia Union and Los Angeles Galaxy were on opposite sides of three-goal deficits in their home stadiums. While the Union proceeded to give up three unanswered goals and settle for a very morbid draw, the Galaxy were unable to find any answers going forward and fell to Seattle Sounders 3-0.
Despite LA earning two wins in 2017, their season thus far looks (frighteningly, if you're a Galaxy fan) similar to Philadelphia: An identical 8 goals scored, 13 goals against (Philadelphia have 14), and the dangerous combination of unorganized midfield play and a flustered backline.
Scouting report: Los Angeles Galaxy
Despite the statistical similarities, the two franchise's very divergent expectations remain wholly intact, and Galaxy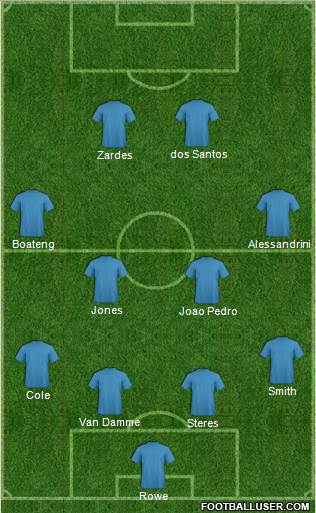 fans are scrambling for answers for their unremarkable start.
Seattle bossed the Galaxy in Southern California last week by pulling apart the midfield tandem of Jermaine Jones and Joao Pedro, pounding the ball down the right side of the Galaxy defense, and being extremely patient in build-up.
Galaxy winger Romain Alessandrini has been terrific to begin his MLS career. The Frenchman is a similar player to creative wingers like Ignacio Piatti and Nicolas Lodeiro, who like to drive at defenses, pinch inside, and open up scoring opportunities for themselves and teammates.
But Alessandrini's penchant to push upfield also exposes space behind him, which happens to be manned by rookie right back Nathan Smith. Seattle recognized this mismatch and exploited it relentlessly to great effect.
The Galaxy's offensive struggles remain more perplexing. Gyasi Zardes has returned to the lineup to pair with Mexico international Gio dos Santos, who operates more as a withdrawn second striker or creative midfielder. Alessandrini has been responsible for 75% of the Galaxy's goals and the lack of production of dos Santos is concerning for LA. Again, the sloppy pivot of Jones and Pedro may be culpable. Zardes, dos Santos, and Alessandrini are often isolated from central midfield (sound familiar?), meaning goal scoring opportunities are often through counter attacks and far flung crosses.
When the goals have come in open play, the Galaxy push the ball deep on the wings via speedy winger Emmanuel Boateng or Zardes before squaring it back to the top of the box to a waiting Alessandrini, Jones, or dos Santos. The Union will likely see the Galaxy try this strategy on Saturday.

Injury report:

Out –

Robbie Rogers (D, ankle), Sebastian Lletget (M, foot); Questionable – Clement Diop (GK, hip)

Suspended:

Jaime Villareal
Scouting report: Philadelphia Union
What else can be said? The Union have been able to put together twenty or so minutes of terrific soccer on several occasions but never in succession and never more than once in a game. Up 3-0 last week, they incomprehensibly failed to control the game at all for the final 60 minutes.
When the Union are playing well, it means Haris Medunjanin is pinging sexy diagonal balls to onrushing wingers and fullbacks, while Roland Alberg, C.J. Sapong, and Alejandro Bedoya attack the goal. When the Union are in their all-too-common dismal spells, it means they can't get a sniff of the ball for more than a few seconds and leave a West Philly block's worth of real estate open in front of their back line.
If the Union must improve one thing this week, it wouldn't even be finishing chances or pressing better, but simply playing with discipline and consistency for 90 minutes.
The lineup should remain mostly unchanged from last week, but chances are Chris Pontius switches back to the familiar left wing, while Fabian Herbers and Keegan Rosenberry return
to the starting 11 on the right.
Injury report:

Out –

Joshua Yaro (D, shoulder), John McCarthy (GK, concussion), Ken Tribbett (D, ankle); No designation – Warren Creavalle (M, calf)

Suspended: None
Key matchup
Alejandro Bedoya vs. Jermaine Jones
This is going to be a helluva battle. Much like the Union, LA's central midfield has been markedly overwhelmed by opponents. Jermaine Jones and Joao Pedro have yet to figure each other's roles and positioning out (well, no one has ever figured Jones's out), and Alessandrini and Boateng provide little defensive support from the wings. Conversely, the Union's own troubled spine has proffered little meaningful possession, but plenty of scoring chances for opponents. Whichever central midfield manages to control the game likely wins this one. Bedoya will be tasked with tracking and handling his marauding national team counterpart for 90 grueling minutes. If he is up to the task, it bodes well for the Union on both sides of the ball. Regardless, it will be fun to watch.
Player to watch
Chris Pontius
The left side is no doubt the Galaxy's weak point defensively. If Pontius returns to his usual side, expect him and Fabinho to find the space behind Alessandrini and attack the Galaxy's struggling rookie right back.
Prediction:
LA Galaxy 3-2 Philadelphia Union
If LA continues to make the same mental errors that have plagued them in 2017, the Union will get on the scoresheet, likely early (as we've seen often this season), but again won't be able to sustain pressure and keep the home side's star power from finding their mojo. Zardes gets behind the defense, Alessandrini knocks one in from the top of 18, and Van Damme finds the end of a corner. Nothing like a visit from Philadelphia to return to form, eh? The Union's painful winless streak continues for yet another week.