The first loss of the season always hurts, but the way Orlando City SC neutralized many of the successful parts of Philadelphia Union's early season performances may become the more lasting pain from Saturday.
In much the same way Philly forced Toronto to play away from their strengths a week ago, OCSC did the same to the Union this weekend.
Orlando City rolled out a 4-4-2 that gave Giles Barnes a free role off the left and challenged Oguchi Onyewu to aggressively step into midfield without harsh winds as a crutch. They spread out the Union defense and dared CJ Sapong to extend pressure too far. They pressed Keegan Rosenberry and Derrick Jones and reaped rewards for their efforts. Perhaps most importantly, they asked what would happen to the Union attack if Bedoya was cut off from the buildups, and the answer was a worrying "Not Much".
But for all the trouble OCSC gave Jim Curtin's men, a post was all that stood between the visitors and a share of the points.
Right to left to Rivas
Carlos Rivas is a player reborn. From a guy who played like a mutant that couldn't control his athletic powers, Rivas has become a more controlled and intelligent mover up front. So many players with his skill-set never add intelligence to their games, but Jason Kreis seems to have pushed Rivas around the corner, and the Colombian has become a do-everything support for goal-scoring terror Cyle Larin.
Orlando City was able to exploit Rivas' talents by attacking up the right then switching fields and opening the Union's midfield. From Matias Perez Garcia, the ball moved across the pitch until a lane opened. Philly stretched itself out, and Rivas could step off of the center backs to receive balls behind the defense. This is almost the perfect way to attack Oguchi Onyewu, who was hesitant to follow into midfield without windy uncertainty as an aid.
OCSC could also attack directly up the left as they cycled the ball around. With Danny Toia pushing extremely high and Giles Barnes drifting infield, Rivas would move into the near half-space and overload the defense. Orlando struggled to create big chances from these overloads without the creative genius of Kaká, but they were able to control the flow of the match throughout the first half by working combinations deep in the Union half.
Minor issues add up to big ones
Orlando's attack was facilitated by numerous small defensive errors from Philadelphia.
[gfycat data_id=AlarmingConsiderateIndri data_autoplay=false data_controls=false data_title=true]
Above, you can see that everybody backs off Carlos Rivas when he cuts the ball back. It's easy for the attacker to pick his head up and loft the ball to Cyle Larin at the back post.
These seemingly minor defensive mix-ups were all too common on Saturday. Philly often seemed unsure who should press the ball and who should hold their position, and these uncertainties granted Orlando City time they simply should not have had. Below, you can see at the open of the clip that Jones isn't close enough to the ball to add pressure when Perez Garcia turns away from Fabinho. Later, Bedoya doesn't cleanly hand off Nocerino to Jones or Onyewu, and the Italian midfielder nearly beats Blake to the spot.
[gfycat data_id=SpitefulHomelyGallinule data_autoplay=false data_controls=false data_title=true]
Again, the clip below shows a Union side playing reactive instead of instinctive soccer. Jones is in position to help on Larin should a ball come over the top, but he doesn't react to Rivas' checking run. This allows Rivas to pull Marquez out of position as Orlando City builds their attack. To be clear, Jones likely can't read the play quickly enough to step into the lane in front of Rivas, but he can apply pressure to a man who receives the ball with his back to goal, and that pressure can force Rivas into a mistake or at least speed up his thinking.
[gfycat data_id=FamousMisguidedArrowworm data_autoplay=false data_controls=false data_title=true]
This is actually something Orlando City did with aplomb on Saturday. Rosenberry, who has struggled the past two matches with the quick pressure teams are applying to him, fails to look up and rotate the ball because Giles Barnes pressing forces him to play into a tight area.
[gfycat data_id=TidyVioletBeagle data_autoplay=false data_controls=false data_title=true]
Defensive holes
Beyond their issues with on-ball pressure, the Union's defense also lacked the coordinated movement that characterized their previous two matches. Orlando City consistently pulled the visitors' front six up the pitch and attacked the gigantic space left in front of a defense that was extremely hesitant to step high. Part of this was great tactical design from Jason Kreis, who replaced Kaká with, well, space. Instead of inserting an attacking midfielder into his lineup, Kreis used two wide creators and a pair of high-workrate players through the middle. This left the center empty, and when the Union allowed Larin and Rivas to push the back four deep, they provided the home side with a huge area into which the strikers could check to facilitate dangerous attacking moves.
Below, you can see the Union's entire midfield bypassed by a single pass off Philly's own throw-in. The back line is deep, worrying about Larin, and Medunjanin doesn't rotate over to cover the center with Jones pushed high on Barnes.
[gfycat data_id=BeautifulPerfectAnaconda data_autoplay=false data_controls=false data_title=true]
The same issue appears again as Philly's defense reacts to a turnover by immediately dropping — and putting Larin onside — which leaves Rivas with an enormous gap to receive the ball. Medunjanin doesn't recognize Rivas' positioning and shadow the lane to him quickly enough, and the Union are immediately under threat. In these situations, a team that wants to counterpress needs to find ways to minimize space on the pitch, not create it. While it is normal for a back four to drop when the man on the ball has time to pick his head up, the Union need to be situationally aware and recognize that with Larin offside, they have the ability to step up to Rivas and close space. This coordination was lacking on Saturday.
Below, Philly faces a situation in which the ball carrier is under pressure, yet they again respect the strikers and leave a gap between the back four and the midfield. To be clear, these problems are not entirely on the back four, but they do highlight the absence of communication and organization that can quickly give opposing teams space to run at a back line.
[gfycat data_id=SpanishGlitteringGelada data_autoplay=false data_controls=false data_title=true]
All of these small miscues came together in a single dazzlingly frustrating moment on Orlando City's first goal.
[gfycat data_id=IllinformedDimwittedDouglasfirbarkbeetle data_autoplay=false data_controls=false data_title=true]
On this play, Orlando City has time to look upfield. Rosenberry steps up, Onyewu steps up, Marquez is late stepping up, and Fabinho is apparently acting like he stepped up but doesn't actually do it. This results in a five-ish yard pocket of space behind the right side of the Union defense, and Rivas simply takes a great first touch, drives toward goal, and centers the ball to one of MLS' best finishers. There are many questions on this play, but the organization and Onyewu's positioning stand out the most.
Switching off: Sleepytime edition
Another persistent issue for Philly was a clear lack of focus. Numerous times, the team would turn off when the ball was in seemingly non-threatening positions only to discover moments later that they were suddenly in trouble.
Take the play below, in which the Union saunter around while the ball is high in the air. Onyewu returns to his position, assuming Rosenberry will pick up Larin. Rosenberry returns to his position, assuming he should cover Barnes. Larin hangs out in space he didn't even have to create because the Union were busy creating it for him.
[gfycat data_id=SophisticatedDisfiguredFrillneckedlizard data_autoplay=false data_controls=false data_title=true]
Watch something similar happen below. Rosenberry has two players to cover while Onyewu is completely free but unwilling to step up. Meanwhile, Ilsinho casually hints at helping Rosenberry, but only after Larin has brought the ball out of the air and assessed his options. Moments later, Perez Garcia is easily switching fields and forcing the Union defense to re-align on the edge of their own box.
[gfycat data_id=RegularAshamedAsianLion data_autoplay=false data_controls=false data_title=true]
Onyewu may have committed the most egregiously sleepy error when he didn't track Larin after an aerial battle. First, here is the entire play:
[gfycat data_id=ExemplaryShowyFlea data_autoplay=false data_controls=false data_title=true]
On the replay, you can see that this isn't simply a speed issue — Onyewu takes a few steps then turns off the gas, while Larin reads the situation perfectly and puts himself in position to score.
[gfycat data_id=NiftySardonicImago data_autoplay=false data_controls=false data_title=true]
Switching off: Going away from what works edition
The Union also went away from a commitment to switching fields. This was partly due to Orlando City's strong pressure on the ball, but it was also about impatience and C.J. Sapong's dedication to staying tight to the OCSC back line.
[gfycat data_id=FakeRealAtlanticSpadefish data_autoplay=false data_controls=false data_title=true]
Above, Derrick Jones forces the ball into traffic when he could have moved it wide to force the defense to move. Additionally, Sapong fails to move any defenders after giving up on his check off the back four, meaning Jones has only a narrow gap to hit with his direct ball.
Below, the Union rotate the ball from the left to right and force Orlando to rotate across the pitch. Although Rosenberry plays a poor ball wide to Bedoya, there is a lot more to see here. Specifically, watch the lane to C.J. Sapong as Orlando's defense moves. Two Orlando defenders move across the pitch with Herbers, creating a gap in between the center backs. Servando Carrasco moves off of Medunjanin, but not quickly enough to shadow the passing lane into Sapong. Instead of checking in or making a move wide then looking for the ball between the central defenders, Sapong does nothing. His reading of the play is too slow to take advantage of OCSC's rotation. These small moments are similar to the ones that cost Philly defensively. While the Union have certainly been undone by clear individual errors in past seasons, this year has been marked by these slow reads and worrying lapses in concentration.
[gfycat data_id=PoliticalCarefulAmericanmarten data_autoplay=false data_controls=false data_title=true]
In the interest of pointing out a positive, here is a play where switching fields provides the Union with what they want: The ball on Haris Medunjanin's feet with time to look up.
[gfycat data_id=ShamelessEasyIrishdraughthorse data_autoplay=false data_controls=false data_title=true]
Fabinho drives at the defense but doesn't loft in a low percentage cross, Pontius pushes the back line deep to create more space in the attacking half, and both Medunjanin and Bedoya recognize the space and move into it.
Minor fixes
All in all, Philly was far from their best but still had a chance to earn points on the road. They need to become a team that trusts and sticks to their gameplan. Whenever the Union lose focus, they fall back on bad habits. Here, for example, Fabinho ignores a wide open Bedoya in order to loft in a cross that even alternative facts can't justify.
[gfycat data_id=GoodMiserlyHarvestmouse data_autoplay=false data_controls=false data_title=true]
In the same vein, here Sapong — often credited for his strength and willingness to battle —  is somehow beat to the key spot in the box. Contrast that movement with Larin's in the clips above.
[gfycat data_id=FirsthandVariableHoneybadger data_autoplay=false data_controls=false data_title=true]
And, unfortunately, Ilsinho's defense makes another (dis)appearance:
[gfycat data_id=ThreadbareLimpAfricanhornbill data_autoplay=false data_controls=false data_title=true]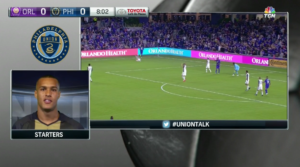 All of these things need to be ironed out. They show a lack of focus that was a feature of Philly's mid-to-late season decline in 2016. Jim Curtin used to say that everybody had to play a strong match for the Union to compete. The roster may be stronger now, but that means nothing if the players are unfocused, uncoordinated, or unsure how to pressure the ball in key situations.
The Union need to take steps forward on these fronts immediately, because a huge match with DC United is just around the corner and going four games without a win to start the season is a big hole to dig for yourself.
Also, congrats to Jay Simpson on his third straight start…