Featured image: ebwoolworthdesign.com
Note: Josh Trott's multi-part fictional Philadelphia soccer story continues with Chapter Eight. New chapters will run on Mondays and Fridays. All the characters, soccer clubs, and schools in the story are fictional.
Monday Coach said, "Look. We're in C Division, a lot of these other teams here aren't ready for us. Still, we got to get ready for the playoffs, so we have some out-of-league games. We're going to go play this Catholic school on Friday. They have a couple good offensive players, so our focus this week is getting ready to defend. If you can defend excellently, you can beat anyone."
Defense. I was already bored out of my mind. He starts talking some stuff about how there is an invisible rope that connects us, that when one steps we all slide across, pulled by the invisible rope. He doesn't once mention tackling with heart, with bite. That's what I know, nobody is getting by me.
He has his starting D which is five guys, with Jefe at center defensive mid, line up against us. He puts me in. Another six guys. It's seven against five with them having a goalie too. He says score. He has me lined up at right wing. Up there I make a nice run and get the ball over the top. My first touch reverses the ball's movement and completely destroys the left back. I take a touch to push the ball to the corner of the eighteen, figuring on blasting it with my right, but as I arrive at it, I'm hip-checked to the ground and Jefe is on top of the ball. He toe poked it back to the center circle and started jogging back to place.
"What you doing," I said, chasing after him.
"You should've crossed."
"I was going to shoot."
"I know you were going to shoot. That's how I was able to stop you. If you crossed, you'd have given your team a chance, but you're too selfish. Predictable."
I said, "Fight me." Not loud enough for coach to hear.
He said, "You remember last time?"
Then he was chasing the ball, putting pressure. Next time I got it my first touch took it back away from goal and then my second reversed it, pushing it into the corner. I wrapped my foot around it, and got it to drop close to the six. No one got close to it. One of the center backs cleared it. Just shows I was better off shooting myself.
Jefe murmured, "Better," to me as we jogged back to get set.
My plan for the game was not to come to practice the day before the game. We ran so much every day and my plan was that I'd be kind of fresh the day of the game. Except, at the game, Coach is like, "Jimmy, you miss a practice you don't play."
I was like "Coach, I didn't know."
He said, "Rules are rules. Anyway it was in the letter."
Coach legit gave us a three-page letter about the rules of team, which of course I didn't read. What I knew was that the point of the game was to win and the rules on the team were just a waste of time. Once he needed me he would put me in. I mean, I'm sure everybody told Suarez not to bite anymore, but when he did it, his coach was like, "I need goals. I'm throwing in the T. Rex."
Coach said, "It sucks because I was going to use you today."
I looked at this corny team and I couldn't believe I wasn't starting. Worse, I wasn't even playing. I said, "Please, coach. I just want to play."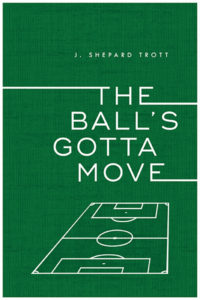 I didn't like sounding that desperate but if he wasn't going to play me. He just shook his head. I walked away. Like I was done. But when I got to the hill above the field, I heard the whistle blow and I stopped to watch. Eventually I returned to the bench. I didn't know if the coach saw it. You probably making fun of me. Like I was trying to be tough and then turned around. I know. But what was I going to do? I had to play. Looks like I had to go to practice every day.
The game was okay. This Catholic team was mostly white boys like myself and they could pass and run hard but there were only really two players on their team that could ball, and they were a striker and a center mid, but those guys were up against Jefe, and he shut them down with his body. He kept sparking runs from our skinny ass striker who was excited to run for them but kept getting bodied off it. I knew if I was out there I'd give Jefe a real outlet.
The only good thing was I was on the end of the bench next to this girl Jeanie, who was the manager, and she was a fun girl. She kept yelling for her team, like, "Go squad. Go Hawks." She knew all the guys. She wore her hair pulled back behind this headband.
We already knew each other's names but I was like, "Looks like I'm on the wrong team."
There were like three white kids on our team. She laughed. She said, "Maybe you go over there. Their coach will let you play."
"I know," I said, "Our coach is racist." Which she laughed at because our coach was the whitest man I ever seen. Not color but style.
I asked her if she liked the school. She said, "No."
"Why?"
"I have like six hours of homework a night."
"For real?"
"For real for real. But the kids are fun. Not fighting over dumb stuff all the time. It's okay. The teachers are tough, but we're learning, and at graduation it's like everyone is going to good colleges, so it has a reason, all the work."
We kept watching the game. The other team eventually scored on a corner. Then they scored on a counter attack, one of the times Jefe surged forward with the ball at his feet.
I tried to talk on the bench and say stuff, but it was mostly like, "Play soccer better."
I was thinking I'd have to go to St. Anne's this week and pray for this soccer team, pray to the patron saint of lost causes. I didn't know how three soccer players were going to be enough to make a soccer team.
At least there was a cute girl on the bench. It looked like I'd be spending plenty of time there. Coach didn't see what I had — he probably never played himself. Probably a baseball nerd. Naw, he probably plays polo. Magic the Gathering.
I could just see him with a stack of cards with pictures of monsters on them talking about life points and the shazaam attack.
At home GG said, "How'd the game go?"
"We lost, two to zero."
"How'd you do?"
"I did okay."
"Your dad never did okay. He did great."
"When he was a freshman, Mom?"
"He started."
I went up to my room. Imagine the shit she'd say if I told her I didn't play because I missed a practice. Then there would be all this talk about how dad never missed a practice. Your dad led his team. Never injured, always fit, scored, king, god. A myth. A freaking memory.
Monday, it wasn't that hot. You could feel some breeze and a couple of clouds were trying to beat the offside trap of the horizon. Coach said, "Big game this week. First regular season contest."
Well the whole team had a lot of energy. They talked about this team, how they lost this game last year. I was wondering what I could do to get in the game. I was really on time. I even beat big fatty on the two mile.
Twice when we ran a full field at the end of practice, Coach put me on the starting side. Of course twice he put me on the other team. He didn't put me in at center mid though. He put me on right or left wing, which I don't like that much because I'm not super-fast. Still, I'll take it. At least I got to run off Jefe's bombs.
We got into the huddle after a warmup of dynamics, keep away, and shots.
Coach calls out the starting lineup. "Veron, you anchor the midfield. Thomas, protect that goal. Back line is Housain, Brown, Letre and Buckus. Box-to-box mids I have Hubble and Zane. Up top give me Grant, Trout, and Williams. The rest of you will play minutes.
"Here's the talk: You worked. You ran. You played out of league. Now you get to have fun on a battlefield that matters so let's get it. I don't think they can play with you but last year we lost this game 6-4. Today we play good D and stuff a couple in, we get our first W. We knock them down one at a time, okay. No nerves. Just play. Bring it in."
Jefe said, "On my count! One two three, Hawks!" We all shout it together and the starters trotted out onto the field. I was honestly better than all of them but Jefe, maybe Tous. Whatever, Coach hated me.
But right away you could see it was ours. We had it up in their half. They had a good keeper and he made like three saves on this dummy StringBean, but then Jefe pushed up, faked the shot with his left and pulled it onto his right, and he let loose a blast that swerved out while dipping, scored. Team went wild. I was jumping up and down.
After that coach had me and two other guys get in the game. I ran at their backline twice, almost got through too, and next thing I knew someone is coming out on the field shouting my name. I'm getting subbed out just as I'm about to notch a goal.
I walked off making sure Coach saw the big ass frown on my face.
He said, "The ball's gotta move, Jimmy."
I said, "I was moving toward goal."
He said, "You were moving it toward their feet."
I started to say something but he said, "Enough. Sit down, think about it. No more of that."
I got back in five minutes later. Then I passed the first two times I got the ball and moved, hoping to get it back but they bounced their first touches. The third time I faked the pass and carried it into the penalty area, and side footed it into the net for our second goal. The team mobbed me and I finally felt like this team was okay.
That was the thing. Coach's whole bit was like, "Pass the ball, pass the ball." But these guys, I'm going to hit them ball and it's going to bounce off their shins. Now when I carry it, I got a chance, our team got a chance to score. Like, if you were a football team, and you had a great running back and not a single receiver, what're you going to do? Run the ball. So that's what I did.
The other team wasn't as fit as us. You know that when it starts kind of even, but ten minutes into the second half they got nothing for you. We were just shredding them. Coach started me in the second half. He didn't yell either when I dribbled, or only a little. We kept scoring, though we let two in at the back end. I didn't score again but we won 7-2, so pretty much we hammered them. I don't think we would have given up that many goals if coach hadn't used big fatty at the end but I guess it doesn't matter when you're up that much.