Who: Philadelphia Union at Houston Dynamo
What: Regular season game
Where: BBVA Compass Stadium
When: Saturday, July 2 at 9 pm
Watch: TCN, MLS Live, Direct Kick
Whistle: Edvin Jurisevic; Linesmen: Mike Rottersman, Andrew Bigelow; Fourth Official: Ismail Elfath
Philadelphia Union looked overwhelmed by the New York Red Bulls press in the first half of Wednesday's US Open Cup match, but they recovered and turned the tide for a 2-1 win. It was an important victory for a team that gave up yet another set piece goal in the first half and looked on the brink of losing the confidence that has propelled them to the top of the Eastern Conference. Philly's comeback also featured this goal, one of the best the club has ever scored (calmness on the ball from Yaro and Rosenberry after Blake's pass into pressure, Le Toux pulling Zubar out of the lane, that ball from Ilsinho… that finish from Pontius):
[gfycat data_id="PlaintiveVictoriousHawk" data_autoplay=false data_controls=false data_title=true]
Meanwhile, Houston Dynamo were busy locking up their second US Open Cup victory under interim head coach Wade Barrett. Led by a 20-year old Colombian striker, the Dynamo managed to hold for a 3-1 win only days after giving up a two-goal lead in a loss to Portland Timbers.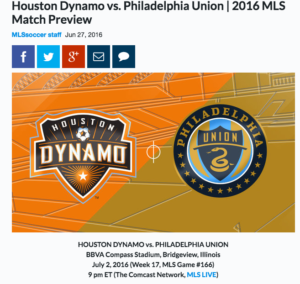 Two teams coming off much-needed wins now look to find a vein of consistency when they meet at BBVA Stadium in Houston (or… Bridgeview, Illinois?)
Who is this Houston?
Under Owen Coyle, the Dynamo started off like an offensive powerhouse then overadjusted to shore up the defense and forgot where they left their scoring boots. Since Wade Barrett took over, the midfield is finally moving toward a balance that can support an attack without leaving the defense exposed. And, like most things in life, it's all built around Collen Warner (wait, what?).
Barrett has implemented a selectively pressing 4-1-4-1 system that sits Warner between the central midfielders and central defenders. Additionally, the wing players tend to play narrow defensively, encouraging opposing teams to play the ball wide early. This allows Houston's striker to move over and cut the field in half, with Warner and one other central midfielder closing space, the fullback stepping up, and the defensive line moving high.
[gfycat data_id="ImpassionedDimAsiandamselfly" data_autoplay=false data_controls=false data_title=true]
The most impressive aspect of Houston's new-look shape is how well it squeezes playmakers out of the channels. In the first half of last week's match against Portland, Warner tracked Diego Valeri when he snuck behind Ricardo Clark and Alex. When the ball came in to the Argentinian trequartista, Warner and Andrew Wenger could both collapse, forcing Valeri to play either straight back out or spin a perfect one-touch pass to a runner who, almost by default, was a lesser threat.
[gfycat data_id="MaleAgedAnglerfish" data_autoplay=false data_controls=false data_title=true]
In order for Warner to have the freedom to track Valeri — as he will undoubtedly try to track either Roland Alberg or Tranquillo Barnetta on Saturday — the rest of the Dynamo defense must close space whenever the ball is played into the center. The back line has to step up, the wings need to tuck in, and the striker has to cut out easy passing lanes back to the defense. When this happens, Houston is able to recover balls in midfield and play quick passes out of a counterpress (which the Union employ as well as anyone in the league). Ideally, the Dynamo can work the ball to the left where Oscar Boniek Garcia and DaMarcus Beasley can combine to hold possession and penetrate a defense.
If Houston's defense does not close space when the ball is played centrally, they quickly become extremely beatable. Though Portland did not deserve the penalty that won them last week's match, they dominated a second half that featured a far more passive Dynamo defensive setup. The masterstroke for Caleb Porter was an adjustment that Jim Curtin will undoubtedly highlight in the buildup to Saturday's match.
After 55 minutes of watching Diego Valeri search for space in the center, Porter watched his playmaker drift more and more often to the right wing. In response, the Portland manager encouraged Darren Mattocks to stay central behind Fanendo Adi, and brought Lucas Melano further inside to make runs across Warner. The benefits were near-instantaneous. Now Warner was pulled off of Valeri to track Melano, and Mattocks was sitting in an ocean of space in front of the Houston back line that was wary of stepping up when Valeri kept pinging long passes at them from the right.
[gfycat data_id="LastingFancyHawk" data_autoplay=false data_controls=false data_title=true]
Essentially, Portland took the soft spot in Houston's defense — on the wing just inside the attacking half, or the half-boards for those who think in hockey terms — and put their best distributor there, with the wide player tucked inside to distract Warner. Houston never fully adjusted, in part because they don't have the personnel to play a strong double-pivot. In fact, Barrett was stuck tossing Cristian Maidana, a player who probably couldn't even draw "defense" in Pictionary, into the center of the park.
Perhaps the most foreboding part of the second half was that the Timbers overran the Dynamo with a combination of Mattocks and Jack McInerney in the sitting striker role. Neither player is even remotely suited for the position, but merely having a body in the hole was enough to keep the Houston back line deep and create space behind the midfield with Warner off chasing Argentinians.
Union response
Jim Curtin has to feel pretty good about how his team matches up with the Dynamo, though creativity will be required with CJ Sapong and Fabian Herbers questionable through injury and Sebastien Le Toux out with a concussion. Sapong likely shouldn't go more than 30 minutes in the muggy Houston heat (it'll still be very hot for the late kickoff; this is Texas). If Herbers is healthy enough to start, he should provide a good target moving between David Horst and Raul Rodriguez. Both center backs struggle to stay aware of mobile strikers, particularly when retreating.
With Herbers, the Union can operate a patient offense by playing through the excellent ball skills of Joshua Yaro and Keegan Rosenberry. While the Dynamo thrive on closing down vertical passes into midfield, they are less clear on how to respond to fullbacks that get involved in the buildup. Portland rarely posed this problem, but Rosenberry will (and Fabinho can, though he still loves an early cross).
Herbers occupying the center backs means Rosenberry can find Barnetta and Alberg in great positions provided one of them pulls Warner out of passing lanes. In fact, here is a scenario that, if it develops multiple times in the match, will foreshadow a good result for the Union. Yaro plays the ball to Rosenberry, Ilsinho tucks inside, with Barnetta making an angled run through the channel that pulls Warner out of the center. Then Alberg pops up to receive the ball centrally and looks to play a short drop to Ilsinho or a quick throughball to the circling Barnetta. It will look something like the video below, but with a midfielder receiving the pass from the fullback in that gigantic zone in front of the back four:
[gfycat data_id="FaithfulEarnestAmericanbittern" data_autoplay=false data_controls=false data_title=true]
If Herbers and Sapong can't go, Philly will be left starting Leo Fernandes as a false nine. This is problematic if it results in him sitting in the space Philly needs to clear for midfield runners. A better alternative might see Ilsinho as a false nine with Restrepo on the wing to make angled runs toward the middle that keep the back four from stepping up. The potential problem with this lineup, however, is that Ilsinho may sit in that passing lane between the fullback and the center of the pitch. To be effective in a false nine role, he will need to drop all the way into midfield and force Warner to step up and follow him.
Chaco and Andy
It is not an exaggeration to suggest that the play of Andrew Wenger and Cristian Maidana could have cost Jim Curtin his job last season. The Union coach looked to build off his team's counterattacking success in 2014 by instituting a system that isolated Wenger and ran through the glorious creativity Maidana produces in the open field.
[gfycat data_id="AthleticWarmIndianRhinocerous" data_autoplay=false data_controls=false data_title=true]
Though it is too much to suggest that either player dogged it last season, they certainly did not perform their duties in a way that would allow the Union to enter the playoff picture. Wenger's hard work defensively was never matched by the intelligent movement needed for him to create the space needed to be a true outlet. Meanwhile, Maidana was great with the ball but played defense with all the ferocity of a Raffi song.
Both players have recaptured their frustrating form for Houston. Maidana's defensive shortcomings have seen him splitting time with Alex in the middle, while Wenger, like some sort of unstable element, only pops into existence long enough to wow before disintegrating once more.
Houston lineup questions
Although Will Bruin always seems to make an impact, it's unclear who will get the start up top for the Dynamo. Mauro Manotas was extremely lively midweek, notching two against Sporting Kansas City. Additionally, Giles Barnes could return up top to try and stretch the Union's defense or step in for Wenger on the right.
In midfield, it's a question of whether Barrett believes Maidana's creativity outweigh the potential problems he causes defensively. Alex combined well with the dangerous Boniek and Beasley on the left side of the formation against Portland, and he should keep his spot over the former Union playmaker.
Prediction: Dynamo 1-3 Union
Aside from the injuries to Philly's first, second, and third choice strikers (!), the team is relatively healthy. The most interesting questions come in the middle of the pitch, where Curtin could opt for a more defensive setup against a Houston side that has earned 12 of its 14 points at home (3-1-3 at BBVA compared to 0-5-2 on the road). Playing with two defensive midfielders makes less sense if the Union use a false nine, however, unless Curtin ups the complexity with Pontius and Ilsinho looking to curl into the center behind Fernandes to keep the center backs from stepping forward. This adjustment would require the Philly fullbacks to be very aggressive pushing forward since the wingers would be abandoning the wide areas.
Finally, let's address the Union's Achilles' heel: Set piece defending. Since the Copa break, five of the twelve goals scored on the Union have come from set plays, including the Energy Drinks' tally on Wednesday.
There is no quick fix here: Sometimes the Union are naive going through picks, other times they don't have bodies around the top of the box, and sometimes Pirlo just punishes your mistakes. The Dynamo have only scored twice off of set pieces all season, but in David Horst, Raul Rodriguez, and Ricardo Clark they have the bodies and aggression to trouble Philly in the air. How the Union set up and attack the ball defensively should be watched very closely on Saturday.