Throughout West Chester United's journey to the Lamar Hunt U.S. Open Cup, head coach Blaise Santangelo has made it clear that his team is representing not only its parent club, but also Southeastern Pennsylvania amatuer soccer. Indeed, when the team won the United States Adult Soccer Association's Werner Fricker Open Cup championship over the summer, Santangelo's players were wearing jerseys that included the logos of its fellow teams in the United Soccer League of Pennsylvania.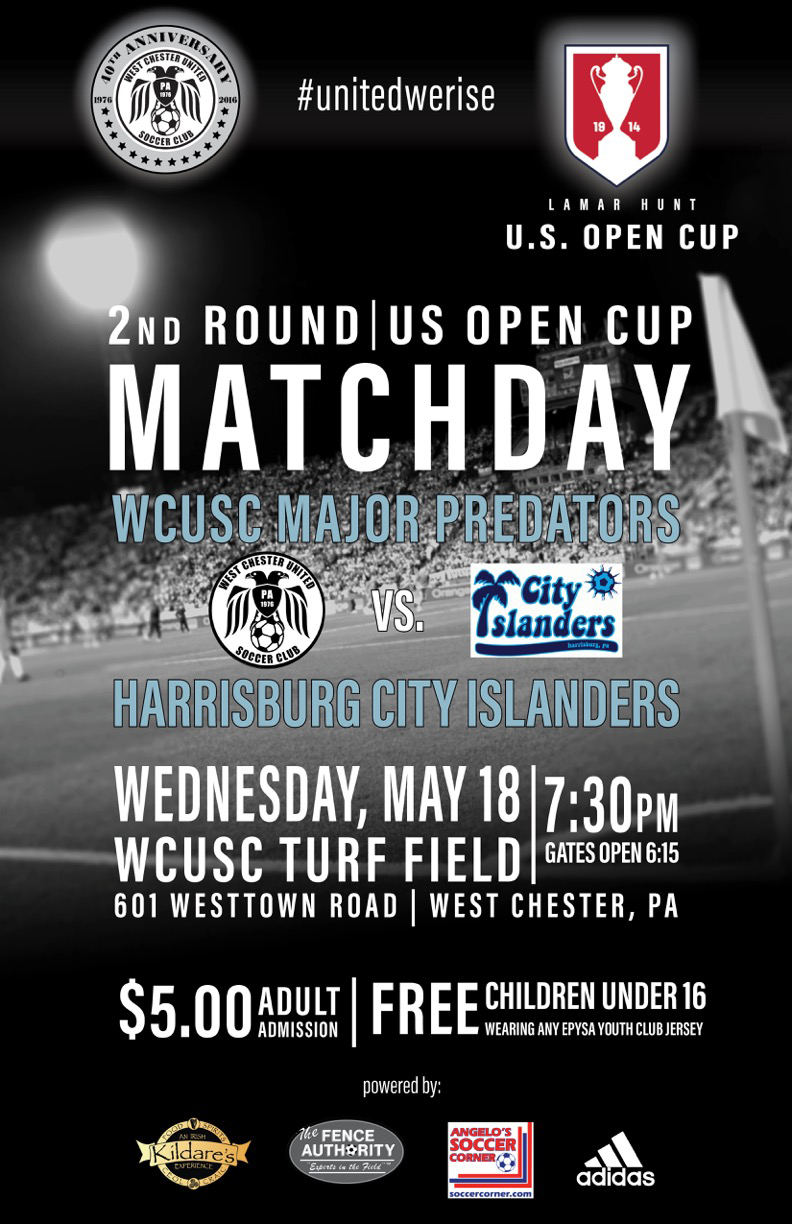 "We're representing a lot of people in the Philly area that play soccer at the amateur level," Santangelo, the USASA Region I Coach of the Year, recently told PSP. "We are a microcosm of our community and the history of Philly amateur soccer. We feel like we're holding the torch, you know?"
After defeating NPSL side Fredericksburg FC on the road on penalty kicks after extra time in the first round of the US Open Cup last Wednesday, West Chester will continue to carry that torch in the tournament's second round when the amateur side hosts the professional USL side City Islanders at 7:30 pm on Wednesday, May 18.
Tickets for the West Chester United-City Islanders game are only $5, with kids under 16 receiving free admission if they wear a jersey from any EPYSA youth club team.
The winner of West Chester United-City Islanders will face the winner of Reading United-Chattanooga FC (could meet in US Soccer's National Amateur Cup championship, which is being staged in Chattanooga, May 27-28.
MLS teams enter the Lamar Hunt U.S. Open Cup tournament in the fourth round, which will be staged on June 15.
West Chester United vs. City Islanders in U.S. Open Cup second round play. Wednesday, May 18 at 7:30 pm at West Chester United Soccer Club Turf Field, 601 Westtown Road, West Chester, Pa.