Philadelphia Union have the 3rd, 6th (acquired in the Maidana deal), 23rd, 44th, and 64th picks in the 2016 SuperDraft. Most mock drafts have the Union hoping for Stanford left back Brandon Vincent with the third pick. There is little consensus about what Philly will do with the sixth slot. Follow all the action here at PSP.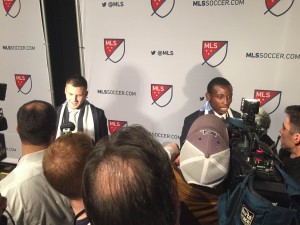 Union Picks
2nd: Josh Yaro
3rd: Keegan Rosenberry
6th: Fabian Herbers
23rd: Taylor Washington
44th:
64th:
Live Updates
2:06pm – Philadelphia Union select George Mason University left back Taylor Washington.
12:50pm – NYCFC traded the #4 overall pick and some money to Chicago Fire for #1 overall pick Jack Harrison.
12:38pm – The Union select Fabian Herbers out of Creighton at #6 overall. Herbers is a good attacking player who can play off a main striker or possibly out wide.
12:26pm – The Union draft Keegan Rosenberry, a right back out of Georgetown that barely missed the cutoff to be a Union homegrown player.
12:20pm – Learn more about Yaro here. And find a discussion of whether his future is in the middle or on the right here.
12:16pm – Philadelphia select Josh Yaro with the #2 overall pick. Yaro is the best defensive player available. The 5'11" defender can play in the middle or on the right. Let's be honest, Philly is drafting him to play in the middle next to Anderson or Richie Marquez starting in 2016.
12:00pm – Philadelphia Union have acquired the #2 overall pick in a trade with Colorado Rapids in exchange for general allocation money. Philly has the #2, #3, and #6 overall picks now.
11:48am – LA Galaxy have traded the 12th overall pick to Colorado Rapids for Targeted Allocation Money (TAM). Wondering what TAM is? LA made another move by bringing back former MLS MVP Mike Magee.
First Round
Chicago: Jack Harrison (M/W) – Wake Forest (traded to NYC FC)
Philadelphia: Josh Yaro (CB) – Georgetown
Philadelphia: Keegan Rosenberry (RB) – Georgetown
Chicago: Brandon Vincent (LB) – Stanford
Real Salt Lake: Omar Holness (CM/W) – UNC
Philadelphia: Fabian Herbers (F/W) – Creighton
Orlando City: Richie Laryea (M) – Akron
San Jose: Andrew Tarbell (GK) – Clemson
Toronto: Tsubasa Endoh (CM) – Maryland
New England: Jordan McCrary (RB) – UNC
DC United: Julian Buescher (CM) – Syracuse
Chicago: Jonathan Campbell (CB) – UNC
Orlando City: Hadji Barry (ST) – Central Florida
Montreal: Kyle Fisher (CB) – Clemson
Colorado: Emmanuel Appiah (DCM) – Cincinnati
Vancouver: Cole Seiler (CB) – Georgetown
Dallas: Ryan Herman (GK) – Washington
NYRB: Justin Bilyeu (LB) – Southern Illinois Edwardsville
Columbus: Rodrigo Saravia (M) – Florida Gulf Coast
Portland: Ben Polk (F/W) – Syracuse
Second Round
Columbus: Chase Minter (M) – Cal Poly
Chicago: Alex Morrell (ST) – North Florida
Philadelphia: Taylor Washington (LB) – George Mason
Montreal: Michael Salazar (ST) – UC-Riverside
Real Salt Lake: Max Lachowecki (D) – Notre Dame
Houston: Ivan Magalhaes (D) – Maryland
Seattle: Tony Alfaro (CB) – Cal State Dominguez Hills
San Jose: Patrick Hodan (M) – Notre Dame
Vancouver: Christopher Hellman (ST) – Lynn
New England: Michael Gamble (ST) – Wake Forest
Columbus: Kevin Parker (ST) – UNC Charlotte
DC United: Paul Clowes (CM) – Clemson
Dallas: Timo Pitter(M/F) – Creighton
Montreal: Eric Verso (M) – Stanford
Seattle: Zach Mathers (M) – Duke
Vancouver: Thomas Sanner (F) – Princeton
Colorado: Dennis Castillo (D) – VCU
NYRB: Zach Carroll (D) – Michigan State
Montreal: Keegan Smith (ST) – UC-San Diego
Portland: Neco Brett (ST) – Robert Morris
Columbus: Marshall Hollingsworth (ST) – Wheaton