Photo: Daniel Studio
Who: Philadelphia Union vs Portland Timbers
What: 2015 regular season game
Where: PPL Park
When: Saturday, July 11 at 7 pm
Watch: 6abc, MLS Live, MLS Direct Kick, DirecTV
Whistle: Jose Carlos Rivero; Linesmen: Peter Balciunas, Kevin Klinger; Fourth Official: Alex Chilowicz
Portland Timbers picked up three wins in their first twelve games of the season. They have dropped three points total in the past seven matches.
And the not-so-secret reason the Timbers are emerging in the West is that the spine of their midfield is finally emerging from the training room. Wil Johnson and Diego Valeri are playing regular minutes alongside Darlington Nagbe and the tireless Diego Chara. At full flight, the Portland midfield is one of the most balanced in MLS, and rest assured that it is still only finding its wings.
Good chances
The same strike force that was inconsistent in 2014 has — surprise! — remained inconsistent in 2015 for the Timbers. Fanendo Adi has two goals in his last five games, but prior to that he had one goal in ten matches. Maximiliano Urruti continues to look the part of a dangerous striker in every sense but the one that counts, accumulating a single goal in his first twelve appearances.
Urruti and Adi have come alive of late, however their sudden surge in form only serves to underscore how replaceable they are. Peel back the curtain and it is obvious that the Portland strikers are simply bodies in green shirts. The real power is further back, where Johnson, Valeri and Nagbe are slowly recombining into one of the league's elite units.
Portland has scored at least two goals in four of their past six regular season matches after accomplishing the same feat only three times in their first 13 performances. Even more important, the defense that was such a letdown in 2014 has found their rhythm and conceded just once in June outside of a midweek blowout loss to the Galaxy (but wow, what a blowout it was).
It should also be noted, however, that the Timbers red hot form owes a lot to luck and scheduling. Of the four playoff teams they have faced since beginning their climb up the standings on May 27, they have beaten only New England in anything close to a convincing fashion. The Galaxy slaughtered them, DC United couldn't even cobble together a full bench (the four DC players available as subs included not one striker), and Seattle was missing most of its offense.
Even with Adi and Urruti finding their goalscoring boots, Portland remains tied with Toronto for the lowest number of goals scored of any team (and TFC has played three fewer matches). In fact, the Timbers seem stuck on the same problem that has plagued Caleb Porter since he sucker punched MLS in his first season as a head coach: How to break teams down in the final third?
Porter made intelligent adjustments after the league learned to sit back and absorb the possession-addicted approach he imported from Akron. The speedy outside backs who played like midfielders early on morphed into more traditional modern fullbacks, more selectively pushing forward to support counterattacks. The offensive third remains a place to stretch the defense wing to wing, but now Adi's skillset is also considered an effective tool, with the occasional longball or cross used when teams press well.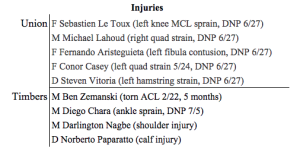 But for all the minor tweaks, Porter remains convinced that a technical midfield is the key to unlocking MLS. And while he may still find the ingredient that makes Portland's souffle rise, history is not on his side. MLS, with its grind of a postseason and golly-gee refereeing, favors the tough over the technical.
The Timbers added Nat Borchers to the backline to boost the team's

toughness factor, but the front five remain a disturbingly fragile crew. Darlington Nagbe has only taken two shots from open play inside the box all season, highlighting how rarely Portland's most athletic and dynamic midfielder gets into the box.
Stumptown Footy very astutely noted that the Timbers' past two opponents have played completely different defensive systems with notably similar results. Los Angeles pressed Portland all over the park and scored early to take the calm buildup out of the Timbers' arsenal. By contrast, San Jose sat incredibly deep and absorbed pressure all game. Jack Jewsbury's somewhat lucky winner was only the second unblocked shot Portland took in the box, with all the rest coming from low percentage areas.
Essentially, the Timbers lack the ability to tear apart a defense. Even with Valeri and Nagbe in the lineup, Caleb Porter's men seem unable to find gaps in a sitting defense. And Nagbe in particular is noticeably absent from the transition game for a player of his caliber.
All that is to say that the Timbers are probably a playoff team in the West, but what appears to be a waking giant (six wins in seven is impressive no matter what) may be partially attributable to a quirk of scheduling.
Injuries still loom large
As Valeri and Johnson have returned to full health, Portland has been hit with a pair of small but significant injuries. Nagbe dragged an injured arm around against San Jose after bashing shoulders in the loss to LA. Diego Chara is also questionable and may not feature against Philly.
Union goals
The Union need to play one way against Portland: Up tempo. Jim Curtin may very well be able to squeeze out a point by sitting deep all match, but teams that have tried those tactics against the Timbers over the past month and a half have ended up on the wrong end of the scoreline more often than not.
As noted above, it is not that Portland is particularly good — or even any good — at breaking down a defense, it is that, with Wil Johnson back, they are better organized against counterattacks. Teams that sit deep have trouble getting out with Johnson and Chara or Jewsbury protecting the back four. Jewsbury is less disciplined than Chara, but he will be perfectly content to mark Cristian Maidana out of the match.
As odd as it sounds, the Union's biggest advantage is… well, potentially… on the wings. Valeri and Nagbe are many things, but they are not strong in the tackle. Vincent Nogueira should have the time to pick out runners from deep positions, but the runs have to appear quickly. And, more importantly, they have to be smart.
Portland's athletic fullbacks will get forward but recover quickly. The success of the Union counterattack rests almost entirely on exploiting the space those fullbacks leave behind when they come forward. Los Angeles tore apart Portland in part because Sebastian Lletget and Robbie Keane drifted deep then distributed wide, keeping the Timbers' central defenders in the middle of the park and allowing Stefan Ishizaki and Robbie Rogers to establish possession in the final third.
The Union do not have any wingers like Ishizaki, but in Maidana and Sapong they do have players capable of making quick counterattacks dangerous. The key, then, is the involvement of the wingers. If Maidana can find an outlet that helps the Union establish possession or drive quickly at the Timbers defense before the fullbacks recover, Philly becomes a threatening team. If there is no connection between Maidana and the wingers, the Union will be forced to absorb endless pressure and try not to break.
Thus, I will surprise myself by advocating for Andrew Wenger to start out wide. Even though Zach Pfeffer has shown more promise over the past two months, Wenger should, should be the better flank player. In a home game where speed on the wing is key and Eric Ayuk is suspended, Philly is woefully short on options (that coughMcLaughlincough Jim Curtin is willing to use). For a player that has lived up to his potential for only a few months of a three-and-a-half year career, Wenger has been given a very long leash this season. He should have another chance to prove that Curtin is right to play the long (long) game on Saturday.
Prediction: Union 0-0 Timbers
So much of this prediction depends on health. If Nagbe and Chara are out, the Timbers revert to a middle-of-the-pack club that relies heavily on Diego Valeri set pieces. If the full Portland midfield is available, they should be able to dominate possession but will struggle, as always, to create clear-cut chances.
The Union will need to develop and execute a solid gameplan to get three points. That has been something of a dice roll this season, with the win against the Red Bulls standing as a high point in organizational scheming and the losses to the Galaxy and Crew as sharp nadirs.
The truth is that good team pressing makes the Timbers extremely shaky, but a disorganized press leaves some of the best creative minds in MLS with lots of time. The collection of athletic but inconsistent talent around Valeri and Nagbe will let Philly off the hook many times, but not every time.
Can a team that has undone strong pressing with bad mistakes put together ninety minutes of intensity at home against a streaking Western Conference opponent?
Jim Curtin and his staff have turned Fabinho from a mistake machine into a consistent contributor. Can they wring out all the mistakes and win at home by pressing? Time to find out.